Time to Start Paying Attention to Fracking's Earthquakes
With wastewater injection sparking swarms of small quakes, some states are taking notice of the danger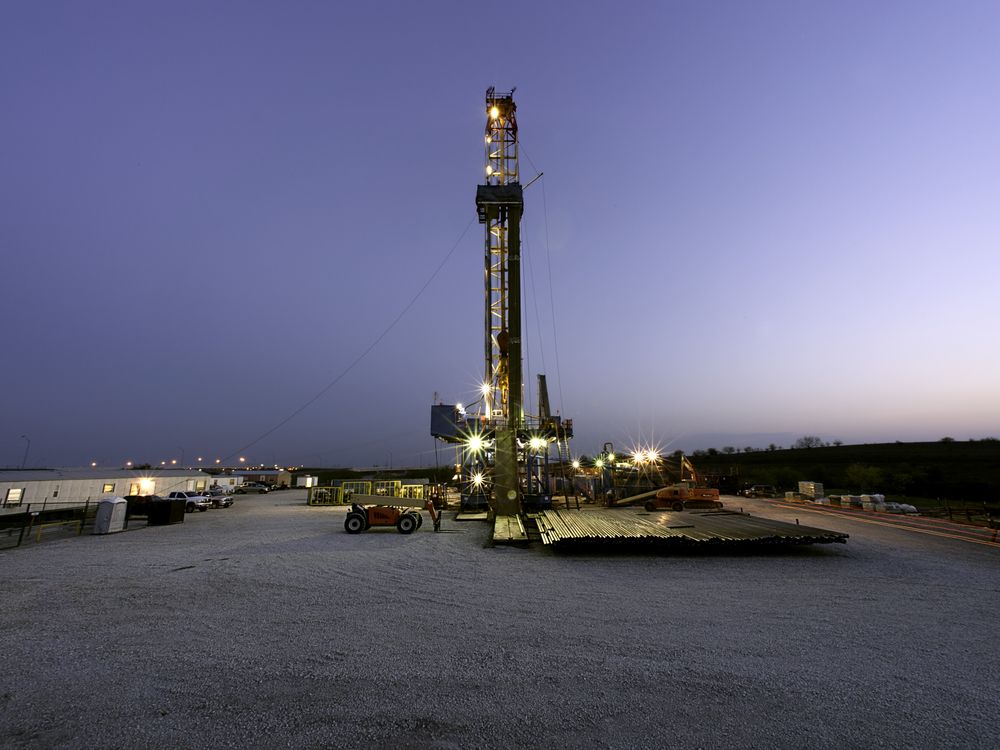 Swarms of small earthquakes that have surged in Oklahoma since 2008 can be blamed on wastewater from fracking being injected into the earth, and they represent a potential hazard for the state capitol, Oklahoma City, according to a study published today in Science. This is not the first set of earthquakes to be linked to fracking, but the study arrives at a time when some states are finally starting to pay attention to the danger.
The United States is experiencing boom times for domestic oil and natural gas extraction, largely due to the practice of hydraulic fracturing, or "fracking," which helps to release hard-to-get fossil fuels through the fracturing of rock with injected fluid. But one of the many downsides of the method comes from the subsequent disposal of wastewater generated in the process. Much of that water is pumped deep underground, and some of those injection sites have been linked to earthquakes.
Underlying geology plays a huge role in determining whether or not that fluid will set the earth shaking. And something about fracking the rocks of Oklahoma has given life to what ought to be a pretty seismically quiet place: Oklahoma has now become home to more small earthquakes than California.
Small earthquakes are typically magnitude 3 or less. But fracking in Oklahoma has also been linked to larger earthquakes, including the state's largest, a magnitude-5.6 quake that struck 71 kilometers (44 miles) northeast of Oklahoma City in November 2011, injuring two people and destroying 14 homes.
In the new study, Katie M. Keranen, a geophysicist at Cornell University, and colleagues tallied up earthquakes that were part of a swarm that started near Jones, Oklahoma in 2008. This swarm accounts for about a fifth of the recorded quakes in the region, which have increased 40-fold from 2008 to 2013 as compared to 1976 to 2007. The researchers then created a computer model that showed how pressures from nearby injection wells were affecting seismicity.
Southwest of Jones are four injection wells, some of the largest in the state, capable of disposing several million barrels of wastewater a month. And it's these four wells that are contributing most of the pressure that sets off the quakes, the researchers found.
Some of the earthquakes have occurred as far as 35 kilometers (21 miles) from the injection wells, much farther away than scientists had previously thought such quakes were possible. They also found that as time passes, the region of increased pressure from those wells continues to grow. If that zone intersects with a large fault, the pressure could set off a larger earthquake.
"The increasing proximity of the earthquake swarm to the Nemaha fault presents a potential hazard for the Oklahoma City metropolitan area," the researchers write. That fault, which runs from Oklahoma City north to Lincoln, Nebraska, is capable of hosting a magnitude-7 earthquake, they note.
In fact, it is possible that the Oklahoma state capitol could experience a magnitude-6 quake, Keranen told Science. What's more, injection wells similar in size to those near Jones are also found in northern Oklahoma, on the edge of another growing swarm of quakes, putting more areas at risk.
Bottom line: Reports of fracking-related earthquakes are continuing to grow. And though oil industry experts have voiced their skepticism about the link, some state regulators are starting to take notice and investigating the risk to communities that never before had had to worry about whether or not their buildings or infrastructure could withstand earthquakes.
For example, Texas regulators hired a seismologist, and the state House formed a Subcommittee on Seismic Activity. The governor of Kansas formed a task force to investigate quakes in that state. Oklahoma has begun requiring well operators to increase their reporting from monthly to daily and even asked one operator to lower its injections after an earthquake. Ohio has set new conditions for permits in quake-sensitive areas. And earlier this week in Colorado, state regulators ordered a halt to wastewater disposal in one well after two small quakes were detected in the area.
None of these moves is likely to end the swarms of small earthquakes. But they are a step toward finding a compromise between oil and gas exploration and the need for public safety.