Flying North to Fly South
Preparing the critically endangered whooping crane for migration could save the flock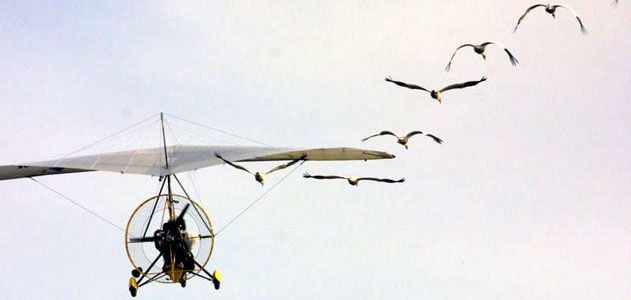 It's already been a long journey for a flock of juvenile whooping cranes in central Wisconsin—and the real trip hasn't yet begun.
Bred in captivity at the Patuxent Wildlife Research Center, in Laurel, Maryland, the 17 cranes are undergoing their final days of intensive flight training at Wisconsin's Necedah National Wildlife Refuge. In October, the birds will set off on a 1,200-mile voyage to Chassahowitzka National Wildlife Refuge in northwest Florida. This annual migration is part of a pioneering program to bring these majestic birds back from the brink of extinction to where they can migrate and breed without human intervention.
Leading the cranes south will not be a dominant bird but a microlight aircraft and its pilot, a person dressed to resemble a crane in a white poncho and hood, who has become as much a caregiver to these birds as the biological parent they would have had in the wild. Unlike other species of waterfowl that breed in the wild, the captive-bred cranes have no parents from which to learn their migratory habits. So each year a group of young cranes is trained to fly with microlights in order to teach them the imprint of the migration route. After their inaugural microlight-led migration, the cranes will then join other birds in the eastern flock for the return leg north, as well as for later migrations.
The ultimate goal is to create a self-sustainable Atlantic Coast flock of no fewer than 125 whooping cranes, with at least five breeding pairs. Today, this flock numbers around 60 birds. Compared with a 1940s low of only 15 whooping cranes in all of North America, today's incremental growth represents a miraculous recovery. Back then, the species had been devastated by habitat loss, overhunting, drought and disease. In 1967, the species was listed as endangered. As of this past April, there were 485 whooping cranes living in North America; 340 in the wild, and 145 spread between several non-migratory and captive populations.
Conservation experts believe there must be at least three separate self-sustaining flocks in order for the species to thrive. Besides the eastern migratory flock, a bigger self-sustaining flock of more than 200 cranes migrates naturally from Wood Buffalo National Park in northwestern Canada to Aransas National Wildlife Refuge in Texas. Another non-migratory flock of almost 60 birds loafs year-round at Kissimmee Prairie in Florida.
Officials have stopped releasing birds into the non-migratory Kissimmee pool, which suffers from disease, drought, habitat loss and genetic complications from interbreeding. But discussions are also underway to establish a third migratory flock, perhaps within the Louisiana wetlands, to build off the success of the microlight-led migration program.
All but a handful of the eastern flock were reintroduced to the wild through the efforts of the Whooping Crane Eastern Partnership (WCEP), a collaboration between nine non-profit and government organizations including the U.S. Fish and Wildlife Service, the International Crane Foundation and Operation Migration—the outfit that trains and escorts the birds from Necedah.
Each year, eggs from a captive-bred population are hatched at the U.S. Geological Survey's Patuxent Wildlife Research Center in Laurel, Maryland. The first thing these newborns see is a hand-puppet resembling the head of an adult crane, which is wielded by a costumed technician. The chicks learn to feed from the adult and follow it around circular exercise pens. A similar process is used to familiarize the chicks with the microlight aircraft that they will fly with on the migration. This training continues from the first daily feedings to the final days before takeoff at Necedah. All told, the cranes likely won't see a human out of costume until they migrate from Wisconsin.
"We're trying to keep these birds wild," says WCEP spokesperson Rachel Levin. "When wildlife becomes accustomed to living with humans and seeing humans, they lose that fear."
This year, the migration program will take flight with some extra emotional baggage. This past February, a series of devastating tornadoes ripped through central Florida, killing 21 people plus 17 of the 18 birds that constituted Operation Migration's "Class of 2006."
No one felt the loss of those 17 birds more than Operation Migration's Joe Duff, the Canadian naturalist who helped pioneer microlight-led migration efforts with Canada geese in the 1990s. Each year, he is one of the handlers who put the fledgling cranes through their paces at Necedah. Over a period of several weeks, the cranes follow the microlights on short training flights that establish flying patterns and a natural pecking order within the newly assembled flock. When the birds are ready to head south for the winter, Duff straps into one of Operation Migration's four microlights for the months-long journey south.
This year, the crane-recovery team had been hoping for a healthy brood of at least 24 chicks to mitigate the loss of the birds in February. But injuries and developmental problems has left the Class of 2007 at just 17.
Taking considerably longer than a "natural" migration, which is unaffected by the same weather delays or aircraft fuel constraints, the migratory caravan will reach the Chassahowitzka refuge, about 60 miles north of Tampa, Florida, after approximately 60 days. Then it's time to say goodbye, anonymously.
"These are not pets, they are wild birds," says Duff. "You do get personal favorites, you do get attached. But attachment is torn with the fact that our purpose is to have as little to do with these birds as possible."
Alistair Wearmouth is a writer and editor in Alexandria, Virginia.