Expanding a Mission
The National Museum of Natural History aims to become a hub for science education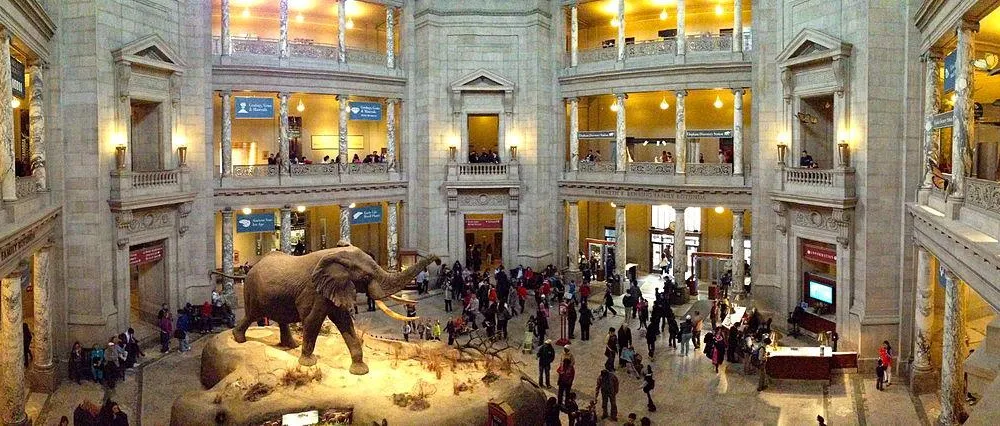 The National Museum of Natural History is one of the Smithsonian's oldest facilities (it opened in 1910) and one of its most visited. It is dedicated to exhibitions and public programs and has extensive collections of flora and fauna as well as gems and other minerals, vast anthropological records and cultural objects. Yet the museum is more than a place for collections and exhibitions. It is a center for scientific research and education whose impact increasingly reaches well beyond its walls.
The museum has three major missions. First, it is a huge collection center for natural materials — more than a hundred million objects arranged systematically and available for research and exhibition. This archive is one of the most extensive in the world and is continually enriched by ongoing research. The immensity of the collection, for instance, permits in-depth study of conditions of the earth over geologic time. Currently, a museum paleobiologist is studying the events that led to the massive extinction of most species on earth some 250 million years ago.
A second mission of the museum is education. Exhibitions are at the core of Natural History's education program, and the museum has some splendid ones. The new Janet Annenberg Hooker Hall of Geology, Gems and Minerals (supported primarily by private gifts) is a great example. Education, especially for children, is enhanced by opportunities for participation. At the museum's Insect Zoo children can observe, touch and commune with exotic insects. Plans for the west wing (under renovation) include a Discovery Room that will allow children hands-on experiences with museum artifacts. Other new exhibitions are on the way, most notably a renovated Africa Hall and innovative presentations of mammals. Still, however, there are many exhibitions that need modernization.
A third goal is research, scholarship and public service. The museum's scientists study biodiversity, participate in conservation efforts, conduct archaeological digs (many involving early human habitation in the Americas), carry on anthropological research, keep track of the world's volcanoes, and study plate tectonics and a score of other subjects. Today, on the verge of a new century, the Natural History museum is working to expand its role from being a well-loved destination for visitors to serving as the hub of a national network for science education. Last fall, for instance, six school districts around the United States began testing a program to promote museum-style, object-based learning in middle-school science classes. Supported with funds from the $20 million Behring Family Gift, Mammals in the Schools will provide each school with a mammal specimen, an electronic classroom with two-way videoconferencing links to the museum and an exhibitions lab. With their teachers and museum scientists, students will analyze their mammal's physical structure, study its habitat and the resources it needed to live, and describe its place within a larger ecosystem. Then they will design and build an exhibition to share what they have learned with their parents and community. Teachers working with museum scientists will develop a curriculum using software created for the project by IBM.
A second program funded by the Behring Gift, Mammals on the Move, will produce small exhibits for display in settings such as libraries, airports and shopping malls. These dioramas of mammals in their habitats, supported by illustrations, photographs, videos and take-home brochures, are designed to encourage people to look closely at the natural world and think about its complexity.
Other initiatives helping transform the museum into a learning hub include electronic field trips that simultaneously link several classrooms to museum science labs via videoconferencing equipment. Also in the works is an Institution-wide project to make three-dimensional, rotatable images of objects in Smithsonian collections — the vast majority of which are natural history specimens — available on the World Wide Web.
The museum is actively seeking resources needed for extensive renovation of exhibitions, for fellowships to increase the participation of college students, for expansion of research capabilities and a host of other objectives.
The federal government pays the basic bills for operations and maintenance. These other needs must largely be met by private funds. The National Museum of Natural History is a major player as we plan for a Smithsonian-wide fundraising campaign.