Even in Healthy Adults, High-Fat Fast Foods Affect Arteries Almost Immediately
In a new study, people who ate a pair of fatty sausage and egg sandwiches for breakfast showed reduced blood vessel health by the afternoon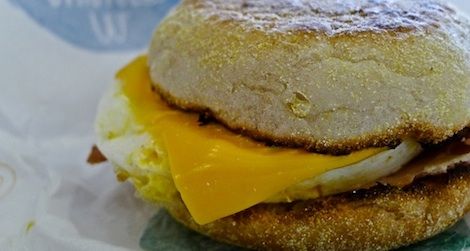 We're all aware that a eating a high-fat diet over the course of a lifetime increases your chance of developing a number of health problems, including arteriosclerosis, heart disease and colon cancer. Most of us, though, think of this as a long-term process and imagine that an occasional indiscretion—especially if we're in good shape—isn't a big problem.
For those with this type of mindset, new research on the immediate effects of consuming an ultra high-fat meal (in this case, a pair of greasy breakfast sandwiches) will be particularly unwelcome. According to research presented yesterday in Toronto at the Canadian Cardiovascular Congress by Vincent Lee of the University of Calgary, the health consequences of eating high-fat foods can become apparent within a matter of hours.
In the study, a group of 20 healthy university students was fed a pair of commercially available breakfast sandwiches (the researchers declined to specify which ones to avoid singling out one chain at the expense of the overall finding) that included processed cheese, egg and ham on a bun and added up to 860 calories, 1,500 milligrams of sodium and 50 grams of fat—roughly as much sodium and fat as an adult is supposed to eat in a day. Although eating two sandwiches might seem like an unusually unhealthy breakfast, consider that a single Sausage Biscuit with Egg at McDonald's has 33 grams of fat, while some breakfast sandwiches at Burger King have as much as 48 grams of fat.
The students' arterial health was calculated via velocity time interval (VTI). "VTI tells us how much blood flow you can you get in your arm," said cardiovascular researcher Todd Anderson, head of the University of Calgary lab where the research was conducted. Specifically, it measures how quickly blood flows back down the arm after a blood pressure cuff has been briefly inflated. In general, a higher VTI number indicates better blood vessel health, reflecting that small vessels can dilate to full capacity quickly and blood vessel signaling hormones are functioning properly.
Just two hours after eating the pair of sandwiches, the students' blood vessels already showed the ill effects of the high-fat meal. Their VTI numbers were 15 to 20 percent lower than on other days when they hadn't eaten any breakfast. Although the effect was temporary—the students' VTI numbers returned to normal over the course of the day—it still demonstrates the fact that high-fat foods can do more harm, more quickly, than researchers had previously assumed.
"The real question is: what's this doing to blood vessels over a period of time?" Anderson said. "Previously, our lab has shown that this VTI measurement, in a group of 400 middle-aged men studied for a decade, was associated with heart attack or stroke, so we think it's a good barometer of blood vessel health." Over the course of decades, reduced blood flow in these types of small blood vessels can cause plaque and cholesterol to build up.
Although previous research has shown that high-fat foods can have an acute impact on larger blood vessels, this research was the first to show a similar immediate effect on small blood vessels, which Anderson's lab believes are more pivotal in overall cardiovascular health. Additionally, he said, "the fact that we saw a statistically significant decrease in healthy individuals was a bit of a surprise. If we had studied people at risk of diabetes or obese individuals, with an abnormal metabolism, it would have been more expected."
For Anderson, the findings have less to do with breakfast sandwiches, per se, and more to do with overall health choices. "The message is that, even in young healthy individuals, dietary indiscretions are unhealthy behaviors," he said. "Within two hours of doing something bad, you can acutely impair blood vessel function in a vascular bed that we think is important for overall vascular health."
So, if just one high-fat breakfast leads to reduced blood vessel health, is it a good idea to ever eat these kinds of foods? "I won't say don't ever have a breakfast sandwich, but individuals have to show good judgment," Anderson said. "Even one episode of eating something unhealthy can have an effect. Think before you eat."