Earthworms in Your Garden May Help Prevent Invasive Slugs from Devouring Plants
In the lab, the presence of earthworms can reduce the number of leaves damaged by slugs by 60 percent, a new study finds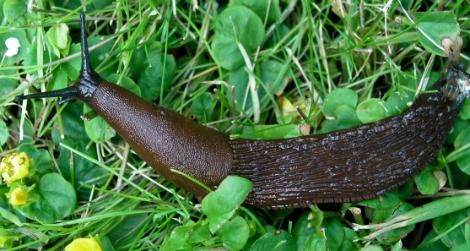 They creep through a garden, lubricated by their own secretions, leaving a trail of mucus behind. In their wake is destruction–their rapacious appetites can require them to consume several times their own body weight each day, chomping roots and leaves with guillotine-like jaws and thousands of backward-pointing teeth. Hermaphroditic as adults, they lay tiny pearls of eggs easily mistaken for fertilizer beads in potting soil, allowing them to rampantly proliferate in gardens and nurseries.
They're slugs, and their fleshy, squishy bodies are basically one huge stomach on a foot, driven by one overarching goal: to consume. Although some native slugs help decompose dead organic matter, returning nitrogen and other nutrients to the soil, the voracious hunger of several invasive species can destroy gardens and farms in the damp regions of the globe that slugs prefer to roam. Slugs are known to devour ornamentals, leafy shrubs and–because they enjoy slithering underground–bulbs, tubers and plant roots. If you see large, irregular holes in your hostas, you know who to thank.
New research, however, suggests that there might be simple ways to ward off slug damage. A study published this week in the journal BMC Ecology by scientists at the University of Natural Resources and Life Sciences Vienna shows that earthworms burrowing in the soil can protect plants overhead from being a slug's next meal. Further, higher plant diversity also decreases the destruction slugs can wreak on individual plants.
To come to these findings, the researchers used large incubators to create mini grassland ecosystems in a laboratory setting. Different incubators contained different levels of plant diversity–between three to 12 species of either grasses, forbs, or legumes. After four weeks of plant growth, researchers introduced to the soil of some of the incubators a healthy amount earthworms (about 333 per square meter) who were free to burrow, convert organic matter into richer and more fertile soil, aerate soil, excrete nutrients in a more accessible form for plants and do the myriad of other things that earthworms do.
Five weeks later, two Spanish slugs (Arion vulgaris)–a critter in the top 100 worst alien species of Europe according to projects funded by the European Commission–were added to select micro-ecosystems and left there for one week. Throughout this week, plants were monitored periodically for slug damage.
If you're hoping for an epic battle between slugs and earthworms, think again. Instead, the mere presence of earthworms reduced the number of leaves damaged due to slugs by 60 percent. Additionally, the researchers found that slugs ate 40 percent less in bins with high plant diversity than in those with low.
"Our results suggest that two processes might be going on," explained lead author Johann Zaller in a statement. "Firstly, earthworms improved the plant's ability to protect itself against slugs perhaps through the build-up of nitrogen-containing toxic compounds. Secondly, even though these slugs are generalists, they prefer widely available food." As a result, in highly diverse ecosystems "slugs eat less in total because they have to switch their diets more often since plants of the same species are less available," he added.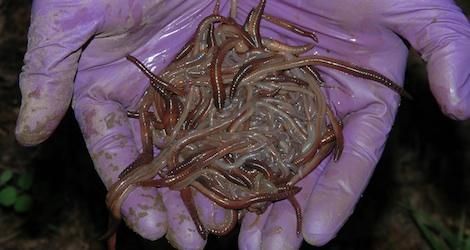 Gardeners are familiar with the idea that varying up their plant beds helps preserve the plants most tasty to invasive slugs. But the tenacity of these slugs and their insatiable appetites cause many horticulturalists hover over their plants like helicopter parents, employing all sorts of methods to curb slug infestation.
Approaches vary in their effectiveness and efficiency. For example, those with the time and inclination to coddle their plants can tent cardboard overnight on the ground around prize plants to create a moist shelter for the nocturnal gastropods. Removing the newspaper in the morning often yields a writhing clutch of slugs, which can then be removed and killed. Quicker methods can be found with slug bait, but many can increase the toxicity of surrounding soil and can be harmful to wildlife and pets if ingested. Salting slugs–death by dessication–also can be harmful to nearby plants, as salt can interfere with the plant's ability to uptake water.
Some gardeners place copper strips around the perimeter of flower beds–the copper supposedly reacts with slug slime to produce a kind of electric shock, repelling the creatures. Others use cans of stale beer, buried around a garden, as traps–the slugs, lured by beer's fermented smell, get caught in the can, can't escape and then drown. But the new results suggest that earthworms–already the gardener's best friend because of their ability to improve soil fertility–may be even more effective than all these methods, highlighting the idea that organisms in soil can affect the health of organisms above ground.
Such interactions are largely ignored in ecological research, according to Zaller. "What we know from other studies is that earthworms change the nutrition of plants, thus enabling them to better respond to herbivores," he told Surprising Science in an email. "As a response against herbivores, plants usually change their chemistry and they build up (costly) secondary chemicals in their leaves. If the nutrition of the plant is improved by the activity of earthworms, more of these defense compounds can be build up and the plant is better protected against herbivores."
Of course, "one has always be very cautious in translating results from a specific experiment into the natural world," Zaller continued. "In ecology many results are context specific, species-specific etc. Whether our results can be applied to other invasive slug species (or herbivores in general) would of course demand specific experiments. However, I would guess the mechanisms we suggest happening in our setting should be similar in settings involving different species."