Dorset Dinosaur Removed Under Police Escort
Local council members of Weymouth Bay in Dorset, England were not so pleased when a dinosaur sculpture appeared off one of their beaches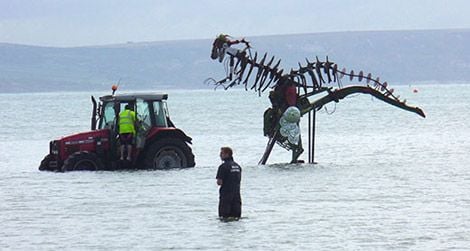 Earlier this month I wrote about how residents of Galena, Illinois were delighted when local resident Rick Parsier installed a metal Tyrannosaurus sculpture in his yard. But local council members of Weymouth Bay in Dorset, England were not so pleased when a similar sculpture appeared off one of their beaches.
According to the Telegraph, the owner of the sculpture, Paul Swaffield, thought it would be fun to give his sculpture a new home along the "Jurassic Coast." Indeed, this area is rich in Jurassic fossils, including some that helped to launch the discipline of paleontology in England. The bones of Tyrannosaurus are not to be found here, but Swaffield's sculpture still drew attention to the site's history.
The problem is that Swaffield did not have permission to set up his sculpture off the beach, and the local council felt the sculpture was a threat to public health and safety. Soon after it was put up the local police helped to cart the Tyrannosaurus away. At the moment it is unknown whether it will be destroyed, returned to Swaffield, or given some other home.