Dinosaurs Along the Silk Road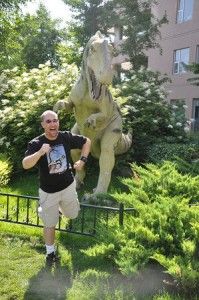 I have often wanted to visit the natural history museums and famed fossil sites of China, but sadly such a trip is a bit out of my price range. Fortunately, though, paleontologist Jerry Harris has recently returned from a grand dinosaur tour of China with colleagues Matt Lamanna and Hailu You and shared his photos from the trip.
Maybe it is not as good as being there yourself, but Harris has uploaded many shots of skeletons, fossil sites, and paleontologists in action, all with helpful captions to explain just what you are looking at. If the photos inspire you to undertake such a trip yourself, then you might be interested to know that Sinofossa Tours, the paleo-tour company that organized Harris' trip, regularly runs similar endeavors. It is a great way to get an in-depth look at paleontology in China.