Dinosaur Watch Will Take a Bite Out of Your Wallet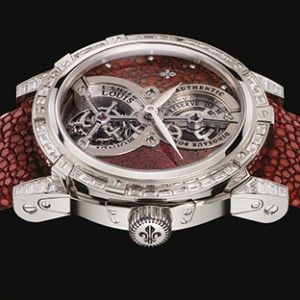 For the dinosaur lover who has everything, watchmaker Louis Moinet recently debuted the "Jurassic Tourbillon" watch. Said to contain fragments of "authenticated dinosaur bones," this gold-cased, diamond-encrusted watch is meant for high-class buyers with cash to burn (it costs over $140,000!), but I don't find it to be that impressive. I would rather buy a cheap watch that can take a beating while fossil hunting than an overpriced piece of jewelry that may or may not contain actual dinosaur bones.
Not surprisingly, though, with the announcement of the Jurassic Tourbillon other designer watchmakers are jumping on the fossil bandwagon. Among the first of the copycat designs is a watch set in a piece of fossilized dinosaur dung produced by the Swiss company Artya which will retail for about $11,290. I guess coprolites just can't command the same price that dinosaur bone can.