Dinosaur Sighting: Tyrannosaurus Asks 'Paper or Plastic?'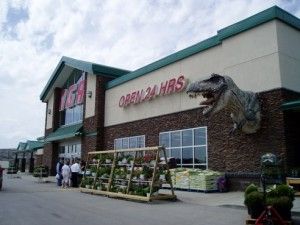 Today's Dinosaur Sighting comes to us from reader Cameron, who snapped this photo of a Tyrannosaurus popping out of an IGA grocery store wall in Drumheller, Alberta, Canada. The dinosaur may look mean, but I'm sure he's just enthusiastic about helping shoppers take bags to their cars. Too bad he's got such tiny arms....
Have you seen a dinosaur in an unusual place? Snap a photo and send it to [email protected] and you may see it here!