Dinosaur Sighting: Tyrannosaur Stowaway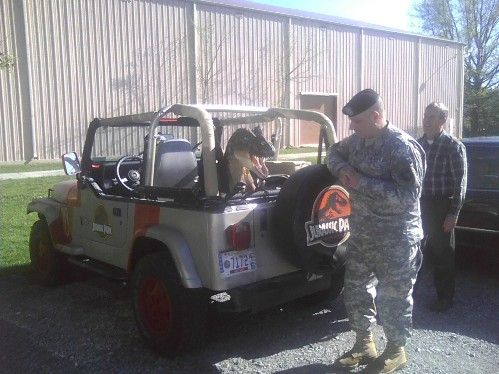 If you spot a tiny tyrannosaur peeking out from the back of a jeep in the vicinity of Fort Campbell on the Kentucky-Tennessee border, you aren't seeing things. The dinosaur and the custom-painted Jurassic Park jeep are the creations of Daniel Peterson, the director of the U.S. Army Museum at the military base. "I drive the jeep everywhere and it attracts a lot of attention," says Peterson, and he even has plans for an even more impressive dinosaur display. "I am currently building a 22-foot-long T. rex that will appear to have 'pounced' on the back of the jeep," though he notes that the bigger dinosaur "will only be installed on special occasions."
If you see the tyrannosaur-toting jeep during your travels, snap a photo and send it to us! Submissions of dinosaurs—and other ancient beasts—in unusual places should be sent to [email protected].