Dinosaur Sighting: Parry-sloffy
An affinity for lambeosaurine dinosaurs seems to run in the family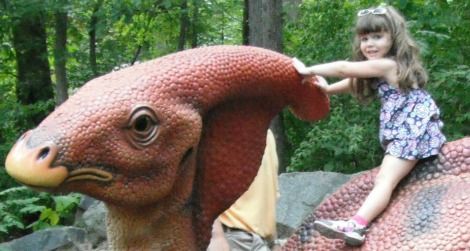 Typically our Dinosaur Sightings are of prehistoric creatures spotted in unexpected places—that is, not at museums—but today's submission was too darned cute not to share.
Reader Christine Teander snapped this photo at Durham, North Carolina's Museum of Life & Science, where she got up close and personal with the crested hadrosaur Parasaurolophus. "It's my favorite dino of all time," Christine writes, "so to see it for real, to touch it, to climb on it was a weird little childhood dream come true." Even better, an affinity for lambeosaurine dinosaurs seems to run in the family. Christine says, "then my daughter climbs up and says 'Parry-sloffy' is her favorite in the whole wide world… oh just melts mommy's heart!" Adorable.
Have you seen a dinosaur or other prehistoric creature in an unusual place? Please send your photo to [email protected].