Dinosaur Sighting: Oregon is Overrun With Dinosaurs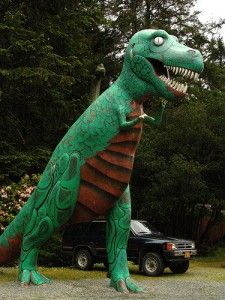 Earlier this month, reader Stephen Sasser sent us a vintage photo of him and his family at Thunderbeast Park in Oregon. Unfortunately, Thunderbeast Park is now closed, but in the comments of the post featuring the picture another reader named Doug gave us a tip about some other dinosaur sculptures somewhere in Oregon.
With a little digging I found out that the snapshots Doug had taken came from Prehistoric Gardens in Port Orford, Oregon. It seems that it is still open to the public, so if you are driving along the Oregon coast why not stop off and see the dinosaurs?
Do you have your own photos of roadside dinosaurs? Have you seen a dinosaur in an unexpected place? Send the photo with a short description to [email protected] and you might just see it here!