Dinosaur Sighting: Dental Dinosaur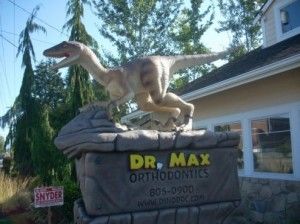 Among other things, dinosaurs are well known for having big mouths full of teeth, so it is not altogether surprising that at least one orthodontist has taken a dinosaur as a mascot. Sent to us by reader Jason Brunet, this week's dinosaur sighting features a Jurassic Park-style Velociraptor outside the office of orthodontist Dr. Max in Monroe, Washington. It is probably best that there are no dinosaurs around to actually visit the clinic, though; can you imagine trying to fit braces on a Tyrannosaurus?
Have you stumbled across a dinosaur in an unexpected place? If you have, and have a photo of the encounter, send it to us via [email protected]!