Dinosaur Sighting: Colorful Stegosaurus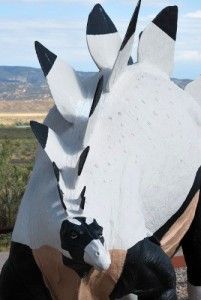 When my wife and I pulled into the parking lot of Dinosaur National Monument we were greeted by a rather imposing figure. Standing in front of us was this sculpture of a strikingly-colored Stegosaurus. Just what color this dinosaur would be in real life is open to discussion, but I had never seen one with this color pattern before.
Have you stumbled across a dinosaur in an unexpected place? If you have, and have a photo of the encounter, send it to us via [email protected]!