Dinosaur Sighting: Berlin's Dilapidated Dinosaurs
At a spooky abandoned theme park, once-regal dinosaurs are suffering a second extinction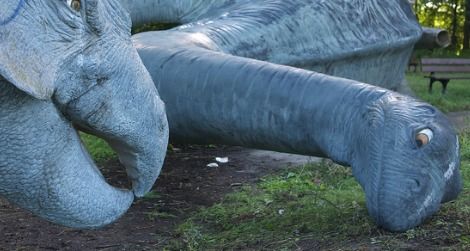 In an abandoned Berlin amusement park, dinosaurs are slowly suffering a second extinction. The creatures, attractions at what was once the German Democratic Republic's Kulturpark Plänterwald, have toppled over, are decorated with graffiti and are slowly rotting away in a setting perfect for a Scooby-Doo episode or another tedious found-footage horror film (your choice).
Kuriositas recently laid out the park's backstory. When the static dinosaurs were put in place, Kulturpark Plänterwald was in Soviet-controlled East Berlin. The theme park was the only one on the communist side of the Berlin Wall. But when East and West Germany reunited in 1989, the park quickly collapsed. Even though the attractions at the relabeled Spreepark were expanded, a lack of parking and an unpopular single-price entry fee rapidly cut attendance. By 2001, the park was mired in a pit of debt with no way out. Spreepark closed, and the dinosaurs have gradually been decaying ever since.
For more photos, see the Kuriositas blog post about Spreepark.
Have you seen a dinosaur or other prehistoric creature in an unusual place? Please send a photo to [email protected].