Dinosaur Sighting: Another Mini-Golf Dinosaur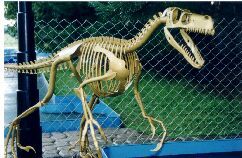 It looks like, outside of museums, mini golf courses are a good place to find dinosaurs. After last week's sighting from a defunct Maryland course, the owner of Sudbury, Ontario's Dinosaur Valley Mini Golf let us know that their course boasts more than 20 skeletons of prehistoric animals. Not all of them are dinosaurs, and I think I saw a dragon among the mix, but it still looks like one of the most dinosaur-infested courses around.
Have you stumbled across a dinosaur in an unexpected place? If you have, and have a photo of the encounter, send it to us via [email protected]!