Dinosaur Sighting: A Stegosaurus in Paris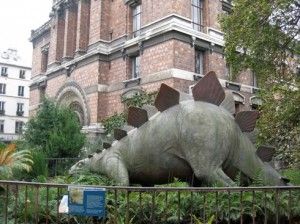 Our latest Dinosaur Sighting comes to us from our very own Sarah Zielinski, who writes for the Surprising Science blog here at Smithsonian. During a recent visit to Paris, Sarah spotted this Stegosaurus outside the Museum National D'Histoire Naturelle, and while she did not see anyone on it while she was there, apparently kids love to clamber onto the back of this dinosaur.
Have you seen a dinosaur in an unexpected place? Snap a photo and sent it to [email protected].