Dinosaur Sighting: A Classic Mascot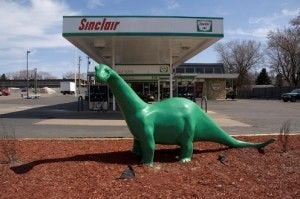 While driving through Utah and Wyoming last summer, I regularly saw dinosaurs along the side of the road. Most of them were the mascot for the Sinclair Oil gas stations, the green "Brontosaurus" the company has used for the past century. Reader Mark Ryan has seen them too, and sends us this photo of one of the scaled-down dinosaur models often seen at the stations, this one just off I-94 in Woodbury, Minnesota.
Have you stumbled across a dinosaur in an unexpected place? If you have, and have a photo of the encounter, send it to us via [email protected]!