Dinosaur Decapitation in Durham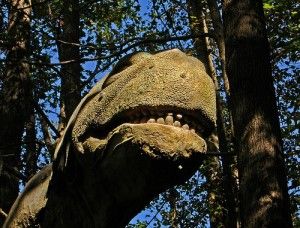 Sometime over this past weekend the "Brontosaurus" at Durham, North Carolina's Museum of Life and Science lost its head. The statue stood for more than three decades in what had been called the Pre-History Trail, and everyone was shocked to see that had been vandalized. The crime was made even more frustrating given plans to restore the sculpture and bring in other dinosaurs to make a new Dinosaur Trail for visitors to enjoy.
The construction of Dinosaur Trail will move ahead, but some local residents really want the missing "Brontosaurus" bits returned. Resident Mark Shiflett has offered a $100 reward for the return of the stolen parts. Even if they never show up, though, people are so fond of the dinosaur that it will likely be restored anyway. It has been a part of many people's childhood, and the museum has been collecting snapshots of it (and other dinosaurs from the old Pre-History Trail) on Flickr.
UPDATE: As Museum of Life and Science employee Beck Tench has kindly informed us (see comment below), the "Brontosaurus" head has been found. (You can see updates about the ordeal on the museum's Twitter page.) Details about how and why it was stolen are unavailable, but the important thing is that there was no further signficant damage to the sculpture. Now, who has the superglue?