David Zax on "Galileo's Vision"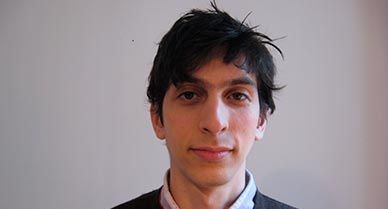 David Zax is a former writing intern at Smithsonian magazine. He's been a writing fellow at Moment magazine and is currently freelancing. He has had articles published in Slate, Salon and Seed.
What drew you to this story on Galileo?
To be honest, I hadn't known a whole lot about Galileo before the Franklin exhibit offered the occasion for this story, but I leapt at the assignment, for a few reasons. First, I am fascinated by the history of science and technology, which I think is sometimes underestimated in comparison to political and social history. I also had vague impressions of Galileo—from paintings I had seen presenting a dramatic showdown with the Church, from Milton's description of "the Tuscan Artist" peering at the moon through an "Optic Glass"—but I didn't know the details of his story.
What was it like seeing one of two surviving telescopes made by Galileo himself?
As I suggest in the article, it was at once overwhelming and underwhelming. Underwhelming in that it is, frankly, a very banal-looking device. Next to all the fancy, gilded instruments surrounding it at the exhibit, it looks like something you could chuck out with the trash. But when you think about it, that device changed our world. It helped bring us closer to understanding the universe as it actually is, rather than how we might imagine it to be. And the fact that it is not gilded and designed for presentation, in fact, makes it more beautiful, because you know that this was a telescope that Galileo actually used, that he picked up while doing the work of bringing us this new universe.
What was your favorite moment during your research and reporting?
Visiting the exhibit was of course great—seeing the telescope and all the other devices. Plus, I was fortunate to have tours conducted by several very knowledgeable Italian curators who have dedicated their lives to Galileo and the Medici's legacy. But I also really enjoyed going back and looking at some of the primary sources—Galileo's The Starry Messenger, for example. Though a serious scientist, Galileo took care to make his research very readable. He maintained that you didn't need an elite education to understand his findings, and even took the drastic step of publishing some of his work in Italian, rather than Latin, making it more accessible to the average working person who simply had an interest in the new findings.
What surprised you the most about Galileo?
One thing that amazed me was how elegant and witty of a writer Galileo was. Some of his most important books—including the one that got him into so much trouble, The Dialogue Concerning the Two Chief World Systems—were actually written in the form of dialogues between several characters he created (the fact that he attributed the Pope's preferred view of science to the character named "Simplicio" was probably not a great idea). His letters were beautiful. He even wrote a somewhat bawdy satirical poem in his younger years called "Against Wearing the Toga." I felt that he would have been a fun guy to get a beer with, actually.