Curious About Curiosity? What to Read on the Mars Science Laboratory
The traveling science laboratory launched successfully on Saturday and is scheduled to touch down on the red planet in August 2012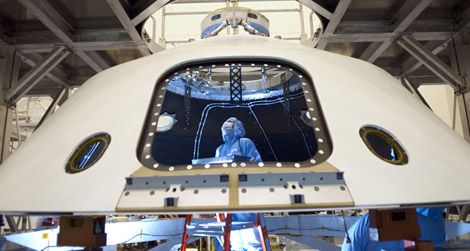 As we're catching up on our e-mails and to-do lists after the long Thanksgiving break, we thought we'd give you some recommended reading on Saturday's launch of Curiosity, the newest Mars rover, which is scheduled to touch down on the red planet in August 2012.
In our sister publication, Air and Space, editor Tony Reichhardt outlines the physics behind the science laboratory's descent to the planet's surface in a fascinating photo essay:
The landing should be precise and gentle, and because the descent stage flies away after dropping off the rover, there's no rocket exhaust to contaminate the arrival site, as happens with conventional landers. The journey to Mars takes nine months, but the final, stomach-churning landing sequence, scheduled for August 5, 2012, takes less than a minute.
In 2005, science writer Carl Zimmer wrote a piece for Smithsonian about what it would mean to find life on Mars:
If all goes as planned, a new generation of rovers will arrive on Mars within the next decade. These missions will incorporate cutting-edge biotechnology designed to detect individual molecules made by Martian organisms, either living or long dead.

The search for life on Mars has become more urgent thanks in part to probes by the two rovers now roaming Mars' surface and another spaceship that is orbiting the planet. In recent months, they've made a series of astonishing discoveries that, once again, tempt scientists to believe that Mars harbors life—or did so in the past. At a February conference in the Netherlands, an audience of Mars experts was surveyed about Martian life. Some 75 percent of the scientists said they thought life once existed there, and of them, 25 percent think that Mars harbors life today.
Elsewhere on the web, Bad Astronomy gives you a rundown of what to look for in the liftoff video and has extended thoughts on Curiosity's landing procedure; Alan Taylor of the Atlantic's In Focus blog has an up close and personal look at the rover; and the Planetary Society highlights a great infographic by Jason Davis on the history of Mars exploration.