Colorado Dinosaur Tracks in Danger of Disappearing Forever
Time is running out to save this national treasure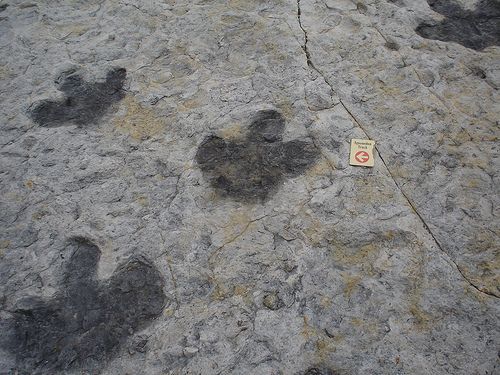 The Cretaceous dinosaur tracks scattered along Morrison, Colorado's Dinosaur Ridge have persisted in the fossil record for 1o0 million years, but they are now in danger of being lost forever. Exposed on the surface, the tracks are being eroded away bit by bit, and a local controversy over the aesthetics of the Colorado landscape has complicated efforts to preserve these tracks.
The fossil sites of Dinosaur Ridge come from three different time periods. There is a 150-million-year-old dinosaur bone quarry, a 100-million-year-old track site, and a 68-million-year-old track site. It is the 100-million year-old set of tracks, dominated by footprints made by an Iguanodon-like dinosaur, that is at the center of the debate. Regular freeze-thaw cycles and exposure to the elements have been gradually destroying the tracks. According to an article in the Denver Post, the nonprofit group Friends of Dinosaur Ridge has proposed that a canopy of high-tech fabric be erected over the site to help prevent further damage. The trouble is that this proposal runs counter to Jefferson County's official Front Range Mountain Backdrop policy which forbids structures that would obscure or detract from views of the mountains. An article on the debate from LJWorld.com reports:
"The plan that they came up with includes structures and it just doesn't work," said Kathryn Heider, a spokeswoman for Jefferson County, which owns the land where the tracks are located 15 miles from Denver. "It doesn't mean we don't want to preserve the footprints. It just means we don't want structures on the backdrop."
Discussions about what can be done to save the tracks are ongoing, but there is not much time left. Based upon damage already done to the tracks, the Friends of Dinosaur Ridge project that the tracks have only about 10 to 15 years before they are lost. Their destruction would rob a natural treasure from scientists and the public alike. I hope that an amenable solution to this dilemma can be found soon.