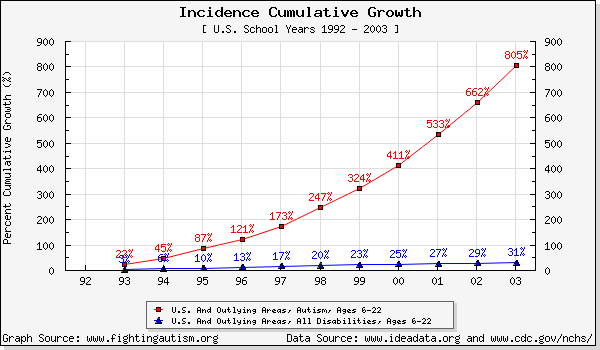 Scientists from 19 nations studied DNA samples from 1,168 families with two or more autistic children over the span of a five-year study released this past weekend. Not to mention that "60 Minutes" took a gander at autism last night. And the New York Times dedicated much of its weekend coverage to autism.
This all on the heels of article after article in Newsweek, including cover stories (and Time magazine's let's-ask-a-controversial-question-but-not-answer-it story last month). Not to mention Kim Peek, the basis of Hollywood's Oscar-winning autistic "Rain Man," being paraded at what was basically an intellectual sideshow written up in the New Yorker -- in the esteemed magazine's "Kooky Dept." -- as a hodgepodge of curiosities.  So .... yeah. Is it OK to say that autism is maybe cool these days? Now that red AIDS ribbons and pink breast cancer paraphenalia have become so cliche, is autism the new cool disease to talk about? Maybe it helps that Bob Wright, a vice chairman at General Electric (and a top dog at NBC Universal), created Autism Speaks in 2005 to "raise awareness" after his grandson was diagnosed.
Whatever the reason behind the flurry of coverage, you don't need to be a chaotician to know that it's a little weird. Definitely, definitely weird.