Attack of the Giant Pythons
The Smithsonian's noted bird sleuth, Carla Dove, eyes smelly globs to identify victims in Florida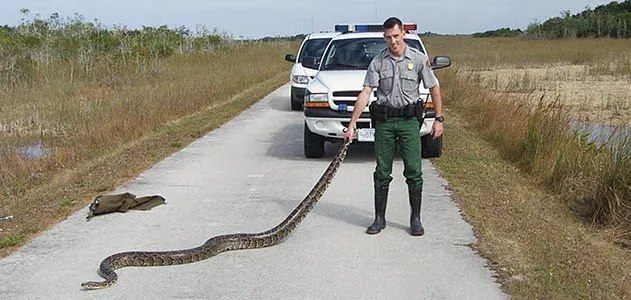 Carla Dove, head of the National Museum of Natural History's Feather Identification Lab, is working on a mystery. Surrounded by racks of embalmed birds in jars, she digs through the contents of a red cooler, pushing aside paper and ice packs and finally opening a plastic garbage bag. Inside are ten samples of stomach contents from Burmese pythons captured in the Florida Everglades.
The majority of Dove's work involves identifying birds hit by planes, a long-standing problem for aviation. "I mean, Wilbur Wright had a bird strike," Dove says. Using DNA analysis and feather identification, she helps airports figure out which species to deter. Dove identified Canada geese as the cause of the emergency landing of US Airways Flight 1549 on the Hudson River in 2009.
But a few years ago, Dove received a call from Skip Snow, a wildlife biologist at Everglades National Park, with a different kind of bird identification assignment. "Carla, we've got a problem down here and we need your help," Dove recalls him saying. Burmese pythons, an invasive species, were preying on wildlife in the park at an alarming rate.
"I realized right away that this was an important study," Dove says. The snakes, first reported in the park in 1979, are likely descended from released or escaped exotic pets. Their current population is in the thousands, and they are proliferating rapidly. "The first way to prove the danger they're causing to the environment is to figure out what they're eating and how much of it they're eating," Dove says. So Snow began sending Dove stomach samples from captured pythons.
Identifying any birds in such samples is messy, time-consuming work—a task Dove embraces with gusto. "My job is not so glamorous," she says, picking up a brown glob in a plastic sandwich bag. She washes it in warm water, then dries it with compressed air: "Feathers are made of keratin, like your hair, so they are very durable and easy to clean and dry." She examines them under a microscope, looking for fine variations in color, size or microstructure that tell her which taxonomic group a given bird belongs to.
Dove then takes the sample into the museum's collection of 620,000 specimens from more than 8,000 species of birds and looks for a match; it can take anywhere from a few hours to a few days. "This is the way we've been doing it for 50 years," she says. "We have DNA now, but DNA is not going to help us in this case"—the python's digestive system has destroyed or contaminated the genetic material—"so you really have to rely on those basic skills of identifying things based on your experience and your knowledge."
In the past year, Dove has identified 25 species of birds from the stomach contents of 85 Burmese pythons. The tally includes such endangered species as the limpkin and the wood stork—which stands more than three feet tall. "These snakes are growing bigger and eating bigger things," Dove says, including alligators and deer. (In their native habitat, Southeast Asia and southern China, they even eat small leopards.) The largest snake captured in the park was almost 17 feet long. Dove's research, published in the March issue of the Wilson Journal of Ornithology, is essential for figuring out how to deal with these predators, Snow says.
There is no quick fix. Snow envisions a three-pronged program—education, prevention (keeping new exotic snakes out of the Everglades) and suppression (killing as many pythons as possible). Dove's research will help bolster support for and refine the effort, he says: "We may be quite surprised to find the degree that these animals have already threatened the integrity of Everglades National Park."
In the lab, Dove has identified the new sample as a pied-billed grebe, a small bird that spends most of its time on lakes or ponds diving for food. The research has made a big impression on her. "This is pretty close to the most memorable work I've done," Dove says, "because it's been really smelly."