Artists Join Scientists on an Expedition to Collect Marine Debris
Now, they are creating beautiful works from the trash they gathered on the 450-nautical-mile journey in the Gulf of Alaska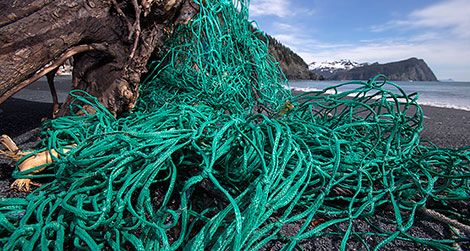 Washed up on the remote beaches of southern Alaska are plastics of every shape, size and color. There are detergent bottles, cigarette lighters, fishing nets and buoys, oil drums, fly swatters and Styrofoam balls in various states of decay. They come from around the world, adrift in rotating sea currents called gyres, and get snagged in the nooks and crannies of Alaska's shoreline. Set against a backdrop of trees, grizzly bears and volcanic mountains, these plastics are eye-catching, almost pretty—and yet they are polluting the world's oceans.
The garbage, dubbed "marine debris" by the National Oceanic and Atmospheric Administration, wreaks havoc on marine ecosystems. It destroys habitats, transports nonnative species, entangles and suffocates wildlife. Animals mistake the garbage for food and, feeling full, starve to death with bellies full of junk. For humans, the problem is more than cosmetic; marine debris endangers our food supply.
In June 2013, a team of artists and scientists set out to see the blight firsthand. Expedition GYRE, a project of the Anchorage Museum and the Alaska SeaLife Center, traveled 450 nautical miles along the coast of the Gulf of Alaska to observe, collect and study marine debris. A companion exhibition, opening in February 2014 at the Anchorage Museum, will showcase artworks made using ocean debris.
For the artists on the GYRE expedition, each day in Alaska was filled with scientific briefings, trash reconnaissance and individual pursuits. All four artists—Mark Dion, Pam Longobardi, Andy Hughes and Karen Larsen—are known for work that explores environmental themes and, more or less explicitly, the pleasures and perils of plastic.
Collecting
Mark Dion is, first and foremost, a collector. The New York-based artist often works in the mode of an antiquarian naturalist, arranging modern and historical objects in collections that resemble Renaissance curiosity cabinets. "This is kind of the way I know things," says Dion, "by collecting, by having physical contact with actual material."
On the black sand of an Alaskan beach, Dion created a collage of bottle caps, sorted by shape and color. It wasn't a finished piece, by any means, but an effort to "learn by seeing." He cast himself as the "proverbial Martian archaeologist," trying to make sense of the detritus of human civilization based on its formal qualities.
"When stuff is strewn on the beach, it's deposited by forces of nature it takes on almost a natural quality," he says. "But there's nothing natural to it. This is a way to restore it as a cultural artifact, an artifact which fits uncomfortably in these remarkably remote places."
These places were remote even for Karen Larsen, the only Alaska-based artist on the trip. She viewed GYRE as a "fact-finding mission," a chance to explore parts of the state that she hadn't visited before. Larsen has created several environmental works such as "Latitude," a large-scale installation made out of ice and snow, and "XGRN," a graphic depicting the life cycle of a water bottle.
"Alaska is not as pristine as everyone thinks it is," Larsen says. "No place is really that way anymore." During the trip, she was particularly drawn to microplastics—colorful, beadlike particles measuring less than five millimeters in diameter. Stored in a jar, the artist's collection of the plastic bits resembles confetti and, she says, evokes the "small changes in our plastic ways" that can have a big positive impact.
Dion noticed that the artists and scientists collected in a "parallel way." Nick Mallos, a conservation biologist, collected bottle caps in order to trace their provenance, while Odile Madden, a research scientist at the Smithsonian Museum Conservation Institute, tested her plastic collection for toxicity. "Instead of becoming a science collection or an art collection, it just became one collection that we both able to use for our different purposes," Dion says.
Pam Longobardi collects, in part, to clean up. She feels compelled to remove as much trash as she possibly can. "Every single piece of plastic I pick up or roll or drag, that specific piece is not going to harm a wild creature," she says. "It's not going to be tangling a whale. It's not going to be in a bird's stomach or end up in fish or seals. That's why I'll do it, and I'll bend over the millionth time and drag the material off the beach."
As part of the expedition, the GYRE team assisted with the National Park Service's clean-up, retrieving a full ship's worth of marine debris. The top deck of the research vessel was piled six feet high with garbage—but there was still more, innumerably more, left on the beach.
Activism
Pam Longobardi is an artist, an educator and an unapologetic activist. Her "Drifters Project" employs marine debris as both medium and message. One piece called "March of Humanity," for instance, is an array of 77 orphaned shoes, illustrating the wastefulness of human industry. In "Defective Flow Chart (House of Cards)," 1,300 pieces of Styrofoam, which Longobardi personally fished out of a cave in Greece, are stacked into a delicate shrine of seemingly ancient origin—though there is, of course, nothing ancient about it.
"I see the art as an arm of activism because it can activate," Longobardi says. "I think art has work to do. It can motivate people, and it can be transformational." She was the first artist to join the GYRE project and worked closely with Howard Ferren, conservation director at the Alaska SeaLife Center, to recruit other artists for the expedition and exhibition.
Her companions on the trip share her passion for conservation but nonetheless balk at the term "activist." Andy Hughes, a photographer from Cornwall, England, supports environmental NGOs but describes his photography as "sitting on the fence" between art and activism. His 2006 book, Dominant Wave Theory, for example, features close-up portraits of forlorn pieces of beach trash. Mark Dion sees himself as an "artist aligned with environmentalism" and concedes the limitations of contemporary art in reaching the general public. Dion acknowledges that his work, exhibited in fine art galleries across the globe, tends to preach to a well-heeled and politically liberal choir.
Longobardi, on the other hand, regularly collaborates with advocacy groups, reads scientific papers, shares online petitions and otherwise pushes for environmental policy reform worldwide. Her work has brought her face-to-face with the violence done by marine debris, and she has studied the science extensively, albeit informally. "I don't have any kind of censor or gag order on my thoughts and feelings about this," she says. "I don't have to wait until I prove it in a scientific paper to tell what I know."
Ultimately, solving the problem of marine debris will require as much artistic conviction as it does scientific rigor. Art moves people in a way that even the most shocking statistics cannot. The GYRE expedition's "stroke of brilliance," according to lead scientist Carl Safina, was giving artists a platform to articulate the issue to a broad audience. "If the scientists alone had gone and said, 'We saw so much trash and 30 percent of it was blue and 40 percent of it was green and 90 percent of it was plastic,' it would be of no interest to anybody," he says. "That's the thing that I appreciate about the artists. Their work is instantly just much more accessible."
Bringing it all back home
Somewhat ironically, the artists use beauty to call attention to the ugliness of marine debris. Plastics are attractive, arrayed in bright colors and shiny forms as irresistible in one instant as they are disposable the next. As Dion puts it, "these objects are meant to seduce."
Longobardi's art seduces too, using beauty as a "hook" as well as a dialectical "weapon"; viewers are drawn into her intricate creations, then unnerved to realize that they are made out of plastic trash. "What I'm talking about is so horrifying to go straight to the horror of it, I would lose a lot of people," she says. She is currently working on two pieces inspired by the GYRE expedition—one, a ghoulish plastic cornucopia that symbolizes the "squandered bounty of the planet," and the other, a sculpture with a range of small to large plastics, including tiny toys and the lid of a BP barrel, all made from and representing petroleum.
Andy Hughes is creating what he calls "constructed photographs, more akin to painting." His new work avoids metaphors of destruction and overconsumption, instead portraying plastic objects as "religious orbs, which float and inhabit sky, earth, beach and sea."
For Hughes, the trip has lost none of its emotional potency. His memories come back to him, half a world away, whenever he puts on his Wellington boots. He had set out for Alaska expecting it to be "vast and empty," but instead discovered that "it was completely alive," teeming with millions of organisms. Hughes said that the beaches in Alaska actually reminded him of the ones back home in Cornwall.
Indeed, it felt strange to Mark Dion that they traveled so far to see a problem that hits every human so close to home. "The lesson of this trip is that there is no away," says Dion. "There is no other place. Everything we try to get rid of, we find again."