Arctic Dispatch: The Hike Up Jade Mountain
After a day of experiments and ongoing mosquito battles, Christine Dell'Amore enjoys the view from the top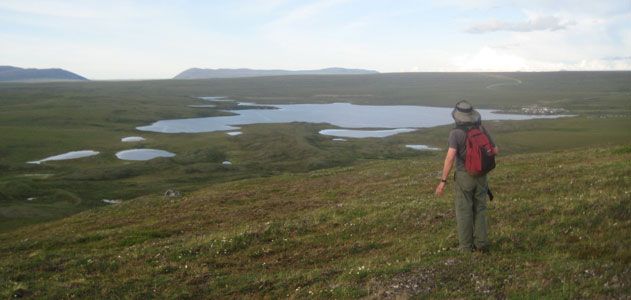 The next time someone complains about mosquitoes, I'm going to give them an earful. Since we finished our day's experiments early, our fellowship leader Chris Neill suggested an evening hike up nearby Jade Mountain, a popular hike at Toolik. At about 7 p.m., with the sun still glaring, we loaded into the station's power boats and zoomed across Toolik Lake to begin our climb. The moment we disembarked, the hordes of mosquitoes attacked.
After two days at Toolik, I've almost gotten used to these bugs covering my clothes like a living carpet all day long. But this was an invasion at a magnitude we hadn't yet encountered. Imagine "The Birds," except with mosquitoes as the villains. And as we made the long, laborious hike up the bouncy tundra -- land so buoyant that footprints remain for a few seconds -- I felt sharp pricks in my back and my arms. The evil little things were biting me through my clothes -- even though I'd virtually doused myself in DEET.
As we winded our way up the mountain, we found the decaying leg of a Dall sheep, a hardy white sheep that scampers along the rocks of the tundra, and a tuft of leathered caribou skin with the thick tan hair still attached -- no doubt remains scattered by wolves or bears. After several false rises, most of the group decided to rest, but a few of us kept going, determined to reach the summit.
Once at the top of the mountain, we were provided with a vast, uninterrupted vista that unfolded for miles. Silvery lakes shimmered among the moss-green tundra and snow-covered Brooks peaks rose in the far distance. Chris tried to spot grizzly bears with his binoculars, but the mosquitoes were too fierce even for him, so we headed back downhill.
We loaded in our boats, the mosquitoes still in hot pursuit. As we pushed off, a rainbow emerged in the sky -- a striking sight at 10 p.m. and a pleasant ending to our experience on what the fellows are now calling Skeeter Mountain.