Amazing Photographs of Water Droplets Colliding
See the results of 98-year-old Irving Olson's kitchen experiments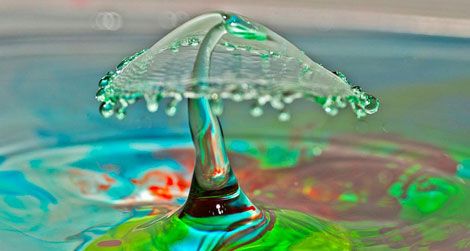 There is a real science to Irving Olson's art. So much so, in fact, that the 98-year-old photographer has converted the kitchen of his Tucson home into a miniature laboratory.
Olson's latest experiment involves photographing the precise moment when two water droplets collide. He resolved to this challenging task about a year ago, after seeing a black-and-white image of this type in Rangefinder, a technical photography magazine. "I went to work on it," says Olson, "and I added color."
Olson rigs a little water chamber, extending from a tripod, above a pan of water. (See a similar setup here.) He dyes each vat of water a different hue with food coloring. Using a device called a "Time Machine," Olson controls the number and size of the water drops released from the chamber's electric valve, as well as the length of time, to the thousandth of a second, in between drops and in between the release of a drop and the flash of his Nikon D800 camera.
"When you release a drop of water into a pan of water, it drops down and it jumps back up out of the water about two inches," says Olson. "The trick is when drop number one has come up about two inches, the second drop has to come and hit it right on the head."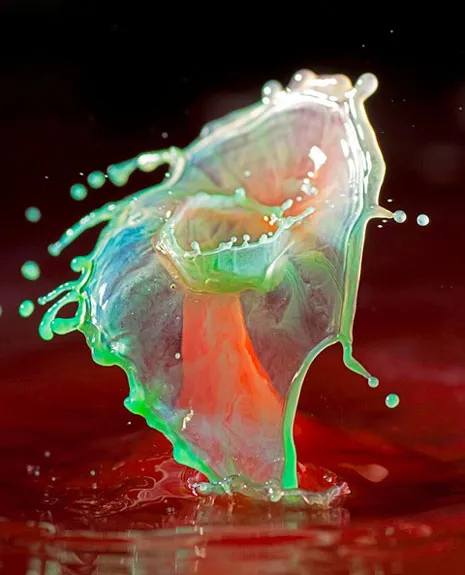 Olson calls himself an amateur photographer. For him, photography is a hobby; it has never paid the bills. But using the word "amateur" to describe a man who has toted a camera around for nearly 90 years feels a big strange. "I was 9 years old when I started taking pictures with a little Brownie," he says. Sold by Eastman Kodak in the first half of the 20th century, the camera originally cost $1. "I would hold the pictures up to the sunlight, then rush them back inside and develop them. That's primitive," he says.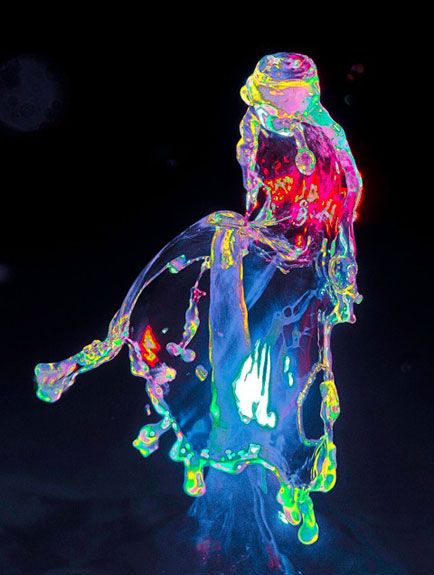 Over the years, Olson adjusted to each technological advance to hit photography. Perhaps the ease with which he adapted had something to do with his day job. He owned over 100 stores, called Olson Electronics, that sold radio parts. "I quit on my 50th birthday," he says, boasting nearly 49 years of retirement. Teledyne Technologies purchased his chain of stores, which later became Radio Shack.
When he started water drop photography, Olson thought it would be a cheap endeavor. "It only takes two drops of water," he says. Then, he realized how many variables go into a successful shot. "Instead of just two drops of water, it is two drops of water and a bunch of electronic equipment," he says.
Olson snaps hundreds of photographs at a time, constantly adjusting the timing of the water droplets. He sometimes adds milk to the water to change its viscosity, and he has learned to turn off his air conditioner during his shoots. "A breeze in the air can spoil it," he says.
"If you think this is complex, it is," says the wry nonagenarian. But it is the complicated projects that sustain Olson's interest. "If it is almost impossible, I like it a lot," he says.
Only one out of every 500 photographs passes Olson's muster. A keeper, he says, is one that makes people say, "Wow. How'd you do that?" It also helps if the splash resembles something–he has one that looks like a martini glass and others that resemble an elephant and a giraffe. "You never know what is going to happen," says Olson.
The photographer removes stray water drops from the backgrounds of his photos in Photoshop and then prints them in a large format, measuring 24 by 36 inches, on an Epson commercial printer. "A long time ago, someone told me if you can't make your pictures good, make them big," says Olson. "And, if you can make them good and big, you've got it made."
Olson is a perfectionist. While he can admit that his photographs are good, he continues to refine his process. "I want to make them super colossal good," he says.