Air Pollution as Seen From the Skies
From Mt. Etna to China to the Sahara, these striking satellite images of air pollution are from both natural and man-made causes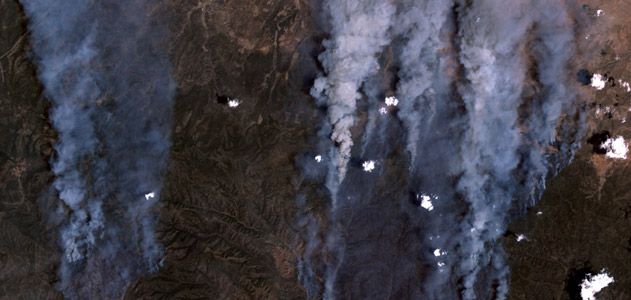 Haze Blankets Eastern China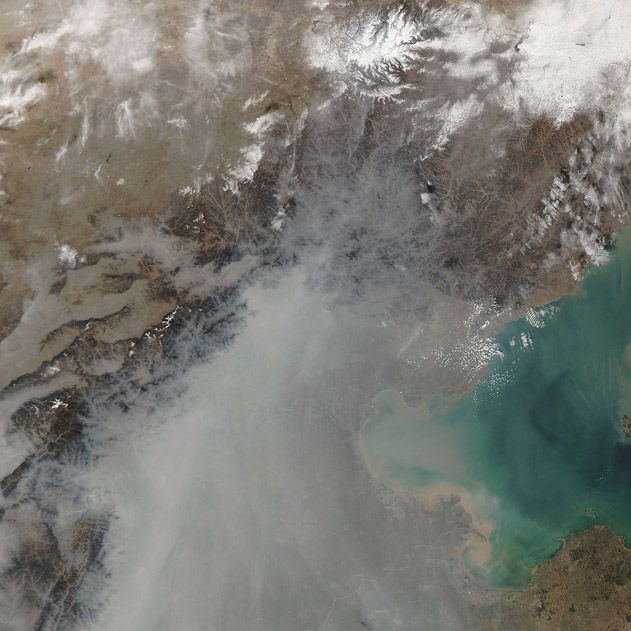 Chinese cities have some of the worst air quality in the world. Much of the country's electricity comes from burning coal, which releases millions of tons per year of sulfur dioxide and particulates into the air. China's coal tends to be of a lower quality than what is burned in the United States and produces higher sulfur emissions. In the eastern part of China, geography and weather can exacerbate the effects of pollution: mountains in the west trap smoke, dust and other particles over the eastern plain, where, under certain meteorological conditions, the haze becomes trapped for days. Nearly all of the approximately 600 million people who live in China's cities, out of a total population of 1.3 billion, breathe this filthy air.
Mount Etna Erupts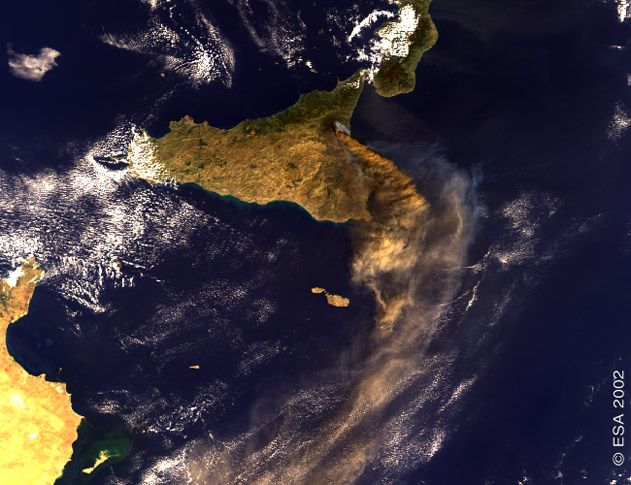 Mount Etna, on the Italian island of Sicily, is Europe's most active volcano, having erupted half a dozen times in the past decade alone. During an eruption, a volcano spews gases that had been dissolved in molten rock. One of those gases is sulfur dioxide, which turns into sulfuric acid in the atmosphere and then condenses into sulfate aerosols. Those aerosols can linger for months in the upper atmosphere, where they block sunlight and destroy atomospheric ozone.
Dust Blows Off the Sahara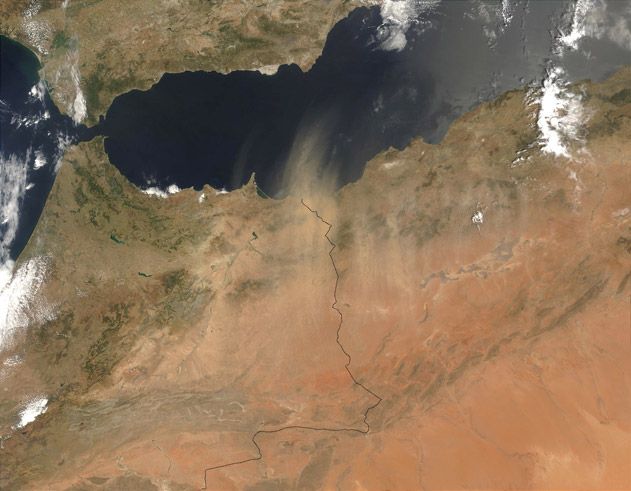 Strong winds often blow across the Sahara Desert, lifting millions of tons of dust high into the air, where it can be transported north to Europe, as in this image, or across the Atlantic, as far away as the American Southwest. These storms direct valuable nutrients such as phosphorus, nitrogen and iron into the ocean, where they are taken up by marine organisms. Humans, however, can suffer from lung infections, asthma or respiratory illness after exposure to desert dust. The dust may also carry microscopic fungi or bacteria, which scientists suspect may be responsible for some of the coral reef decline in the Caribbean and outbreaks of human disease.
Aircraft Contrails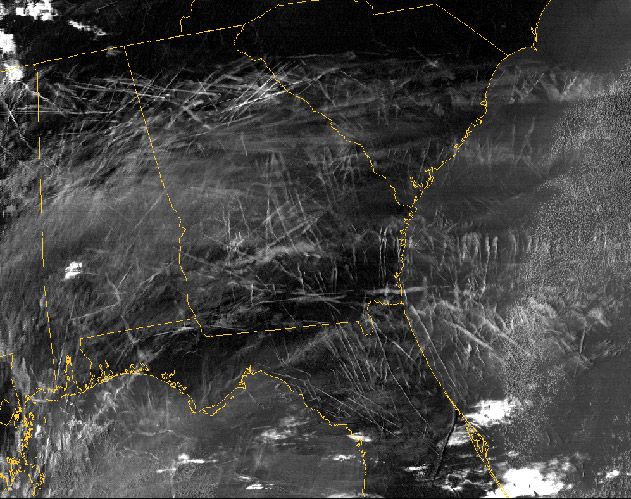 Those tracks in the sky are a familiar sight, especially to people living near routes heavily trafficked by high-altitude airplanes. When planes fly at about 26,000 feet or higher, water vapor condenses and freezes around particles in the aircraft's exhaust, forming linear clouds that can persist and grow. Increased cloud cover could have an effect on climate, though scientists are unsure whether the contrails exacerbate warming or help to cool the planet. More worrisome, though, is aviation's contribution to anthropogenic climate change: airplanes emit a host of greenhouse gases, including carbon dioxide and methane.
Arizona Wildfires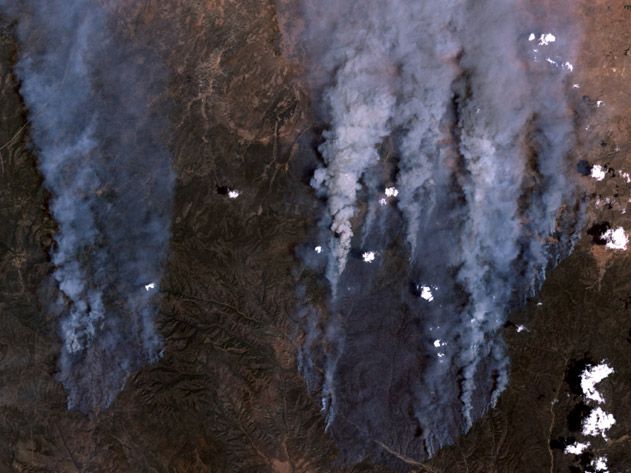 Fire is a natural part of many landscapes, but that doesn't make the smoke and soot any less deadly. Particulate matter from these fires can drift for miles, and the extremely small particles can more easily infiltrate buildings than particles from vehicle exhaust. These particles can irritate the eyes, nose and throat, and the smallest ones can enter a person's lungs, even the bloodstream, and damage a person's heart or respiratory system.
A Delhi Traffic Jam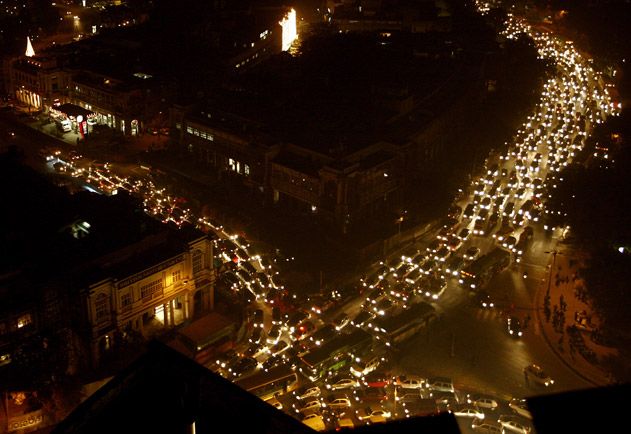 India is one of the fastest-growing automobile markets in the world, adding hundreds of thousands of cars to the roads each year. Already in Delhi, vehicle exhaust accounts for 70 percent of the city's air pollution. Most of the vehicles in use in India use diesel for fuel. Diesel engines can produce high levels of toxic pollutants and fine particles, which can contribute to human health problems, such as cancer and heart disease.
Smoke From Electricity
In the United States, the Clean Air Act has resulted in reductions in pollutants emitted through power generation. But the industry is still responsible for about 70 percent of the sulfur dioxide and 20 percent of the nitrous oxide compounds released into the atmosphere. Sulfur dioxide and nitrous oxides are responsible for acid rain and the acidification of many of the waters of the eastern half of the country. Nitrous oxides also contribute to the formation of ground-level ozone, a major component of urban smog. In addition, about 40 percent of U.S. mercury emissions—which contaminate fish and other animals and can cause neurological damage when people eat these organisms—come from power generation.
A Florida Red Tide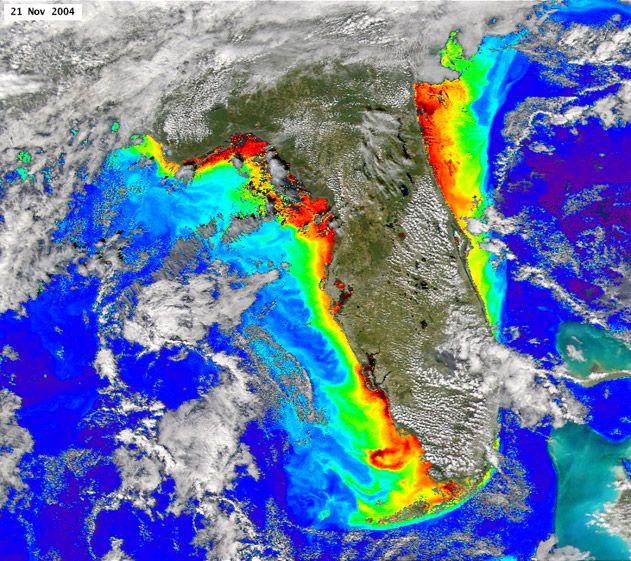 When some algae proliferate, or "bloom," they can produce chemicals that are toxic to other marine organisms. One of the best known of these algal blooms is the red tide off the Gulf coast of Florida, which was first observed by Spanish explorers in the 1500s. Nearly every summer, Karenia brevis algae reproduce in great numbers and produce a dangerous chemical, brevetoxin, that kills fish, contaminates shellfish and, when aerosolized, smells revolting and makes breathing difficult for people near the water.