A Twinkling Christmas Tree, Powered by…an Electric Eel?
A Utah aquarium uses the charges emitted by an electric eel to trigger the lights on a nearby tree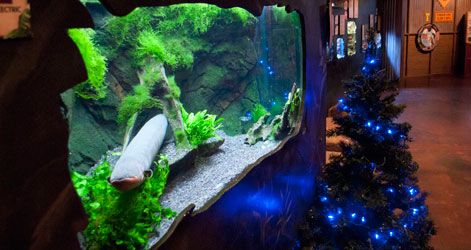 If you were to walk into the Living Planet Aquarium today in Sandy, Utah, and meander through the "Journey to South America" gallery–past 10-foot anacondas, piranha and caiman alligators–you'd meet Sparky. The nearly four-foot-long electric eel draws a crowd, particularly in December, when it causes the lights on a nearby Christmas tree to twinkle.
That's right: twinkle.
Electric eels have to navigate the dark, murky streams and ponds where they live in South America. (Or, in Sparky's case, his large tank.) The slender, snake-like fish have tiny eyes that are not very effective in low-light conditions. So, to wayfind, electric eels, true to their name, rely on their electric organs. These organs contain about 6,000 cells, called electrocytes, that stow power much like batteries do. Eels emit that power through low- and high-voltage charges when circumstances call for it.
"They will use their electricity similar to how a dolphin would use sonar or a bat would use radar," says Andy Allison, curator of animals at the Living Planet Aquarium, a facility about 20 miles south of Salt Lake City. "He will put out little shocks whenever he is moving, real low-voltage type things, just enough so that it can help sense his environment." For its Christmas display, the aquarium takes advantage of the little pulses of electricity that Sparky sends out as he swims. "Also, when he is hungry or senses food in the area, or angry, he will send out a big shock to stun prey or to stun a predator," says Allison. These large shocks can measure up to 600 volts.
About three years ago, Bill Carnell, an electrician with Cache Valley Electric, in Salt Lake City, found a really interesting video on YouTube produced by the Moody Institute of Science in the 1950s. In it, a scientist demonstrates how an electric eel can power a panel of light bulbs. Inspired, he began experimenting with Sparky. Carnell connected a standard 120-volt light bulb to electrodes, which he dunked into Sparky's tank. The light bulb did not turn on. He tried a string of Christmas lights. Again, no results. So, he tried a strand of specialized, very low-voltage lights, and he finally got some flickering.
Carnell and his colleagues installed two stainless steel electrodes, one on each side of Sparky's tank. These electrodes collect the voltage the electric eel emits to then power a sequencer. "The sequencer takes the voltage the eel produces and operates circuitry that flashes the lights, fast or slow, based on the level of voltage he puts out," says Terry Smith, project manager at Cache Valley Electric, in a press release.
The five-foot-tall tree, which stands just next to Sparky's tank, is decorated with four strands of lights. While the eel does not power the lights, he does control the way the strands flicker. "As he shocks, one strand shuts off and another strand turns on," says Allison.
Of course, when Sparky is calm and resting on the bottom of his tank, the lights on the nearby tree are pretty constant. "But when it is moving, it is boom, boom, bo-boom, boom, boom," says Allison. Electric eels are capable of multiple shocks a second.
"You do truly get a feel for what the eel is doing. You get to see when the voltage goes up and when the voltage goes down. You experience all of that," says Carnell.
The attention that the display draws is valuable, the electrician adds. "Researchers looking to the future are trying to find ways to generate electricity through some kind of a biological process, rather than combustion or some mechanical energy. When you get into the science of the eel and you find that its body is constructed of all these little tiny batteries, of sorts, that are powered biologically, that is where the real interest is," says Carnell.
Sparky's tree will be on display at the Living Planet Aquarium through December 31.