A Photographer Turns Her Eye to the Recycling Process
Huguette Roe makes compressed cans, pipes and paper look like abstract art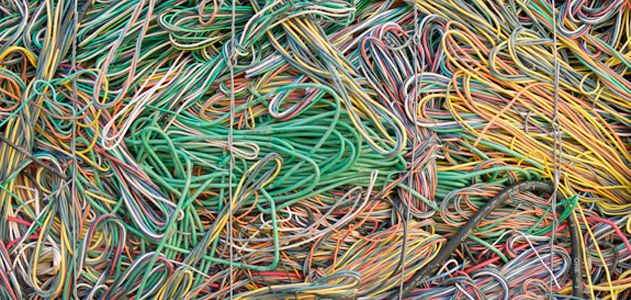 For her Recycle Series, photographer Huguette Roe visited more than 100 recycling facilities in the United States and France. Each time, she got the proper clearance to be on the premises, but still she felt a bit like a spy. "It's trash, but it's very guarded," Roe said. Wearing a hard hat and a reflective work vest, she would tour each plant under close supervision. "I had to scan very quickly in order to find the details that I liked," Roe said in an interview with Science magazine.
At many of the facilities, materials were sorted by type—soda cans, telephone wires, aluminum pipes, shredded paper, egg cartons—and baled like hay. "I would never see the outside of a bale," Roe told Science. "It's always what's going on inside." When shooting, she would fill her viewfinder with marvelous colors, textures, patterns and repetitions.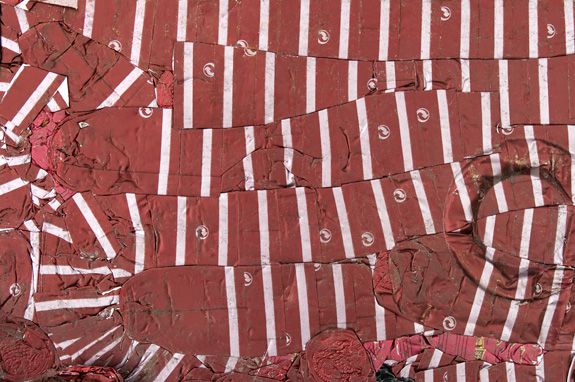 One image, titled Snakes, looks like a stack of Pippi Longstocking's red-and-white striped stockings. "Everybody asks me, 'What is it? What is it?' Nobody knows," Roe said in an audio slideshow. It turns out it is a bale of foil wrappers that once covered the corks of wine bottles.
"These compressions offer an unusual view of our everyday objects," Roe said on her personal Web site. Outside of their normal context, the objects can be hard to recognize. Roe's photographs, as a result, are often compared to abstract paintings.
In August, Science published a special issue "Working with Waste," which shared some staggering garbage statistics (over 50 percent of the municipal waste in the United States is buried in landfills!) and suggests that the only way to solve our waste problems is to see trash as treasure. The magazine covered novel attempts to turn wastewater into clean drinking water, for example, and to capture carbon dioxide in concrete. Gracing its cover was Blocks to Go, a photograph Roe took of squashed soda cans in line to be recycled.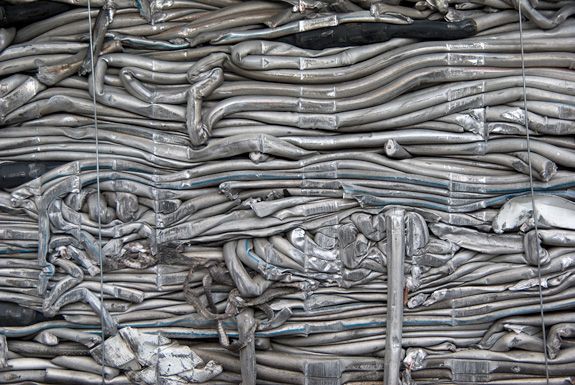 In conjunction with the special issue, the American Association for the Advancement of Science, the publisher of Science, is hosting "Disposable Culture," an exhibition at the AAAS Art Gallery, located within the organization's headquarters in Washington, D.C. Several photographs in Roe's Recycle Series are included, as are works by other artists, such as Helle Jorgensen, Jana Asenbrennerova, Dean Kessmann and Val Britton, who depict and incorporate cast-off materials in their art.
"By recycling and documenting these objects, the artists prompt viewers to reflect on the role waste plays in our everyday lives, from production to consumption and beyond," reads a panel in the exhibition. "It is our hope that 'Disposable Culture' will encourage all to think both creatively and practically about what we can do—as individuals and as a society—to change wasteful practices."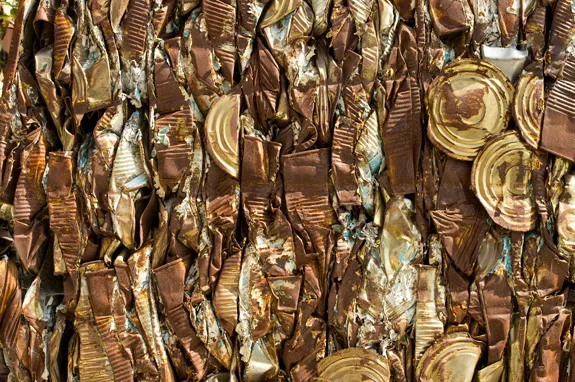 At an event early this month at AAAS, Roe spoke about the motivations for her Recycle Series. Originally from Belgium, Roe moved to the United States in 1989, and in 2002, she became a U.S. citizen. Roe says she is shocked with the amount of waste individuals in this country produce on a daily basis and the general lack of concern about it. She is particularly disgusted at the grocery store, where many people still opt to carry their groceries out in plastic bags.
"It is such a society of consumption, it is scary," says Roe.
"Disposable Culture" is on display at the AAAS Art Gallery through November 30, 2012. The gallery is open to the public Monday through Friday, from 9 a.m. to 5 p.m.