A Paleontologist's Long-Lost Lunchbox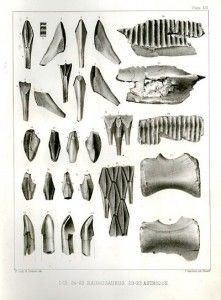 Digging up fossils can be hard work, and it is important for any fossil hunter to pack a hearty lunch to keep their strength up. Apparently that is what the 19th century amateur paleontologist William Parker Foulke did. As reported in the Philadelphia Inquirer, Foulke's lunchbox has recently been found, and it was big enough to hold a whole modern dinosaur.
It all started about 10 years ago when someone gave the lunchbox to Englishman Crosby Brown. Brown was an aficionado of railroad history and his friend thought that the lunchbox, marked "W. Parker Foulke, Haddonfield, NJ," had belonged to a 19th-century railway worker. Brown couldn't find anything about anyone named Foulke connected to the railway, but after he did a web search a few weeks ago he realized that it had belonged to the New Jersey paleontologist.
By coincidence, the Academy of Natural Sciences in Philadelphia has been running an exhibition honoring Foulke. Called "Hadrosaurus foulkii: The Dinosaur That Changed the World," the display focuses on Foulke's discovery of Hadrosaurus, one of the most significant finds in all of dinosaur paleontology. The lunchbox will be on display there until the exhibit closes in May, after which it will be presented to the living relatives of W.P. Foulke.