A New Man at Air and Space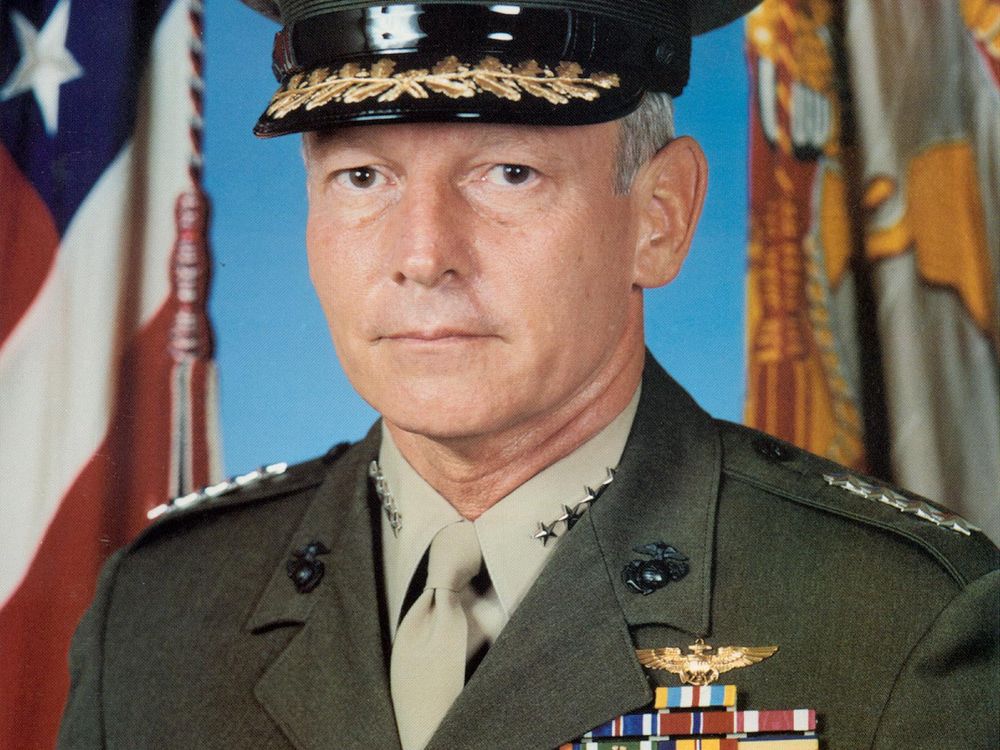 The new year brought a new director to the National Air and Space Museum (NASM), and it appears to be a match made in the heavens. Gen. John R. Dailey (USMC, Ret.) now heads the world's most popular museum, coming to us from NASA, where as associate deputy administrator he guided the management process that reinvented the agency and restored its energetic focus.
There's a picture of Jack Dailey on a corridor wall near his office, and he looks every bit the traditional director (or company president or diplomat). But it's the picture on this page that Dailey prefers, and that suggests why he is ideally suited to bringing NASM into the new century. He has more than 6,000 hours of pilot's experience in fixed and rotary-wing aircraft. He flew 450 missions in Vietnam and received numerous decorations for combat operations. During his 36 years as a marine, he took on an impressive range of command assignments, and retired as assistant commandant of the Corps. Having this seasoned leader and passionate lover of flight at NASM is a happy conjunction of man and mission.
One of Dailey's pressing objectives will be to keep on track NASM's ambitious plans for an additional facility on a 176-acre plot near Dulles Airport in Virginia. The Dulles Center is to open in time to mark the 100th anniversary of the Wright brothers' flight, on December 17, 2003. This vast new building will display more than 200 aircraft, 100 spacecraft, including a space shuttle, and numerous other significant artifacts related to the history of aviation and spaceflight. Many of the items will be suspended from the ceiling, appropriately aloft. Dailey will also make certain that NASM continues to bring energy and imagination to its fundamental task of documenting the history of flight.
"Think of the miracles we've accomplished in the short space of a century," he instructs. "The Wright brothers adjusted the wings of their craft by hand; we are now on the verge of launching a space station of astonishing technical complexity. I want the collections and the presentation of the collections to make people realize how fortunate we all are that human beings won't accept limits to what's possible."
In the 1960s and '70s, the nation collectively held its breath each time Americans were sent into space in those awkward-looking capsules that bobbed helplessly in the ocean at the end of flight. We had a sense of common national endeavor about space exploration. If that lost fervor is one day revived, NASM perhaps can share some of the credit for helping to rekindle it.
So we welcome Jack Dailey to NASM, after the sad circumstance of the death of Donald D. Engen, the previous director, in a glider accident last summer. Engen, who was Dailey's close friend, held 29 decorations and awards, including the Navy Cross, the Navy's highest award for valor. Following Engen's death, acting director Donald S. Lopez held the museum steady. I want to take this opportunity to acknowledge not just that most recent leadership but also Lopez's decades of achievement at the museum since his arrival in 1972.
Don Lopez flew a shark-faced P-40 in the skies above China during one of the most remarkable air campaigns of World War II. His absorbing memoir of the war, Into the Teeth of the Tiger, was reissued in 1997 as part of the Smithsonian History of Aviation Series. When he was 3 1/2 years old, Lopez writes, he was taken to see the triumphant Lindbergh on parade through the streets of Brooklyn. Somehow he learned that the focus of everyone's attention was a flier: "I cannot remember a time since when I was not interested in flight."
Men like Jack Dailey and Don Lopez and Don Engen, in love with flight and with making its science and romance and risk vivid for others, serve us well. We have heroes on the premises, and we should not take them for granted.
John R. Dailey has the right stuff to head the National Air and Space Museum.