Discussion
Reader responses to our September issue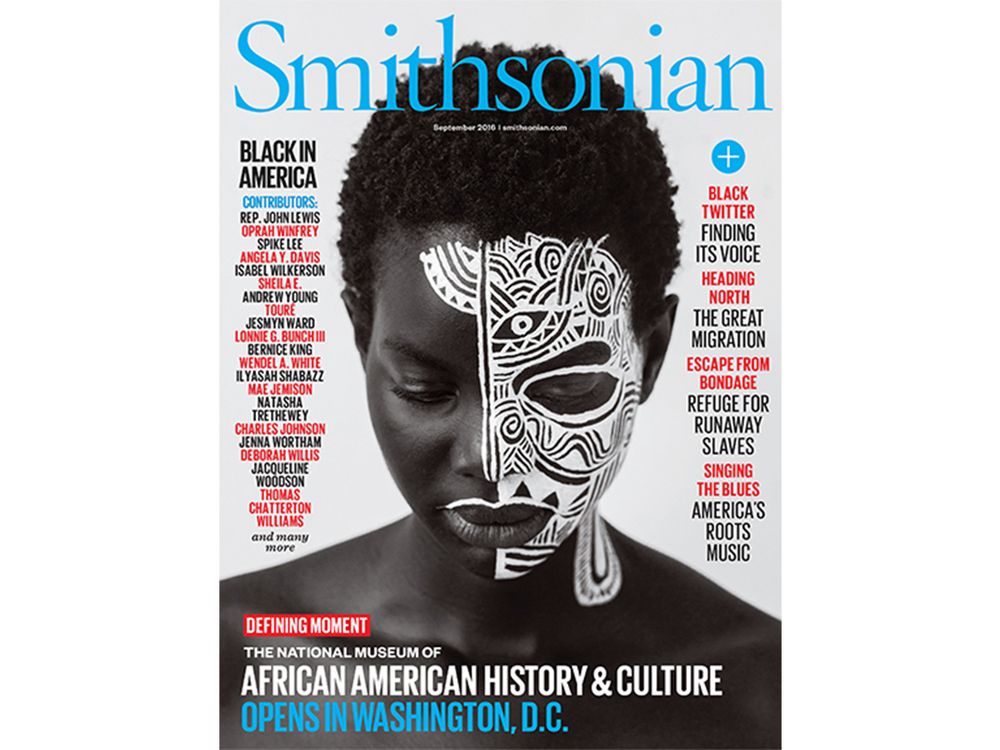 From the Editors Readers were overjoyed by our special "Black in America" issue, published in anticipation of the opening of the National Museum of African American History and Culture. "Your finest edition ever," longtime subscriber G. Kitts of Newville, Pennsylvania, called it. Consumer Reports editor Patrick Lucas Austin shared an image of the issue on Twitter and wrote, "When u check your mailbox and do a little dance." Buzzfeed highlighted Wendel A. White's photo essay. Fortune touted Isabel Wilkerson's essay on the Great Migration. And Georgia public radio talked up the issue for an entire episode of its hour-long "On Second Thought" show, and featured Natasha Trethewey reading her poem "We Have Seen."
Inspirational
I love Smithsonian, but I don't usually cry over it. I am weeping all the way through September. This is a wonderful issue! Every story moves me, but I especially want to give a deep and respectful bow to Lonnie G. Bunch III for his brilliant story of the new African-American museum. I am recommending this magazine on my Facebook pages, advising my church to have several issues in the foyer and offering to loan mine—with my name in large black marker, because I'm keeping this one. Forever.
Debbonnaire Montgomery Kovacs, Facebook
In this time of violence after so many struggles, so many tears, my prayer is that the National Museum of African American History and Culture will help to educate generations, unite Americans of all colors and, ultimately, heal wounds.
CJ Woodring, Fort Wayne, Indiana
As a middle-aged white guy, when I got the "Black in America" issue in the mail, I thought it might be marginally interesting to me. Instead, I found it one of the best issues of the magazine I've ever read. Particularly enjoyed "Making a Way Out of No Way" and "The Road to Freedom," but credit is due all around for creating something that is educational, informative, entertaining and inspirational.
Ron Wortz, St. Paul, Minnesota
Memories of Migration
The Great Migration ("The Road to Freedom") was preceded by African-Americans moving from rural areas to urban ones, and sometimes people who made the transition were ridiculed by those they left behind. "Instead of fresh food, you'll wind up eating out of paper bags," my grandfather warned when Dad told him he was leaving his farm and moving his family to the city (actually a tiny Georgia town). My parents went anyway, and eventually saved enough for train fare; Dad wasn't going to risk driving his old car north and being stranded on the way if it broke down. He didn't relax until we crossed the Chicago city limits.
Hosea L. Martin, Chicago, Illinois
"The Road to Freedom" was exceptionally informative and engaging. I would, however, like to point out that Jackie Robinson was not the first African-American to play Major League Baseball. We know that an African-American catcher named Moses Fleetwood Walker played in the mid to late 1880s for professional teams, including Toledo, a member of the then-Major League American Association. "Colored" players were officially banned from several professional leagues at the end of the decade.
Charles Pavitt, Rockville, Maryland
Social (Activism) Media
It is about time we had a resurgence of the civil rights movement ("Black Tweets Matter"). What were we waiting for? We need to make more progress toward equity. This movement can be the launching pad for that.
Sharon Clarke, Facebook
Roots Music
W.C. Handy's legacy can't die now. I think the blues ("Black and Blues") are just getting started.
Isaac Furtney, Facebook