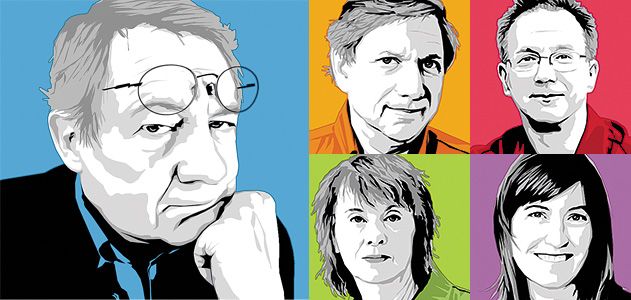 Roy Blount Jr.
A humorist, dramatist, poet and journalist, Blount is the author of 23 books—including  an acclaimed 2003 biography of Robert E. Lee—and a regular panelist on NPR's "Wait Wait...Don't Tell Me!" For his piece about Lincoln, Steven Spielberg's hotly anticipated new movie about the 16th president, Blount was subjected to extreme measures of secrecy. "They wouldn't even let me bring my wife to the advance screening," he says. "I had to watch it by myself in a huge screening room and I couldn't talk about it to anyone afterward."
Camille Paglia
A professor at the University of the Arts in Philadelphia, Paglia is a wide-ranging essayist and usually provocative social commentator. Her sixth book is Glittering Images: A Journey Through Art from Egypt to Star Wars.  Her essay on beauty examines the childhood roots of her aesthetic values.
Claire Martin
A former senior editor at Outside, Martin has covered her share of tense environmental disputes, but was still unprepared for the fierceness of the battle over a Malibu lagoon. "I've never seen an environmental controversy that got this heated," she says. "People on either side felt this was a matter of life and death."
Dana Mackenzie
As a science writer with a PhD in mathematics, Mackenzie sees the elegance of theorems  as something fundamental. "A beautiful proof back in Euclid's day is still a beautiful proof today," he says. "It never goes out of fashion." He is the author of The Universe in Zero Words: The Story of Mathematics as Told Through Equations.
Fiona Rogers and Anup Shah
A husband-and-wife team, Rogers and Shah have traveled to over a dozen countries in Asia and Africa photographing primates in the wild, with the western lowland gorillas of the Central African Republic  their latest subjects. "The way they respond to you with their eyes is amazing," Rogers says.
Tom Downey
A writer who has followed stories to locales as far-flung as Haiti, Yemen and Madagascar, Downey returned to South Korea's capital after just six years away and found a city transformed. "What's most fascinating about Seoul is that it's grown in an unpredictable and spontaneous way," he says. "It's hard to say where that will take it next." Downey is the author of The Last Men Out, a story of New York City's elite firefighters.
Jamie Katz
Although we imagine ancient Greek sculpture as purely white, for Katz, archaeologist Vinzenz Brinkmann's faithful full-color reproductions  are even more powerful. "They're spectacular," he says. "In a way, he brings them back to life." Katz previously wrote for Smithsonian about the discovery of a Diego Velázquez masterpiece.