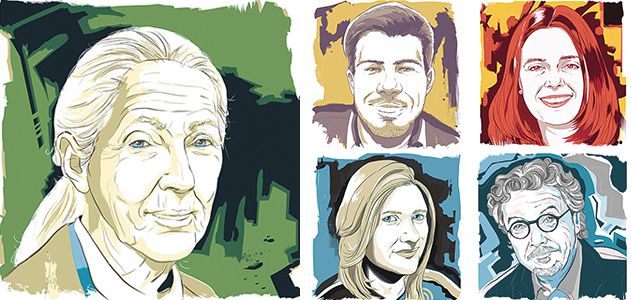 Jane Goodall
Over the course of 45 years studying the chimpanzees of Tanzania, Goodall revolutionized our understanding of our closest primate relatives. A champion of animal conservation and the author of 26 books, she turns her attention for the first time to plants with Seeds of Hope, to be published in April. "I was planning on just putting a short section on plants in my last book on conservation," she says. "But the plants thought otherwise. It was as if they put their roots into my brain, saying, 'Jane, you've spent your life on animals, and now it's our turn.'"
Dominic Bracco II

A photographer based in Mexico City, Bracco spent four days with an indigenous Uitoto family near Leticia, Colombia, while taking the photos for "Lost Tribes of the Amazon." "The children were really open with me—they'd take me into the forest to play," Bracco says. "Through them, I earned the trust of their parents."
Abigail Tucker
As Smithsonian's staff writer, Tucker has covered stories in whaling boats and helicopters, but nothing compared to her experience with bioluminescence expert Edith Widder. "The idea of going in a submarine made me a little nervous," Tucker admits. "Luckily, Edith waited until after the dive to tell me about the times her subs began taking on water."
Kate Cox

While in film school at Boston University, Cox says, "I realized that everything I was learning could be applied to video games." Ever since, she's used her knowledge of mise-en-scène to critique video games for sites like Kotaku.com. In "Night Games," she examines the influence of film noir-style lighting on modern game graphics.
Caitlin O'Connell-Rodwell and Tim Rodwell

Caitlin, a professor at Stanford University and a renowned authority on elephant behavior, works with her husband, Tim, to study and photograph the animals in Africa. Her research ("Mean Girls") has revealed startlingly dark dimensions of the female elephant hierarchy.
 
William Souder
A bird lover who watches trumpeter swans and bald eagles from the office in his rural Minnesota home, Souder is the author of Under a Wild Sky, a Pulitzer Prize- nominated biography of John James Audubon, and On a Farther Shore: The Life and Legacy of Rachel Carson. He says we can still learn from the Migratory Bird Act 100 years after its passage: "The lesson is that wildlife is a resource that belongs to the public—so we have a duty to protect it."
Megan Gambino

A reporter for Smithsonian.com, Gambino writes the Collage of Arts & Sciences, a blog about the intersection of the two fields. She says bio­design— the use of living organisms in art and industry—hints at a fascinating future: "We could soon be wearing clothes made of bacterial cellulose and using biodigesters instead of garbage disposals."