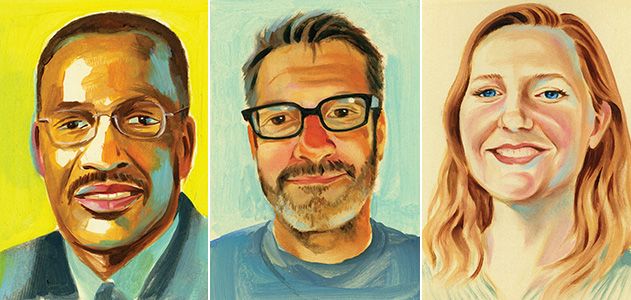 Brian Greene
A theoretical physicist at Columbia University, Greene has written four books for general audiences, including The Fabric of the Cosmos. He won a Peabody Award for the PBS "Nova" special based on his book The Elegant Universe. He starts off as Smithsonian's new science columnist by explaining one of the most momentous—and complex—discoveries of the past decade, the Higgs boson. "Even with the most complicated topics, there's almost always a bridge that brings readers from the unfamiliar to the familiar—a metaphor or story," he says. "For me, that's the key."
Maggie Ryan Sandford

Writing about artist Guillermo Bert's modern take on traditional Mapuche tapestries was a natural fit for Sandford, a science writer who has long been fascinated by indigenous textile art. "I love how you need knowledge of the symbols to understand the stories," she says. "It's like cracking a code."
Joshua Levine
Surveying the lives of bomb-sniffing dogs, Levine found they share something with most canines: endless excitement. "They're just having a good time," he says. "If only all working stiffs could approach their jobs with the same enthusiasm, the world would be a much better place." Levine lives in Paris and is a Forbes contributing editor.
Chloë Schama

An editor for the New Republic and author of Wild Romance, a nonfiction account of a Victorian-era marriage scandal, Schama relishes recommending good reads in Smithsonian's book review column. "It seems like every month, I have a neighbor or friend or family member telling me they're reading one of the books I reviewed," she says. "I love it."
Tom Mueller
A journalist with a doctorate in history from Oxford, Mueller profiles Italian pathologist Gino Fornaciari, who studies centuries-old human remains to better understand the circumstances of people's lives and deaths. "Spending time in rooms full of bones, I found myself feeling my own bone structure and wondering how my bones will look after I'm finished with them," Mueller says. His first book, Extra Virginity: The Sublime and Scandalous World of Olive Oil, was published in 2011.
Michael A. Fletcher

Interviewing the leaders of the civil rights movement for our oral history of the March on Washington was "eye-opening" for Fletcher, a reporter for the Washington Post and co-author of Supreme Discomfort: The Divided Soul of Clarence Thomas. "We now take for granted that the country was always on a road to justice, even if it took detours," he says. "But talking to the marchers helped me appreciate the fear and uncertainty they lived with."
Stanley Tretick
An eminent photojournalist, Tretick, who died in 1999, specialized in political coverage and was issued special credentials to cover the 1963 March on Washington for Look. Most of his photographs of that historic event were never made public and are now being published for the first time in these pages and in the new book Let Freedom Ring.