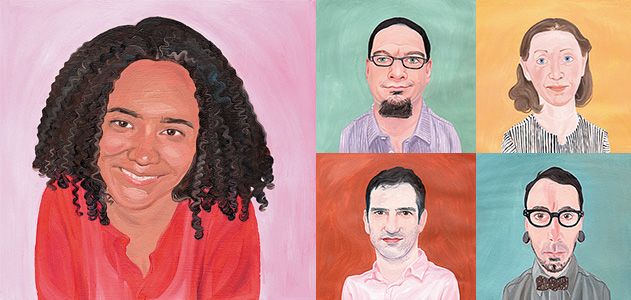 dream hampton
The first female editor of the hip-hop magazine The Source, hampton, who spells her name with lowercase letters in a nod to poet bell hooks, has co-authored biographies with Jay-Z and Q-Tip. In profiling pioneering jazz phenom Esperanza Spalding ("Beyond Jazz"), she found an artist intent on taking her craft to the masses. "She occupies some very mainstream spaces, from the White House to the Grammys," hampton says. "At the same time, she very much self-identifies as a jazz musician and wants to bring young people into jazz. It's reaffirming."
Seth Mnookin
Mnookin, the author of The Panic Virus, which chronicles Americans' irrational fear of vaccines, says geneticist Pardis Sabeti "Natural Selection" is extraordinary for her research and her engage­ment with the outside world: "She's involved in everything from communicating science to the public to conducting fieldwork in Africa."
Ethan Hill
"My ideas come from everywhere," says Hill, who photographed all nine of our American Ingenuity Award winners. "Sometimes from research, sometimes from the subject and sometimes from something you see on a shoot that you never could have anticipated." Hill, who is renowned for his conceptual portraits, lives in Brooklyn.
Carl Hoffman
The author of The Lunatic Express, about his journey around the world on the most dangerous vehicles, Hoffman first met Elon Musk in 2007 and was skeptical of his plans to go to Mars ("Rocket Science"). "Now I see it's a direct reflection of his brilliant mind," Hoffman says. "What is science fiction for other people is serious business for him."
Chris Hedges
A senior fellow at the Nation and author of nine books, including The World As It Is: Dispatches on the Myth of Human Progress, Hedges was a foreign correspondent for the New York Times and part of a team awarded a 2002 Pulitzer Prize for reporting on global terrorism. "It takes a tenacious and dedicated advocate to bring these injustices to light," Hedges says of his subject, crusading attorney Bryan Stevenson ("New Life"). "Such people are rare.".
Sharon Begley
A longtime science columnist for the Wall Street Journal and Newsweek, Begley spent years following the issues of climate change and ozone depletion only to be stunned by Harvard scientist Jim Anderson's discovery that the former might cause the latter ("Solar Flair"). "Scientists had thought of these as entirely unrelated issues," she says. "What continually surprises me about climate change is how it can lead to such unexpected effects."
Penn Jillette
An illusionist, comedian and the author of six books, Jillette makes up exactly 50 percent of the magic duo Penn & Teller. He learned to eat fire at age 19 ("Feel the Burn"). "My mom and dad saw me do it for the first time on stage," he recalls. "She buried her head in her hands, and I had them put a spotlight on her—that's the kind of guy I am."