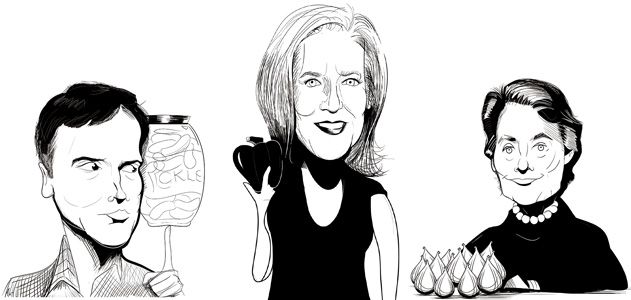 Mary Roach
A science writer with an appetite for the offbeat, Roach has written books on human cadavers, the science of sex and research into the afterlife. Her latest, Gulp: Adventures on the Alimentary Canal, was published in April. In "Burning Desire," she surveys the Naga King Chili-Eating Competition in India, where contestants devour one of the world's hottest chili peppers. "I didn't expect the carnage," she says. "I was backstage and thought I was missing the story. Then suddenly, the story came staggering straight toward me—five people vomiting and writhing in pain."
Ruth Reichl and Michael Pollan
We asked two of the country's most prominent food writers to get together for dinner and talk about what they know best ("The American Table"). Reichl is a memoirist, cookbook writer and restaurant critic. Pollan's new book, his seventh, is Cooked: A Natural History of Transformation.
Tom Vanderbilt

The author of three books, including Traffic: Why We Drive the Way We Do, Vanderbilt is now at work on a fourth, about the science behind our preferences, tentatively titled You May Also Like. He views our food tastes as "in a sense, the most foundational preference," he says. "Foods are the only things you like or dislike that you actually put into your body and need to survive."
Brett Martin
Writing about the Air and Space Museum's historical collection of space food ("Rocket Fuel") prompted a predictable reaction in this longtime food writer: hunger. "I wanted to try all of it," he says, "but I realize the Smithsonian probably frowns upon eating its archives." A correspondent for GQ, Martin just finished his first book, Difficult Men: Behind the Scenes of a Creative Revolution, due out in July.
Roy Blount Jr.
The author of 23 books, including Feet on the Street: Rambles Around New Orleans, Blount recently visited Dwight Henry's Buttermilk Drop Bakery and Café ("Yeasts of the Southern Wild") and sampled one of the city's long-forgotten delicacies. "New Orleanians love to remember foods from generations before, like buttermilk drops," he says. "It's a great city for lore and memory—and, of course, for hungry people."
Mimi Sheraton

After spending more than five decades writing about food—for the New York Times, the New Yorker, Smithsonian and in 16 books—Sheraton selected her ten most memorable culinary epiphanies for our food issue. "These always come at moments when you least expect it," she says. "You bite into a fig, and don't really expect to be transformed—so you always have to be ready for a surprise."