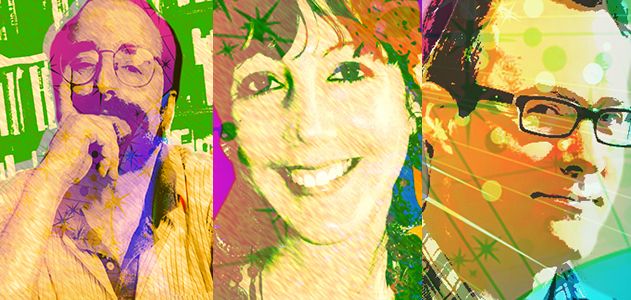 Lawrence Weschler
Formerly the director of the New York Institute of the Humanities and a staff writer at the New Yorker, Weschler is the author of 14 books, including Everything That Rises: A Book of Convergences, which won the National Book Critics Circle Award for Criticism. He first met David Hockney in 1982 and has written extensively about his work and ideas, publishing True to Life: Twenty-Five Years of Conversations with David Hockney in 2008. "Hockney's constant curiosity is remarkable," Weschler says. "Every little thing he notices becomes a question—why is it that way?"
Amy Maxmen

"I've been entranced by the colors of animals since childhood, when I used to keep colorful caterpillars in jars in my room," says Maxmen, who investigates the bold hues of poisonous tree frogs. A science writer published in Nature and New Scientist, Maxmen also has a PhD in biology from Harvard.
Alfred Yaghobzadeh
After publishing Christianity Around the World, the photographer turned his lens on the world's largest religious gathering, the Hindu mass pilgrimage known as the Kumbh Mela. "The encampment was so enormous," he says. "I had to start walking from my tent at 5 a.m. daily to get to the river in time to take photos."
Ron Rosenbaum

The author of seven books, including The Shakespeare Wars, our national correspondent considers Al Pacino in "Passion Play." "As a student of Shakespeare, I'm really looking forward to his Iago, which is in development," Rosenbaum says. "I have this sense that he's picked up something about evil that'll make it exceptional."
Jaz Parkinson
Trained as a painter, Parkinson, who lives in the U.K., has been going through famous books, noting every mention of color and capturing the results in vibrant charts, such as her rendering of the Civil War novel The Red Badge of Courage. "The first book I chose was Revelation, from the Bible," she says. "It was a lucky choice. I was so entranced by the hues of blood, fire, jewels and smoke. Afterward, I just kept going—I had to see what other texts
contained."
Clive Thompson

A journalist who often writes about the social impact of modern technology, Thompson dissects the Cooper-Hewitt, National Design Museum's new acquisition of an iPad app. "In a world where software is becoming increasingly prevalent in everyday life, they want to be among the first museums to figure out how to collect this type of design," he says. His first book, Smarter Than You Think: How Technology Is Changing Our Minds for the Better, comes out this month.
Kieran Dodds
For the Glasgow-based photographer, who most often covers the environment and wildlife, shooting the prosthetic arms on our cover and in "Replaceable You" presented a novel challenge. "I wanted to convey the spark of life in them," he says. "I ended up glancing at my own hand a lot, trying to work out what gestures looked natural."