Will This App Turn More Readers On to Serialized Fiction?
Releasing a chapter at a time, Radish could have us binge reading romance and mystery novels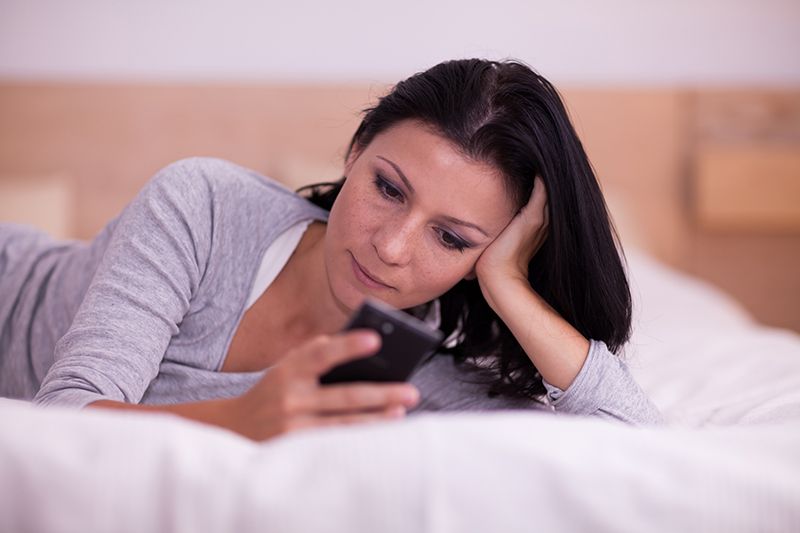 A number of classic works of fiction began as short, serialized stories published weekly in newspapers. Charles Dickens famously published his first novel, The Posthumous Papers of the Pickwick Club, in an up-and-coming newspaper as a series of interwoven stories. More recently, Armistead Maupin, the author of the popular San Francisco series of books, Tales of the City, first published pieces of what became his novels as short fiction in local newspapers the Pacific Sun, and later, the San Francisco Chronicle.
Radish, an iOS and Android app for reading episodic fiction, wants to bring the same Dickensian experience to the mobile generation. After a soft launch in February 2016, the Los Angeles-based startup has released its platform to the public this month with hundreds of titles across fiction genres including mystery, paranormal and romance.
The company calls its model "episodic freemium," which is basically a fancy way for saying the first chapter is free, and bookworms pay a small fee for each additional installment or chapter they choose to read. Author Amy Tan invested in Radish, and writers who license their work to the platform for one-time publication rights—authors retain the intellectual property rights—split the revenue 50-50 with Radish, the only app for serialized fiction to offer a built-in method for writers to monetize their work.
Radish founder and CEO Seung Yoon Lee spoke with Smithsonian.com about how serialized fiction, already popular across several Asian countries, could be the next big thing for smartphone reading.
Where did the idea for Radish originate?
I'm originally from South Korea and went to school in London. My first company was Byline, a platform that crowdfunded for journalism, and we broke big stories in the UK. It was not really scalable beyond journalism, but I wanted to take this model and make it a viable, scalable business for many types of content.
In Korea, Japan and China, everyone is reading on their smartphones, including serialized fiction and comics. The serialized fiction market is huge. Why hasn't this happened in the West? Some people read articles on their smartphones, but they don't read fiction.
In these other countries, the winning combo has been CandyCrush meets serialized fiction. Readers can buy coins to read the next chapter early, or coin packages, and the cost ranges from $1 to, say, $14. Through intellectual property licensing, there are some writers in China who have made thousands of dollars a month.
At the same time, in the last two years, we've seen statistics that there's a sharp decline in the use of e-readers, like Kindle. Some say these are the next iPod in that with the convergence of smartphones, even if the reading experience is better, no one will carry two devices anymore. It's just not logical.
Think of movies and TV shows. With a movie, you make the whole thing, two-and-a-half hours long, and you need a huge screen. TV requires a smaller screen, and episodes only take 30 minutes. These are distinctly different forms of content. For book-length serialized fiction, this is like watching a pilot. I saw this as a way to reach the smartphone reading generation.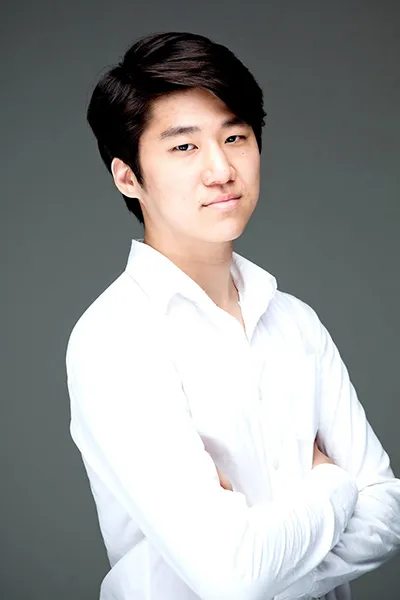 Why do you think this older trend, of serial fiction, is making a comeback?
[One] reason is more high-level. Whenever there is a shift in device, there is a shift in format. E-book sales growth and decline are really correlated to e-book reader growth and decline. In movie cinemas, you watch movies. On TVs, you are more likely to watch TV dramas. In the same vein, on e-book readers, you are more likely to read e-books. On smartphones, you are more likely to read serials because of its bite-sized, episodic, interactive nature with cliffhangers. 
How does the app work?
The front page shows the curated stories. It's very similar to the iPhone app store or iBooks. You see the curated best stories on the main page, or you can explore genres at the bottom tab, which shows all the genres. Once you click the story you want to read, you can immediately start reading from the first chapter or swipe down to see the list of episodes to decide where you want to start. Sometimes, you will face paywall for some chapters. For freemium stories, you can wait a certain number of days until the chapter becomes freely available. For premium stories, these chapters are locked permanently.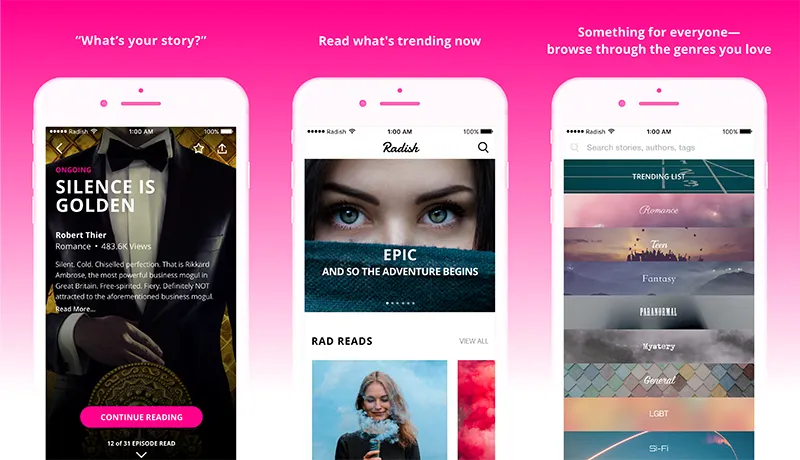 Writers publishing stories with Radish retain their own copyright, correct?
Yes, and there are situations in the future where we may become the agent or publisher. Eventually, we want to offer writers some kind of representation, but unless we can add value, we don't need to own the copyright. Because we understand these authors—and with our investors, we have strong publishing industry connections—we're starting from the baseline that this is a platform.
People may ask, in this age of virtual reality, if we now have so much capability in video and images, why are you going to text? What we do looks very traditional. But what's interesting about stories is that they are the most adaptable intellectual property. This can become VR. This can become anything!
In any content industry, the problem is the same: how do you find a good story? With Radish, you can start with one episode and get feedback from readers and peers to see what will be popular. It's as if the crowd is writing, not just one person. This moves the barrier for publishing.
As a platform, we'll have data on what's taking off before anyone else and can offer to grow the story together. We can identify valuable intellectual property with data points before anyone else, and it can move into any vertical. So many entertainment companies started this way.
With such ambitious goals, what's your elevator pitch?
We want to be the world's largest idea-creation platform directly sourcing for the crowd.
What's a common misconception about the platform?
Some people ask: what's the point of serial authorship, and what's the fun in that for writers?
Some writers get writer's block and can't write for months at a time. If they're only working episode by episode, though, they can also interact with readers, which can help. It's a unique way of getting feedback from readers right away, and also monetizing that.
We only rely on 5 to 10 percent of voracious readers to monetize a story. So as a writer, the great thing is, once you finish a serial, you can get all the feedback from readers—such as which episode sold best—and you can turn it into a book, for which you retain the rights and keep your earnings. This can be an additive revenue stream for writers, especially with e-book sales in decline. We're going to start reaching beyond amateurs to top published authors.
What's been popular on Radish so far?
One of our top authors is Rob Thier, a male romance author, which is rare. Thier writes feminist historical fiction. He has great storylines, details and historical accuracy. He's never been part of traditional publishing, and he makes a five-figure salary with us. It was a small thing to start, but now it's a trilogy. The fourth story is coming soon, and we'll publish an exclusive prequel.