Will High Gas Prices Jolt Electric Cars?
This is the year we should find out if plug-in cars are for real. And it doesn't hurt when gas goes over $4 a gallon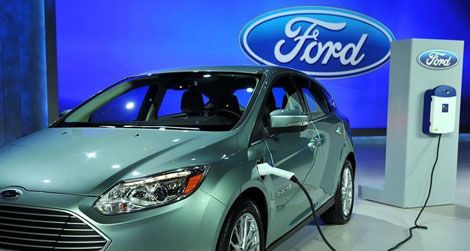 Now that gas prices are scooting back up to $4 a gallon in the U.S. and some are predicting they'll hit $5 by the end of the year, people are starting to ask questions again about electric cars. And not just "Why would anyone call a car a Leaf?"
So where are we with the Volt, the Leaf, the Tesla and all the other electric or electric/hybrid models hitting the market this year? Will more Americans begin to take them seriously?
Let's take a reality check. Fewer than 18,000 Chevy Volts and Nissan Leafs were sold in the U.S. last year. President Obama still hasn't backed away from his goal of having 1 million plug-in cars on American highways by 2015, but it looks like the only way that's happening is if Oprah starts giving them away.
Most people have the same reservations they've always had. Electric cars cost too much–more than $30,000, even with a $7,500 federal tax credit–and they stir up feelings of "range anxiety"–the fear of running out of juice in some place where no one's ever heard of a charging station.
That said, this is the year we'll see if electric cars become more than novelties. More car companies are making their first bets on the plug-in business. The Ford Focus Electric, now being sold only on the East and West Coasts, will be available nationwide this fall. Toyota launches its Prius Plug-in Hybrid in March. Last month, Honda shipped all-electric versions of its Fit model to California for trials, including at Google, which will make them part of its car-sharing fleet. Daimler will roll out an all-electric Smart car in Europe in September and Volvo is expected to unveil a plug-in hybrid station wagon.
The latest estimate is that about 70,000 all-electric or plug-in hybrid vehicles will be sold in the U.S. in 2012, still a piddling amount in the scheme of things, but a bump in the right direction.
Here's the latest in the electric car saga:
The Good
Riding the range: Envia Systems, a California startup, reportedly will announce today that it's developed a lithium ion battery it says could extend the range of electric cars to 300 miles on a charge. (Now the range is closer to 100 miles.) If they're right, that's one high hurdle cleared. GM's a believer. It invested $7 million in Envia last year.
A big bet on batteries. BASF is a huge German chemical company, but not long ago said it will be investing heavily in creating components for electric car batteries. It will be opening a plant in Ohio later this year.
My phone's taking care of it: Volvo has joined a research project called Electric Vehicle Intelligent Infra Structure (or ELVIIS), which would allow you to use a smart phone to find outlets, set the timing for your battery charge and pay directly to your utility bill.
Volts all around: Late in 2010 General Electric made a big splash when it said it would buy tens of thousands of electric vehicles for its employees who use company cars.  It's taken a while, but Chevy Volts finally started showing up in GE parking lots this month. GE, by the way, makes electric car charging stations.
Emission impossible: California last month passed new standards requiring that 15 percent of the cars sold in the state by 2025 have "zero emissions."  That would mean almost 1.4 million cars in the state would be electric or hybrid plug-in.
The Bad
The Ugly
Your battery's most sincerely dead: The story came out last week about a Tesla roadster that was "bricked" or rendered inoperable after its battery was allowed to drain completely.  Apparently the owner had put his car in storage without realizing that he still needed to charge it. Not only would the car not start, the doors wouldn't even open. Tesla contends that the car wasn't to blame because the owner hadn't properly maintained his vehicle. The only fix, said the company, was for the owner to buy a new $30,000 battery. Ouch.
Video bonus: During a recent speech, Republican presidential candidate Newt Gingrich dismissed the Chevy Volt as an "experimental car" and cracked that you can't put a gun rack in the back of one.  Au contraire, says Georgia Volt owner  J. T. McDole.