Why is Albert Camus Still a Stranger in His Native Algeria?
On the 100th anniversary of the birth of the famed novelist, our reporter searches the north African nation for signs of his legacy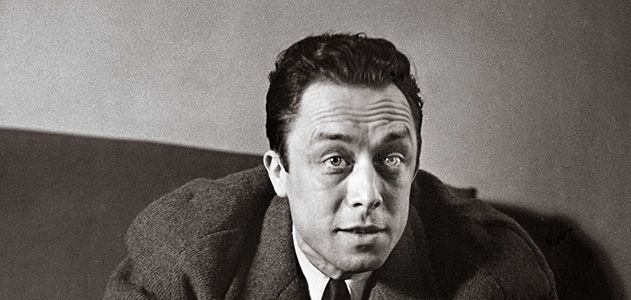 The Hotel El-Djazair, formerly known as the Hotel Saint-George, is an oasis of calm in the tense city of Algiers. A labyrinth of paved pathways winds through beds of hibiscus, cactuses and roses, shaded by palm and banana trees. In the lobby, bellhops in white tunics and red fezzes escort guests past Persian carpets and walls inlaid with mosaics. Beneath the opulence, violence lurks. During the week I was there, diplomats descended on the El-Djazair to repatriate the bodies of dozens of hostages killed in a shootout at a Sahara natural-gas plant between Al Qaeda in the Islamic Maghreb and the Algerian Army.
Violence was in the air as well in January 1956, when the celebrated writer Albert Camus checked into the Hotel Saint-George. The struggle against French colonialism was escalating, with civilians becoming the primary victims. Camus was a pied-noir—a term meaning "black foot," perhaps derived from the coal-stained feet of Mediterranean sailors, or the black boots of French soldiers, and used to refer to the one million colonists of European origin living in Algeria during French rule. He had returned after 14 years in France to try to stop his homeland from sliding deeper into war. It was a perilous mission. Right-wing French settlers plotted to assassinate him. Algerian revolutionaries watched over him without his knowledge.
The Casablanca-style intrigue—freedom fighters, spies and an exotic North African setting—seemed appropriate. Camus, after all, was often thought of as a literary Humphrey Bogart—dashing, irresistible to women, a coolly heroic figure in a dangerous world.
Camus is regarded as a giant of French literature, but it was his North African birthplace that most shaped his life and his art. In a 1936 essay, composed during a bout of homesickness in Prague, he wrote of pining for "my own town on the shores of the Mediterranean...the summer evenings that I love so much, so gentle in the green light and full of young and beautiful women." Camus set his two most famous works, the novels The Stranger and The Plague, in Algeria, and his perception of existence, a joyful sensuality combined with a recognition of man's loneliness in an indifferent universe, was formed here.
In 1957, Anders Österling, the permanent secretary of the Swedish Academy, acknowledged the importance of Camus' Algerian upbringing when he presented him with the Nobel Prize in Literature, a towering achievement, won when he was only 43. Österling attributed Camus' view of the world in part to a "Mediterranean fatalism whose origin is the certainty that the sunny splendor of the world is only a fugitive moment bound to be blotted out by the shades."
Camus is "the single reason people outside Algeria know about this country," says Yazid Ait Mahieddine, a documentary filmmaker and Camus expert in Algiers, as we sit beneath a photograph of the writer in the El- Djazair bar, alongside images of other celebrities who have passed through here, from Dwight Eisenhower to Simone de Beauvoir. "He is our only ambassador."
***
Yet despite Camus' monumental achievements and deep attachment to his native land, Algeria has never reciprocated that love. Camus is not part of the school curriculum; his books can't be found in libraries or bookshops. Few plaques or memorials commemorate him. "Algeria has erased him," says Hamid Grine, an Algerian novelist whose 2011 Camus dans le Narguilé (Camus in the Hookah) imagines a young Algerian who discovers that he is Camus' illegitimate son, and embarks on a quest to learn about his real father.
In 2010, the 50th anniversary of Camus' death in a car accident in France, a committee of intellectuals organized an event they called a "Camus Caravan"—readings in seven Algerian cities. But "the authorities refused to allow it," I was told by one of the organizers, Fatima Bakhai, a lawyer in Oran, Algeria's second-largest city. When Camus turns 100 this year, not a single official commemoration is planned. The neglect reflects, in part, the scars of the civil war that tore apart Algeria in the 1990s, leaving 100,000—mainly civilians—dead in fighting between Islamic militants and the military regime. Most Algerians "were too busy trying to survive to worry about our literary heritage," say Mahieddine.
But it is also a product of Camus' complex political views. Despite his revulsion toward French colonial prejudices and his sympathy toward Arabs, Camus believed until the end of his life that Algeria must remain part of France. Five decades later, as I discovered during a weeklong trip through Algeria on the eve of Camus' centennial, memorials to the independence struggle are ubiquitous, resentment toward France remains strong and the Algerian government, largely made up of former freedom fighters, has willed a national forgetting of its country's greatest writer. "Camus is regarded as a colonialist, and that's taught in the schools," says Catherine Camus, the author's daughter, who lives in France and last visited Algeria in 1960, six months after her father's death when she was 14, and who now manages his literary estate. But she insists that although her father spent his last decades in France, "he was entirely Algerian."
"It is true that Camus positioned himself with his own little family of colonists," says Mahieddine, who fought the resistance of superiors to make a documentary for state television about Camus' life in Algeria. "But that should not deny his talent, his greatness as a writer, his Nobel Prize and his contribution to presenting the image of Algeria to the world."
***
Albert Camus was born on November 7, 1913, in Mondovi, now Dréan, a town near Algeria's northeast coast, 30 miles from the Tunisian border. His father, Lucien Auguste Camus, the grandson of poor immigrants from the Bordeaux region, worked in a wine cellar at a vineyard. In the opening weeks of World War I, at the Battle of the Marne, he was struck in the head by shrapnel, and died in a field hospital a few weeks later. Albert and his older brother, Lucien, were raised by their mother, Catherine Hélène Sintès-Camus, a deaf illiterate of Spanish origin. "Although she was able to read lips, some people thought her mute, or mentally retarded," writes Olivier Todd in his authoritative biography Albert Camus: A Life. According to Camus, her vocabulary consisted of only 400 words.
When Albert was a boy, the family moved to an apartment at 93 rue de Lyon, in Algiers' Belcourt neighborhood, a working-class district. Here Arabs and pieds-noirs lived side by side, but seldom intermingled. Albert shared three rooms with Lucien, their uncle Étienne, their maternal grandmother, and Catherine Hélène, who toiled as a cleaning woman. Camus admired her gentle stoicism, and she shaped his empathy for the poor and oppressed. "Camus always wanted to speak for those who had no voice," says Catherine Camus. In addition, says Todd, "He was extraordinarily devoted to her."
Camus' boyhood home still stands: a two-story building with a wedding-dress shop on the ground floor. Out front, I meet the owner, Hamid Hadj Amar, a wary octogenarian who eventually leads my translator and me up a drab spiral staircase. The Camus place, in the rear, seems impossibly small: a tiny kitchen and three cramped bedrooms off a dark corridor. The room shared by Lucien and Albert is a 10- by 10-foot chamber with French windows opening onto a filigreed balcony. I stand on the tiny terrace and take in Camus' view: a busy street, shade trees obscuring a block of three- and four-story buildings with deteriorating white facades, orange-tile roofs and balconies draped in drying laundry.
My translator-guide, Said, and I walk to the other landmarks of Camus' Belcourt years, passing cafés filled with elderly Arab men playing dominoes and sipping mint tea. The streets present a microcosm of Algeria's mixed society: fashionably dressed, Westernized women carrying baguettes home from French bakeries; a couple from the Salafist Islamic movement, the man with a long beard and white robe, the woman's face concealed behind a black niqab.
A few blocks north, I can just make out Les Sablettes, the popular beach where Camus spent many a summer day. "I lived in destitution but also in a kind of sensual delight," Camus once wrote, conjuring up a childhood of swimming, sunshine and soccer.
Down the block from 93 rue de Lyon, I come across the École Communale, Camus' primary school. I push open the heavy metal gate and approach the late 19th-century Beaux-Arts relic, with curving, filigreed outdoor staircases. The stucco facade is peeling away. It was here that Camus met a compassionate teacher, Louis Germain, who "saw a bright young boy," says Todd, tutored him after-hours, helped him obtain a high-school scholarship and introduced him to a "world of words."
Two days after my visit to Belcourt, I'm hiking along the coast 40 miles west of Algiers. An intermittent drizzle washes over acres of Roman ruins that extend to the edges of the cliffs.
Tipasa, originally a Phoenician settlement, was captured by the Romans and developed into an important port nearly 2,000 years ago. It was one of Camus' most beloved destinations. In his teens and 20s he and his friends would travel here by bus from Algiers and picnic among first-century temples and villas, and a fourth-century Christian basilica. "For me there is not a single one of those sixty-nine kilometers that is not filled with memories and sensations," he wrote of his regular trip to Tipasa from Algiers in "Return to Tipasa," a 1952 essay. "Turbulent childhood, adolescent daydreams in the drone of the bus's motor, mornings, unspoiled girls, beaches, young muscles always at the peak of their effort, evening's slight anxiety in a sixteen-year-old heart."
Camus' years of teenage exuberance were cut short when, at the age of 17, doctors diagnosed tuberculosis. Constantly short of breath, he was forced to abandon a promising soccer career, and would suffer relapses throughout his life. Despite the often-debilitating illness, he graduated in 1936 from the University of Algiers with a philosophy degree. After a stint of uninspiring office work, Camus was hired in 1938 as a reporter for a new daily newspaper, the Alger Républicain, covering everything from murder trials to a famine in the mountain region of Kabylia, 50 miles east of Algiers. That exposé of government neglect infuriated colonial authorities. They shut down the paper and blacklisted Camus, making him unemployable as a journalist.
Said and I follow a trail along the cliffs, past grazing goats and gnarled olive trees. We thread through a field of truncated columns and tread gingerly across the disintegrating mosaic floor of a ruined villa. In "Nuptials at Tipasa," one of four rapturous essays about his homeland published in 1938, Camus celebrated a world of sunshine and sensual pleasure. "In springtime, gods dwell in Tipasa," he wrote, "speaking through the sun and wormwood perfume, the sea in its silver armor, and great bubbles of light in piles of rocks."
***
One summer afternoon in 1939, on Bouisseville Beach, just west of Oran, an acquaintance of Camus', Raoul Bensoussan, had a run-in with two Arabs who, he believed, had insulted his girlfriend. "Raoul returned with his brother to argue with the Arabs, and after a brawl he was injured by one of them, who had a knife," Todd writes in his biography. Raoul came back armed with a small-caliber pistol, but the Arabs were arrested before he could pull the trigger.
From this encounter, Camus fashioned the novel that has come to define him. In the opening pages of The Stranger, his anthem of existentialism and alienation, Meursault, Camus' strangely detached antihero, joins his mother's funeral procession in the Algerian countryside. "The glare from the sky was unbearable," he writes. "I could feel the blood pounding in my temples." The sun of Tipasa has morphed into a sinister force in Meursault's world—a catalyst for violence and symbol of a universe bleached of significance. Later, on a beach much like Bouisseville, Meursault encounters an Arab with a knife and shoots him to death for no other apparent reason than the unnerving brightness and heat. "It was the same sun as on the day I buried Maman and, like then," he writes, "my forehead especially was hurting me, all of the veins pulsating together beneath the skin."
Today the once-pristine beach that inspired Camus' absurdist drama is barely recognizable. The sun that drove Meursault to distraction, then murder, is today buried behind a heavy cloud cover, typical of the Mediterranean winter. Trash covers the curving sweep of sand, a faint odor of urine is in the air and the beachfront is lined with dilapidated French villas, many abandoned. "My father used to see Camus and his wife here all the time," a grizzled man who rents out sun umbrellas tells us. He directs us down the beach toward a trickle of raw sewage flowing into the sea. Seventy years ago, this stream might have been "the little spring, running down through the sand" where Meursault encountered the doomed Arab and his friends.
The Stranger concludes with Meursault in his cell, preparing for his execution, following a trial in which his lack of emotion at his mother's funeral is cited as proof of his depravity. Facing imminent death on the guillotine, Camus' protagonist acknowledges that existence is meaningless, yet he now rejoices in the sheer sensation of being alive. "For the first time, in that night alive with signs and stars, I opened myself to the benign indifference of the world," he declares in the last lines of the book, a cry of defiance and a joyful assertion of his humanity.
The Stranger was published in 1942, to ecstatic reviews. It earned the respect of Jean-Paul Sartre, the Left Bank philosopher with whom Camus soon formed a tempestuous friendship. Thanks in part to Sartre's attention, Camus found himself transformed almost overnight from an obscure pied-noir journalist into a literary lion. In 1944, fifteen-year-old Olivier Todd found a dog-eared copy in the cupboard of a Jewish woman who had lent Todd and his mother her apartment in occupied Paris after she had fled the Nazis. "I went to the Luxembourg Garden, and read the novel there, 200 yards away from German sentries," remembers Camus' future biographer. He was taken, he says, by the "double-faced" nature of Camus, who found darkness and horror in the Algerian sunshine. "He will be remembered as a formidable prose writer, who was capable of dreaming up extraordinary stories," Todd says.
***
In March 1940, unemployed in Algeria, Camus had gone into exile in France, arriving on the eve of the Nazi invasion. He found a job as a reporter for a newspaper in Lyon, a city under control of the collaborationist Vichy government. In January 1941, he married Francine Faure, a beautiful pianist and math teacher from Oran. But the same month, facing wartime privation, censorship and the threat of losing his job, Camus returned with his wife to Oran.
Late on a January afternoon, after a six-hour drive from Algiers, I arrive in Oran, a city of one and a half million near the Moroccan border. The narrow street where Camus and Francine lived during his Algerian interlude is lined in faded-white buildings. Camus often whiled away the hours at the nearby Brasserie la Cintra on an avenue flanked by date palms. High above the city looms the Murjajo, a stone fortress constructed by Oran's Spanish conquerors, who ruled here between 1509 and 1708, when the city fell to the Ottomans.
Despite the city's history and vibrant multi-ethnicity, Camus disparaged Oran as "the capital of boredom" and disliked the seedy dockyards and industrial works that separated the city from the Mediterranean. Camus was unemployed, debilitated by tuberculosis and appalled by the surge of anti-Semitism under the Vichy regime. More than 110,000 Algerian Jews lost their French citizenship. A close friend of Camus' was fired from his job as a high-school teacher, the words "French citizen" replaced by "native Jew" in his passport. "The return to Oran, considering the conditions of my life here, is not a step forward," he wrote a friend in 1941. But, says Todd, Camus also found much to love about the city. "The Spanish character of Oran meant a lot to him," he says. "The Spanish architecture, the way people ate, the way they lived, reminded him of the part of him that was Spanish." "He loved and hated the city at the same time," Todd says.
Camus lived with Francine in Oran for 18 months. In August 1942, they traveled back to France, where Camus recuperated in the mountains from a relapse of tuberculosis. Francine returned to Algeria and Camus planned to join her. But in November, the Allies invaded North Africa; Camus was stranded in France.
Outraged by the Nazi occupation, he became editor in chief of the resistance newspaper Combat. He and the other editors—including Sartre, André Malraux and Raymond Aron—produced articles denouncing the Nazis, and secretly printed 185,000 weekly copies on clandestine presses in Paris. It was dangerous work: Camus had one close call in 1943, when he was stopped by the Gestapo and managed to dispose of a layout copy of the paper before being searched.
During the war, Camus also began working on what many regard as his masterpiece, the allegorical novel The Plague, a meditation on exile, occupation and resistance. Set in Oran, the fable unfolds with an outbreak of bubonic plague that kills hundreds of people a day and forces authorities to seal the gates to prevent the pestilence from spreading. The contagion, like the Nazi occupation of France, brings out both venal and noble qualities in Oran's populace. One character profiteers by selling contraband cigarettes and low-quality liquor. Camus' heroes, the physician Bernard Rieux and the journalist Raymond Rambert, courageously tend the sick and dying. Both are cut off from the women they love, but place a sense of moral responsibility over happiness. "In its calm and exact objectivity, this convincingly realistic narrative reflects experiences of life during the Resistance," declared his 1957 Nobel Prize testimonial, "and Camus extols the revolt which the conquering evil arouses in the heart of the intensely resigned and disillusioned man."
Camus, too, was afflicted by, as his character Rieux describes it, "those keen shafts of memory that stung like fire." But he was serially unfaithful to his wife during their long period of separation. Francine reunited with her husband in Paris after the German defeat. The Plague was published, to great acclaim, in 1947, two years after the birth of the Camus twins, Jean and Catherine, in Paris. Camus' relationship with Francine remained rocky, but he developed a close bond with his children. "He was full of life, he laughed a lot, he was down-to-earth, he was a real father," says Catherine, who recalls with deep affection her trips back to Algeria in the 1950s with her father. Catherine says that her father "didn't communicate any idea of his importance," even after winning the Nobel Prize. It was only after his death that she began to understand his significance to the world.
***
After my return to Algiers, I make my way to a hilltop overlooking the bay, crossing a plaza to the Martyrs' Monument: three concrete palm fronds that soar to 300 feet, encasing an eternal flame. The bronze statue of an Algerian freedom fighter stands at the base of each giant frond. This colossus commemorates the conflict that erupted here on November 1, 1954, when National Liberation Front (FLN) guerrillas carried out attacks on gendarmeries. Nearby I visit the Military Museum, which traces the conflict through blood-curdling dioramas of ambushes by mujahedin and torture chambers run by the French military.
Camus had often demonstrated his opposition to the abuses of the colonial system, from his exposé of the famine in Kabylia to his May 1945 investigative trip for Combat to Setif, site of an anti-French protest by Algerian veterans that had triggered a massacre by French forces. As the war escalated, he looked on with horror at attacks against civilians by French ultranationalists and the army. But while he was sympathetic to the idea of greater autonomy for Algeria, he was also disgusted by FLN bombings of cafés and buses and rejected demands for independence. In 1956 he arrived in Algiers with the hope of arranging a truce between the FLN and French forces. "Camus came as a figure of great moral authority, granted to him by his status as a writer, his role in the Resistance and his editorials in Combat. But the idea that he could alone effect change is exaggerated," says Alice Kaplan, a Camus scholar at Yale University who edited a new anthology of Camus' Algeria-related writing, Algerian Chronicles.
The visit was a humiliating failure. The two sides had passed the point of reconciliation, and even supposedly neutral Algerian leaders who escorted Camus to meetings were working secretly for the FLN. Besieged by shouts of "death to Camus" from right-wing French zealots in an Algiers meeting hall, Camus returned to France, shaken.
Camus continued to seek a middle path. He intervened with French authorities to save the lives of dozens of condemned mujahedin, but refused to support the armed struggle. "People are now planting bombs on the tramways of Algiers," he famously told an FLN sympathizer following his acceptance of the 1957 Nobel. "My mother might be on one of those tramways. If that is justice, then I prefer my mother." The FLN never forgave him for rejecting its cause. Eventually, Camus stopped commenting altogether on the war, a retreat that some equated with cowardice, but that Camus justified, saying that any comment he made would inflame one side or the other.
In Camus' "Letter to an Algerian Militant," published in Kaplan's Algerian Chronicles, he equates the pain he felt about the Algerian War with the "hurt in his lungs." By the time the war ended in March 1962, anywhere from a half-million to more than one million Arab civilians and freedom fighters were dead, along with nearly 40,000 French soldiers and pieds-noirs. A million pieds-noirs fled to France; others were massacred in Oran and other Algerian cities, while still others disappeared. (Camus' mother died of natural causes in Algiers in September 1960.) Outside the former Barberousse prison, next to the Casbah, I studied a stone tablet that listed, in Arabic, the names of hundreds of fighters executed on the guillotine by the French occupiers.
Camus' equivocating role during the Algerian War has never stopped igniting controversy. Columbia University historian Edward Said, in Culture and Imperialism, berated Camus for having an "incapacitated colonial sensibility." Particularly damning for Camus' critics is the absence of developed Arab characters in the author's body of fiction, a telling indication, they say, that while Camus sympathized with Arabs in general, he cared little about them as individuals. Kaplan says that Camus was simply a product of his time, and the deeply segregated society from which he came. "He knew the settler population, their poverty and their issues," she says. Even so, many Algerian Arab writers "are deeply engaged with Camus."
For Olivier Todd, the quality that resonates for him is Camus' "honesty," his refusal to insist on absolute truth. "He is constantly doubting. He has doubts about the Communists, about the future of Algeria, even about himself," Todd says. Yet it took Todd decades to warm up to him. Todd met Camus twice, once in a Paris café in 1948, when the writer sat down at the counter with a newspaper and ogled Todd's young wife. "I was furious," says Todd. "I said aloud, 'Who is this asshole? Who does he think he is?'" A decade later he was introduced to Camus on the Boulevard St. Germain and "disliked him intensely. His clothes were much too loud, and he was aggressive with me. He defended the pieds-noirs too much." But after five years immersed in his life and literature, after hundreds of interviews and repeated trips to Algeria, "My feelings about him have changed completely," Todd says. "I ended up liking him immensely."
For Kaplan and other admirers, Camus was, above all, a humanist, who believed in the sanctity of life, the folly of killing for an ideology and the urgency of peaceful coexistence. "There is a Camus for every stage of life," says Kaplan, trying to explain Camus' staying power and relevance today. "Adolescents can identify with the alienation of Meursault. The Plague is for when you're in college, politically engaged and sympathetic with resistance." The Fall, Camus' 1956 novel about the crisis of conscience of a successful Parisian lawyer, "is for 50-year-olds. It is angry, acrimonious, confronting the worst things you know about yourself." And The First Man, a beautifully rendered, unfinished autobiographical novel published posthumously in 1994, "is Camus' Proustian moment, his looking back on his life. You can spend your whole life with Camus."
In a field near the sea at Tipasa stands one of Algeria's only monuments to the writer, a headstone erected by his friends after he died in January 1960, at the age of 46, in a car crash with his publisher, Michel Gallimard, near the French town of Sens. At the time he was living in Lourmarin, a village in the Vaucluse, where his daughter lives today. (According to Todd, Camus said that the hills near his home "always remind me of Algeria.") Weathered by the wind, the French inscription is barely legible, and the name "Albert Camus" has been defaced with a knife by someone with a grudge. The inscription is a quote from the 1938 essay "Nuptials at Tipasa," written before the horrors of war and the personal struggles that would shadow his rise to greatness. "Here I understand what they call glory," it reads, in homage to the seaside ruins where he spent some of his most joyful moments. "The right to love without limits."