When Doctors Need New Medical Tools, These Students Are Up To the Challenge
Medical device design courses are more than just good education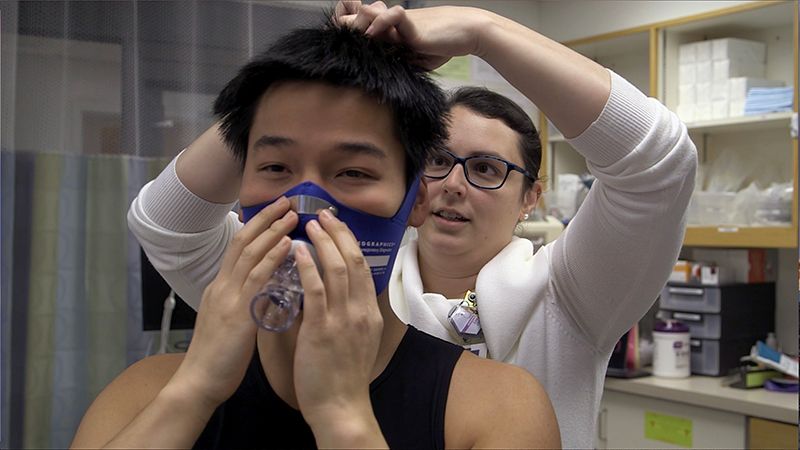 Exercise intolerance, or the inability to physically exert oneself without experiencing shortness of breath or extreme fatigue, is not uncommon. For people with the condition, simple tasks like grocery shopping or walking up stairs can be prohibitive. These same symptoms typify many diseases, including heart failure pneumonia and asthma, and finding the cause sometimes comes down to an elaborate, expensive exam called a cardiopulmonary exercise test (CPET).
Normally, CPET involves exercising to exhaustion on a treadmill or stationary bicycle, while wearing an invasive mask, a nose clip and an electrocardiogram. Doctors look at the action of the patient's lungs, muscles and heart, and try to tease out where the problem is coming from. Even then the test, which costs thousands of dollars and requires a team of people to set up, can be inconclusive, and must be repeated to learn if treatment or prescriptions are working.
A better CPET was the challenge that Mass General cardiologist Maulik Majmudar brought to the students of MIT's medical device design class last fall. In the class, which has seen around 50 students per year since it began in 2004 as a more hands-on approach to a preexisting device design class, medical professionals present a problem they've encountered in practice. Graduate students and some undergraduate seniors team up in groups of three-to-five team members, receive a budget that comes partially from industry donors, and are tasked with coming up with a solution.
"The medical device industry, in its incredible conservatism, is actually not very open to innovation. Most of the innovation is happening in the startups," says Nevan Hanumara, a research scientist at MIT and one of the course instructors with founder Alexander Slocum. "What I think is a little bit unique about what we do is, the productivity in generating new ideas that we've actually managed to have in an educational format."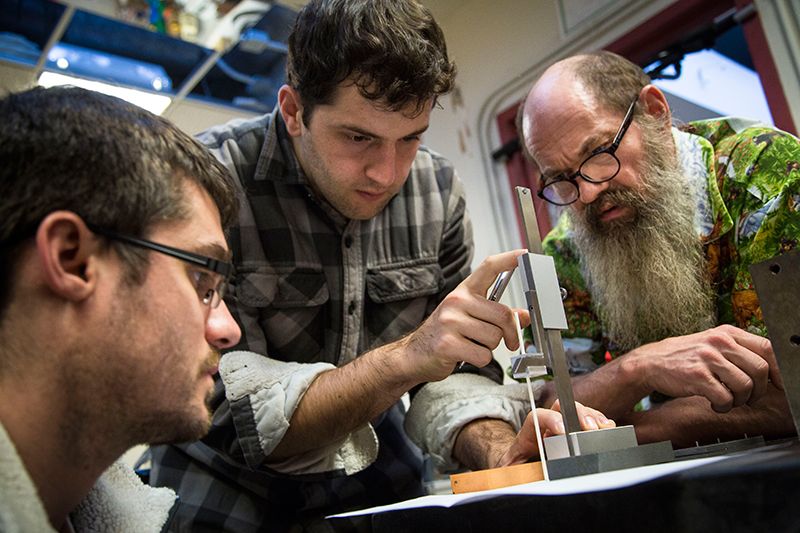 Two electrical engineering undergraduate students, Alexander Mok and Andreea Martin, joined forces with two mechanical engineers and one integrated design and management student, and began a rigorous process of research, design and iteration to develop a more effective — and cost effective — test. Mok and Martin's group came up with a wearable health monitor that can measure heart rate and the amount of gas inhaled in a breath. The device evaluates the interaction of the patient's heart and lungs throughout the day. "What we're trying to find is more long term data on a much smaller scale of physical activity," says Martin.
The design didn't come from thin air. Majmudar mentored them, meeting weekly, introducing them to clinicians working in the field, and helping them set up tests with volunteers. The concept originated with the idea to use modern, miniaturized electronics and sensors in a wearable package, so that doctors could read data over a span of time in a patient's life, not just isolated lab tests. At the end of last semester, Mok put on their first prototype, which encompasses the sensors in a shirt, and did several CPETs to compare.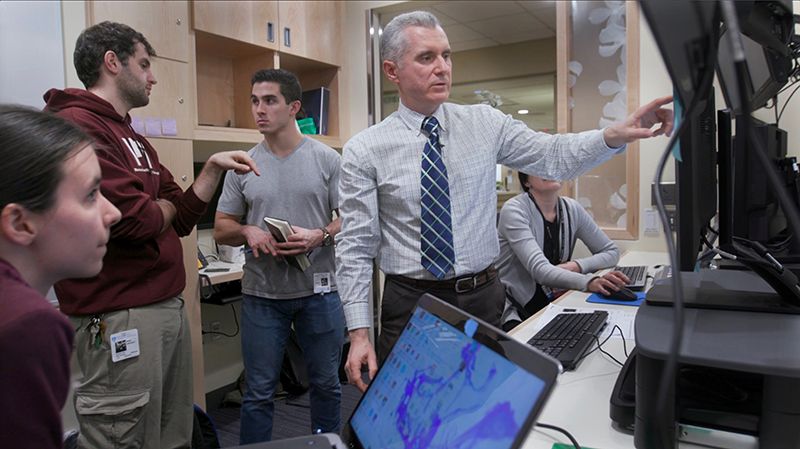 Though most projects from the class end with the class, some — like Mok and Martin's — continue into a second semester, where they polish their inventions and develop them as products, and even beyond, as startups or licensed technology. Occasionally, that means patenting, which is why Mok and Martin declined to share the details of their tech. Of the five members of their team, only Mok and Martin continued with the project. They are currently working to compare their results to traditional CPETs — Mok's test with the group's device was similar enough to his CPET to show promise — and building a second prototype that improves on the form factor. They'll also examine the regulatory pathway, do market research and begin business development.
In the past, a doctor treating patients with low testosterone needed a single-use system, so patients could apply their own. Engineering students learned enough pharmacology to invent a new syringe that keeps the different components of the treatment separate until it's used, and are now working with angel investors and industry partners to launch the device. Prior to that, students who built a shirt that measures sleep disorders pivoted to infant-monitoring onesies and incorporated in 2011 as Rest Devices, Inc. Now available, the onesie monitor, called Mimo, tracks sleep, position, breathing and skin temperature, and transmits it via a phone app.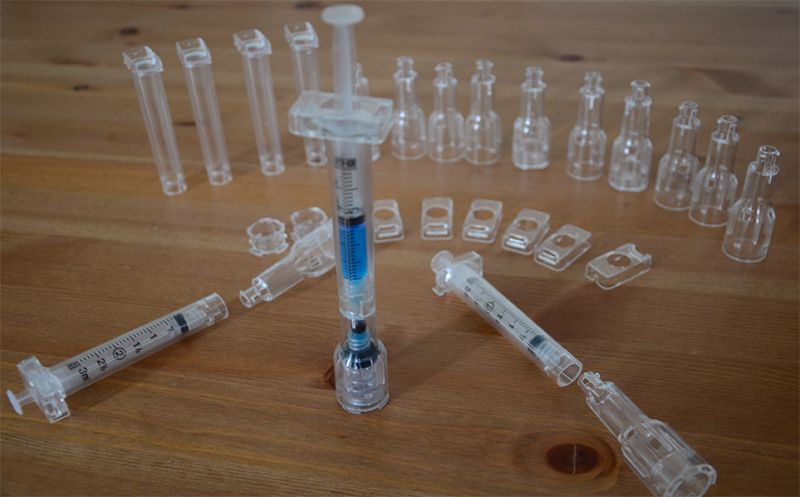 Hanumara's class, though built on a community that involves instructors, TAs and especially clinicians, is not alone; medical prototyping centers have proliferated at universities around the country and the world, from undergrad to postdoctoral programs. Duke, the University of Minnesota, Johns Hopkins, Georgia Tech, and more than a hundred more make up the Biomedical Engineering, Innovation, Design, and Entrepreneurship Alliance, which meets to share resources and experiences among the programs. One of the oldest, Stanford Biodesign, was founded in 2001 by Paul Yock, a Stanford professor of medicine and bioengineering who sought to formalize the type of hands-on, mentored education he got from the experienced entrepreneurs who helped him start a company making cardiovascular devices and license an over-the-wire balloon angioplasty invention during his education at Stanford, decades earlier.
Stanford Biodesign also offers graduate and undergraduate classes, but its primary focus is a two-semester fellowship-type full-time program that Yock calls a "finishing school for inventors of health technologies." Students spend two months in clinical immersion, in which they must find 200 "needs" that they filter down to one based on how important they are, how solvable, how marketable, and even whether existing intellectual property and FDA pathways are feasible.
"The whole mantra of our program is that well-characterized need is the DNA of a good invention," says Yock. Students "get a first-hand observational idea of what can be improved." Some 200 students have completed the program, and about half have gone on to startups. In perhaps the biggest success story so far, alumnus Uday Kumar founded iRhythm, a digital health care company that makes a smart heart-monitoring patch that sends data directly to doctors, and has become the industry standard. Others landed at existing companies, or even started similar programs at other universities.
According to both Hanumara and Yock, opening up innovation is especially important in the current medical system, which needs to find ways to provide better care on a budget.
"In the end, when you're teaching, the best, most exciting product you can come up with is people who are successful in their professions," says Hanumara.