What a City Bike Needs: Handlebars That Let You Know When to Turn
Designers are transforming bikes with new tech to make it safer and easier to navigate city streets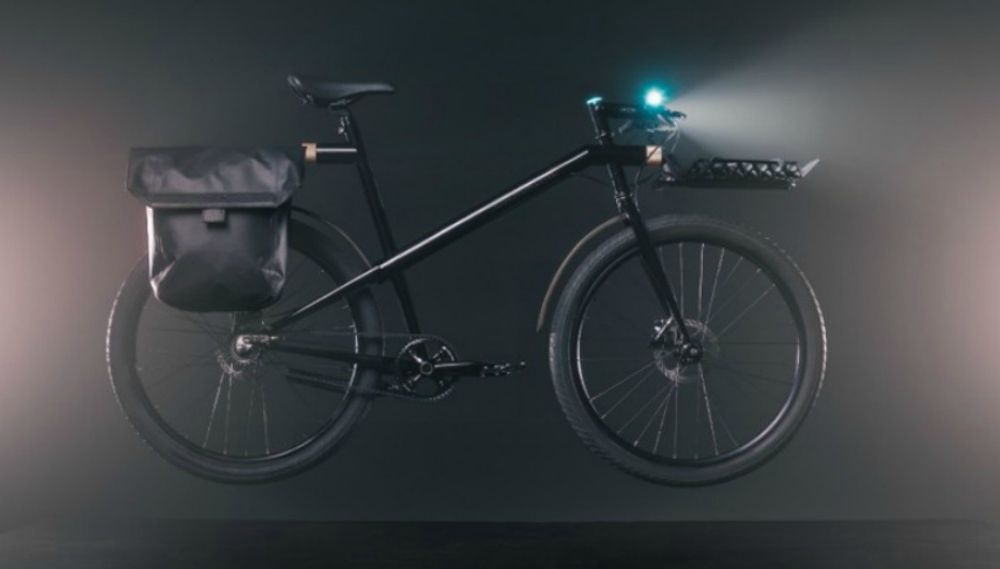 As someone who lives in a city, I often find myself watching people driving cars and people riding bikes salute each other, and not in a good way. Apparently, the "Share the Road" concept needs more work.
And yet, the number of urban cyclists keeps growing, including here in Washington D.C., where just last week two new bike lanes opened up in the middle of Pennsylvania Avenue, aka "America's Main Street." With more Millennials gravitating toward city living and away from owning cars, the trend is only going to pick up speed.
But this raises some questions: What makes the ideal urban bike? Yes, it should be solid and easy to maneuver, but what else should it be able to do? How can a bike be re-imagined to make riding around on city streets safer and less daunting for newbie urban bikers.
That's pretty much the challenge taken on by design teams in five different cities—San Francisco, New York, Chicago, Seattle and Portland—competing in something known as the Oregon Manifest Bike Design Project. The idea is to create a city-concept bike, but one that's all about urban utility and is street-practical—so practical that Fuji Bikes has agreed to manufacture the winning model, as decided by online voters. 
Catching a buzz
So what did the designers come up with?
For starters, smart handlebars. The team in Portland, Oregon, created a bike they named Solid, and it includes handlebars that, in response to an app on the rider's smartphone, give him or her directions by buzzing. If a rider is supposed to turn right, that side of the handlebars starts buzzing. The buzz gets more insistent as they get closer to the turn. If they go past it, both sides of the handlebar vibrate. 
The Chicago design team followed a similar tack with its model, named the Blackline after one of the city's elevated train lines. It uses smart handlebars designed by Helios Bars, an outfit that raised more than $120,000 on Kickstarter last year. Your smartphone is linked to the bike through Bluetooth and, once you input your destination, the handlebars take over.  But instead of buzzing when you need to turn, colored LED lights at each end of the handlebar start blinking, letting you know which way to go—not to mention giving drivers around you a better idea of where you're headed. 
The handlebars can also be set to speedometer mode, which means the lights change color in response to how fast you're moving. And when you get to where you're going, but want to make sure you don't forget where you parked, you can shoot the bike a text and it responds by sending a Google map to your phone, pinpointing the location.   
The Seattle team—they named their bike Denny—took the handlebar in a different direction. It can't talk to a phone, but it can detach and be converted into a U-shaped bike lock.
Coffee on board
Of course, if a bike is going to be your main mode of transit, it better be able to carry stuff—a bag of groceries, coffee for you and your office mates. The New York designers took on that challenge by building an ingenious storage system in their model, which they dubbed Merge. It actually fits inside the bike's frame, but when you need to haul something, you just pull a rear light and a spring-loaded tray pops into place behind the seat. Should you need a bungee cord, it has that, too, hidden inside another of the bike's tubes. 
The San Francisco team, meanwhile, has taken more of a plug-and-play approach. Their model, called Evo, comes with all kinds of attachments—storage racks, baskets, baby carriers—that easily connect to the front and back of the bike. When you're done hauling, you just de-accessorize.   
There are plenty of other clever features in the five bikes in the competition: A phone-charging port powered by the front wheel (Portland, New York); an onboard computer that automatically shifts gears (Seattle); and sensor-driven lights that get brighter or dimmer based on natural conditions (Portland, Seattle). 
To get a look at where urban bikes are headed, check out all the models on the Bike Design Project website. You have until Sunday at noon (PST) to vote for your favorite.
Remember when the coolest thing you could do with a bike was flap a balloon in the spokes?
Feet, don't fail me now
But why stop with bikes? A company in India has developed a shoe insole that buzzes to let you know which way to turn on whatever route you've chosen. The device,  called the Lechal—meaning  "take me along" in Hindi—connects to an app that syncs up with Google Maps, allowing the wearer to take in the view instead of burying his head in a map or hanging on Siri's every word.
The insole, which can fit into almost any shoe you own, can also count steps and tally calories burned. 
It was originally devised with the visually-impaired in mind, but the Indian company that created the Lechal, Ducere Technologies, now thinks it could have broader appeal. It's expected to go on the market next month at a cost somewhere between $100 and $150.