We Can Now 3D Print Ribs
The first-ever 3D printed titanium chest implant was a success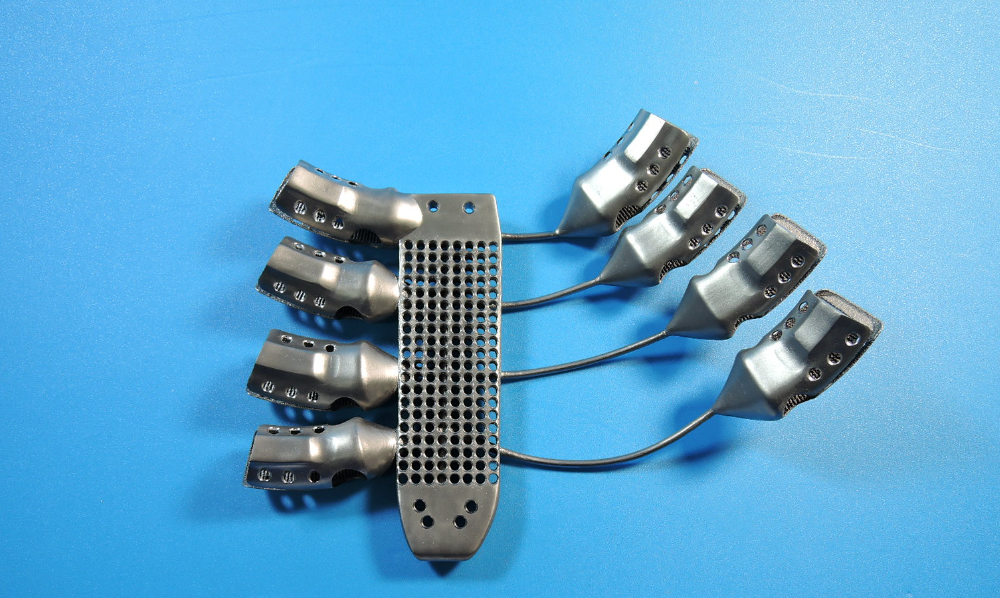 We are one step closer to the bionic man. A 54-year-old Spanish man with a chest wall sarcoma, a rare malignant tumor that starts in the connective tissue, had his sternum and part of his ribcage replaced with the first-ever 3D printed titanium chest implant.
The project crossed international borders. Although the patient was in Spain, the implant was developed by Australian biotech company Anatomics and printed by the Aussie government-run Commonwealth Scientific and Industrial Research Organization (CSIRO) using an electron beam metal printer. The beam gets the titanium hot enough that it melts and becomes a printable liquid.
Chest implants are particularly difficult to construct because everyone's ribcage is different. There are lots of interconnected parts, and there's so much motion. "It would be almost impossible to manufacture traditionally," said Alex Kingsbury, the additive manufacturing research leader at CSIRO, in a video, shown below. With 3D printing, an implant could be customized to a patient's ribcage.
Much of the patient's chest needed to be removed, so the Australian team thought he was a good candidate for the implant. But first, they needed a mold of the man's chest. Surgeons, José Aranda, Marcelo Jimene and Gonzalo Varela from Salamanca University Hospital in Spain, did a high-resolution CT scan of the cancerous ribs and sternum they were removing, then sent it to Anatomics to recreate.
The CSIRO lab has manufactured other titanium implants, including a heel bone, in the past. But the integrated sternum and ribcage presented a new set of challenges, because of the many movable parts. "While titanium implants have previously been used in chest surgery, designs have not considered the issues surrounding long term fixation. Flat and plate implants rely on screws for rigid fixation that may come loose over time. This can increase the risk of complications and the possibility of reoperation," says Andrew Batty, Anatomics CEO.
While the surgical team wanted to make sure the implant protected the thoracic organs and let the lungs function properly, Aranda says there were also aesthetic decisions to be made. He and his colleagues wanted to make sure the patient's chest looked natural.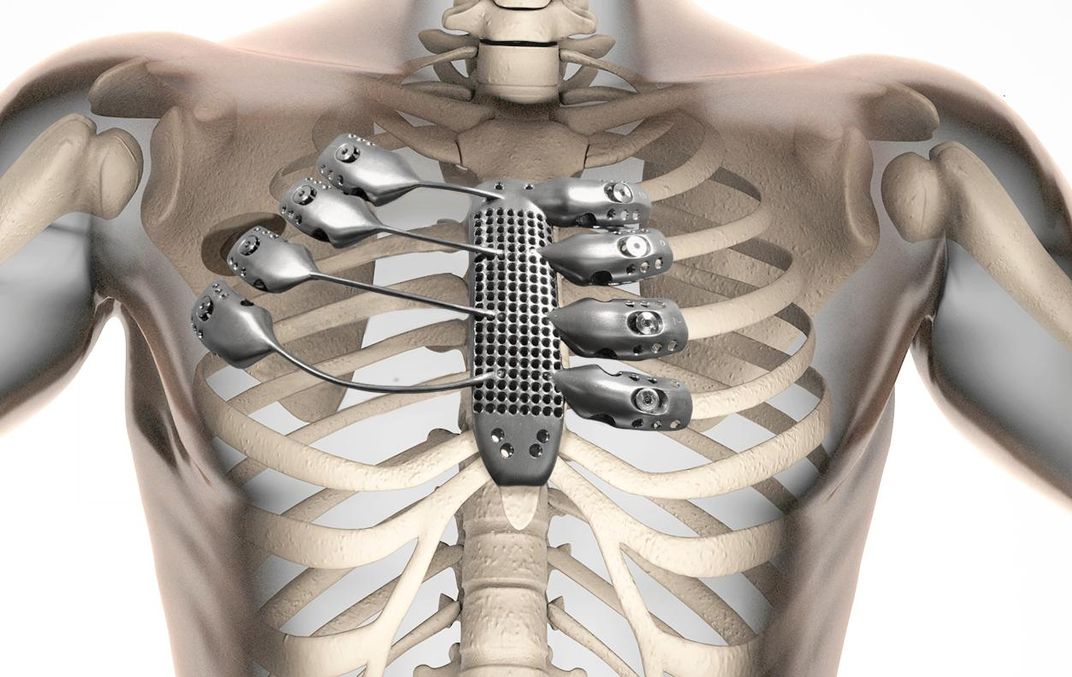 The implant Anatomics developed had a perforated titanium sternum, which made it light, flexible and easy to screw into, and four thin attenuated ribs that replaced the ones that had to be removed due to the tumor. It fit over the remaining bones and attached with screws.
Because they're still so time- and money-intensive (the implant cost almost $1 million, all told), custom implants like this one will probably only be implemented in extreme situations. But, in those one-off cases, something like this could be the difference between life and death.
So far, the unnamed patient is doing well. He was released from the hospital with his titanium chest 12 days after the surgery. The surgeons published a paper in the European Journal of Cardio-Thoracic Surgery about the operation.