The Transformation of the American Shopping Mall
Headlines claim malls are dying, and some are. But many others are having second lives as churches, schools, hospitals, even farms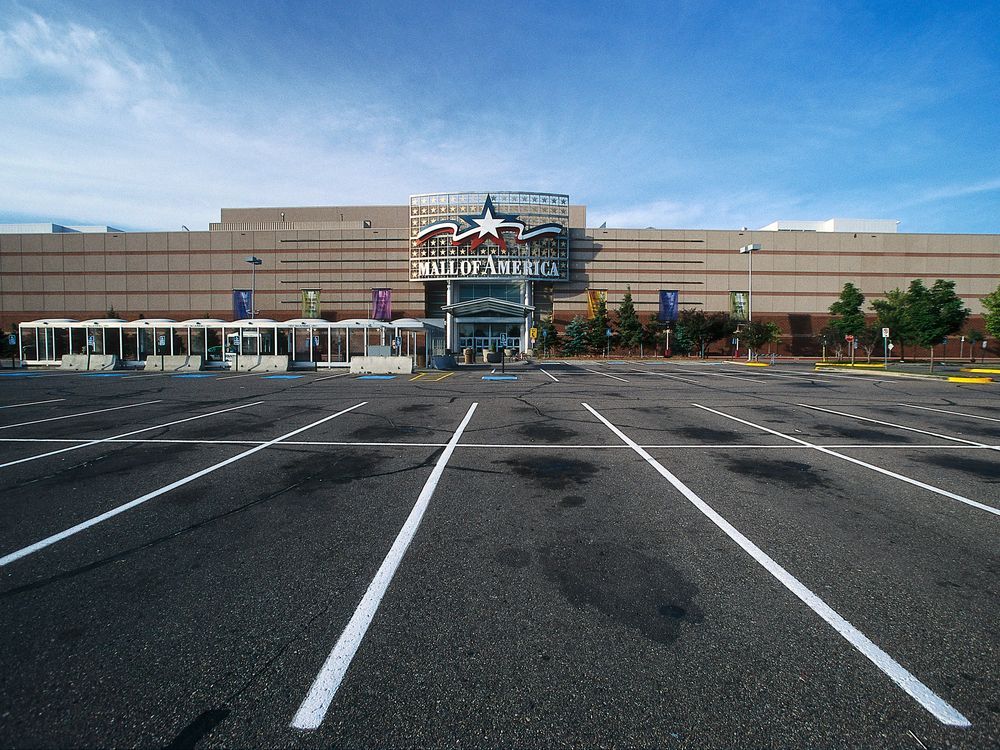 The father of the American shopping mall, the Austrian-born architect Victor Gruen, envisioned the mall as a sort of European-style town center for the American suburbs. He saw malls as climate-controlled Main Streets, with post offices, supermarkets and cafes, set amidst larger complexes with schools, parks, medical centers and residences. You'd hardly need to drive at all. Gruen found cars repulsive.
But only part of Gruen's vision caught on: the climate-controlled gray box, famous for encouraging car culture rather than stopping it. In 1978, the elderly Gruen railed against what his idea had become.
"I would like to take this opportunity to disclaim paternity once and for all," he said. "I refuse to pay alimony to those bastard developments. They destroyed our cities."
Today, strolling around University Place in my hometown of Chapel Hill, North Carolina, I'm struck by just how, well, Gruen-like it is. In addition to the shops, many of which are local boutiques, there's a large 24-hour gym, a CrossFit studio, a beauty school, a local AM radio station, an outpost of the police department's community services division, and a children's museum. At one end, where the Belk's department store used to be, is an enormous Southern gourmet foods emporium with a restaurant, a coffee shop and cooking classes. On the other end, where the Dillard's department store used to be, is a luxury movie theater, where you can get lobster rolls delivered right to your plush leather seat. In the atrium, local students do their homework on comfy couches, taking advantage of free wifi. On warm nights the crowds at the mall's popular upscale taqueria spill onto the sidewalk, chatting and sipping margaritas.
This wasn't true a decade ago. Then called University Mall, it was half empty and entirely depressing. My mother refused to go there.
"Too pathetic," she said.
The transformation that's taken place at University Place is just one example of how malls are changing across America. While headlines tout the "Death of the American Mall," the reality is more complex. Malls are dying in some places, yes, their too-expensive-to-remove corpses littering the landscape. But in other places malls are becoming "lifestyle centers" much like what Gruen envisioned. And some are going beyond that, turning into entirely different things: apartment complexes, churches, schools. Down the road, urban planners see even more uses: farms, performance venues, pop-up event spaces.
The decline, death and transformation of American malls has several causes. "It's certainly a function of online e-commerce shopping," says Chris Calott, an architect and professor of architecture at the University of California, Berkeley. "That's been a major heat-seeking missile on the shopping mall."
There's also simply far too much retail space in America. We've got more than double the square feet of retail space per person than Australia, and five times more than the UK. Developers built at a manic rate from the 1990s through the mid-2000s, just as the internet was beginning to change the retail landscape. Then the Great Recession hit. Many mall staples like RadioShack, Payless, Abercrombie & Fitch and The Limited began to shutter all or many of their locations. 
Calott estimates that 50 percent of the malls that operated during America's peak mall years of the 1960s through 1980s will be gone within the next 5 years. So many malls are already dead that they've spawned a genre of photography Calott calls "mall porn:" creepy, elegiac pictures of decaying spaces, stopped escalators, dust-covered foot courts and algae-filled atrium fountains.
But malls' prospects vary widely depending on their classification. Real estate research firm Green Street Advisors sorts malls into four grades—A, B, C and D, with pluses and minuses—depending on their productivity and the quality of their tenants. A class A mall might bring well over $500 per square foot, while a class C mall might only do $250. By most estimates there are about 300 class A malls in America, and more than 700 class B, C and D malls.
Class A malls are doing just fine. According to a 2017 report from Green Street Advisors, high-productivity malls have doubled in value since the recession. They tend to be located in wealthy areas, and to be built or rebuilt to meet contemporary shoppers' desires. 
Just outside of Chapel Hill in the city of Durham is The Streets at Southpoint, a class A+ mall that opened in 2002. Southpoint was deliberately designed for a Main Street vibe, taking visual inspiration from downtown Durham. Its red brick façade is covered with faux-aged murals advertising imaginary old-timey businesses and products: Williamson's Bakery ("Fresh Baked Goods by Master Baker!"), Kinston Toasted Corn Flakes. The food court was designed to resemble the raw open space of the tobacco warehouses that once thrived in downtown Durham. While most of the mall is enclosed, there's an outdoor pedestrian wing called Main Street, with fountains and benches and (fake) old-fashioned manhole covers.
Southpoint and University Mall are examples—one new, one repurposed—of what Calott calls the "newfangled lifestyle center."
"The urban design conceit of a lifestyle center is that it is delivering that outdoor sense of community, that kind of urban, heterogeneous feeling," Calott says. "It's a recreation of a Main Street or a vibrant urban downtown."
This is a mall where people come not just for shopping, but for entertainment, food and socializing. This is crucial, as shoppers no longer spend hours browsing the way they used to.
"In the pre-internet days, you'd go to a mall and you'd go to 20 stores," says Ray Hartjen of RetailNext, a company that provides data analytics to retailers. "Those days are completely gone. People come to the mall for two or three stores—very surgical shopping missions."
So malls need to find ways to keep shoppers hanging out on the premises. Southpoint does this successfully, with shoppers stopping to watch the "Music on Main Street" concert series, attend in-store yoga at Lululemon or mill around outside the Cheesecake Factory, buzzers in hand. 
On the other side of Durham is Northgate Mall. It's classed as a C+/B- property. When I was a kid, it was a bustling place, with classic 1990s stores like Express and Gap, and a popular indoor carousel. Now it's usually nearly empty. Its Macy's closed recently, and its other anchor, a Sears, is on life support.
Northgate hopes to follow the University Place model, reimagining itself as a mixed-use center with office space, a gym and a temporary outpost of the public library. But other, similar class B, C and D malls are going even more radical.
Across America, dozens of malls have been transformed into churches. In Grandville, Michigan, Mars Hill Bible Church took over an anchor store in the abandoned Grand Village Mall, nicknaming its enormous chapel "The Hangar." The aptly-named Church at the Mall occupies the 400,000 square-foot former Lakeland Mall in Lakeland, Florida. A number of other megachurches have turned abandoned malls into full-service religious "campuses." Other malls, like the Euclid Square Mall in Euclid, Ohio, have had individual storefronts filled with dozens of small churches.
Medical centers are a popular repurposing, since they require lots of space and parking. Schools are another burgeoning use. Part of Austin's dead Highland Mall is now a new branch of Austin Community College. In Montgomery, Alabama, the old Montgomery Mall recently opened its doors as the Montgomery Preparatory Academy for Career Technology, which uses the large spaces as labs for teaching construction, carpentry and welding; across the mall, a city police and fire station occupy a former clothing store. Other malls have become office space: In 2016, Google bought the Mayfield Mall, the oldest indoor mall in Northern California, which it uses as a satellite campus. Rackspace, a web hosting company, turned San Antonio's eerily defunct Windsor Park mall into its headquarters, nicknamed The Castle.  
Ironically, Amazon, the site many credit with killing off the mall, is breathing life into at least one dead shopping center. The site of Cleveland's Randall Park Mall, at one point the largest in America, is set to become an Amazon fulfillment center, bringing some 2,000 jobs to the area. Experts expect many former malls will become warehouses, distribution facilities and logistics centers over the next few years, as the need for industrial space rises and the need for retail space falls.  
Many developers also salivate over the idea of turning malls into housing. After all, there's way too much retail and too little housing (especially affordable housing) in many cities. Though many projects have been conceptualized, only a few have been realized so far. The most prominent example is Providence, Rhode Island's Arcade Providence, the oldest shopping mall in America, which has converted old retail space into affordable microapartments. Calott is currently involved in a project to turn the department store of a dead mall into office space with housing on the roof. But transforming spaces this radically is not easy, and schemes have not always gone well.
Some half-empty malls are trying wild ideas to fill space and attract crowds: dog runs, indoor vegetable gardens, wedding venues, even artificial wave machines for indoor surfing. Others have tried becoming arts incubators, offering low rent to artists, galleries and performance venues.
Some malls, of course, will simply be torn down. But this is an "expensive proposition," Calott says, and will only happen when a city decides there's such value to the land it can afford the demolition. In many rural areas and Rust Belt cities, abandoned malls will continue to decay in place.
The one place where traditional malls are still booming? Asia. Here in Hong Kong, where I live most of the year, an enormous amount of daily living takes place in the confines of enormous high-rise shopping malls. Malls have ice rinks, indoor playgrounds, concert venues, daycare centers. Some of the city's best restaurants are in malls; there's no sense here that dining in a mall is déclassé in the least. The malls are also integrated into the city's structure such that they connect directly to apartment towers, offices and public transportation. Part of this is due to the climate. Here, and in places like Singapore and Dubai, the heat can be so oppressive it's just easier to stay indoors.
Each Monday evening, I emerge from the subway directly into the mall complex at Tai Koo Shing. I grab a tea at the Starbucks and go upstairs to one of the attached apartment towers, where I tutor a high schooler in English. Afterwards I go back down, do my dinner grocery shopping at the supermarket in the mall basement, then get back on the train. All without leaving the mall. It's the quintessential mixed-use experience, no car necessary.
Would Victor Gruen have approved?