This Year's James Dyson Award Goes to a Circuit Board Printer
Four engineering students in Canada win the prestigious international award with their invention, which they hope will speed up electronics manufacturing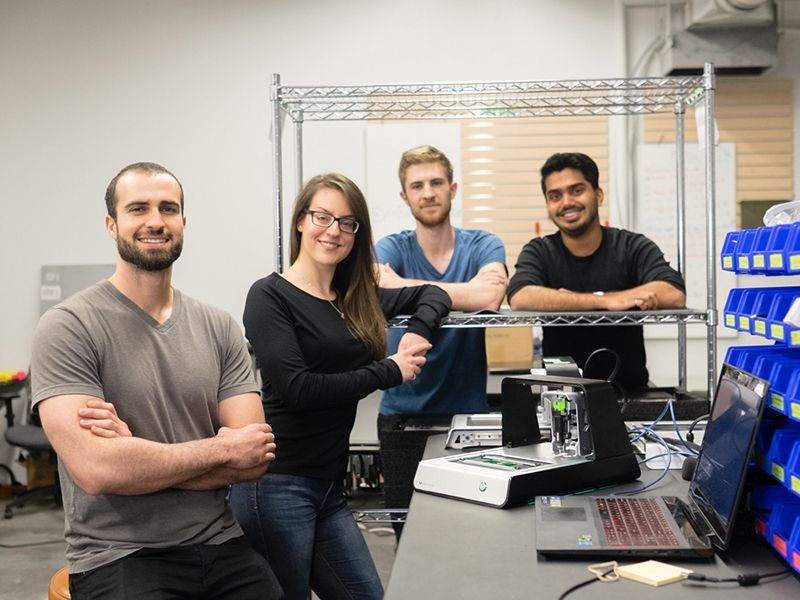 A team of recent engineering graduates from Canada have won the prestigious James Dyson Award with a laptop-sized printer that can turn designs into prototype circuit boards almost instantly.
Circuit boards are ubiquitous in electronics. Basically anything that has a battery or a plug contains a circuit board—televisions, phones, children's toys, cars. For inventors and hobbyists who work on creating new electronics, getting circuit boards built is a long, expensive process. It often involves sending ideas to overseas factories for production, which can take weeks. If the inventor wants to make a change, he or she must then send the whole project back to the factory. For a product with many iterations, this exchange can be drawn out for months or years.
But the Voltera V-One trims this process down to mere minutes. The team members, Jesús Zozaya, Alroy Ameida, Katarina Ilic and James Pickard, won $45,000 in cash, which they plan to use for increased production and testing.
The engineers, who met as undergraduates at the University of Waterloo in Ontario, were tired of the time lag between coming up with an electronics idea and receiving a prototype. 
"It was just always a very frustrating experienced developing electronics, because there was no [quick] way of prototyping," says team member Alroy Ameida. "Especially nowadays, where things are a lot more instant. The thought of having to wait for two weeks was kind of strange to us." 
The team spent two years developing the Voltera V-One. They talked with other hardware designers, tinkered with the right combinations of inks and software, and spent countless hours making sketches and computer-aided design (CAD) mock-ups. The group then moved to Shenzhen, an industrial hub in southern China, so they could be closer to the factory that produced the prototypes of the printer. That way, they could redesign the product as needed and have it back to the factory quickly.
The printer has two different exchangeable print heads that produce two different kinds of ink. There's a conductive ink that creates the electrical components and an insulating ink. The printer also dispenses solder, so new components can be added to the board.
The project has already won several major awards. The team members were crowned champions at the TechCrunch Disrupt Hardware Battlefield, a contest for hardware startups. They were also a Popular Science Greatest Inventions of 2015 Award Winner and an Editor's Choice at Make Magazine.  
The James Dyson Award is an international design award, given to students and recent graduates who do the best job designing, as the website states, "products that have a significant and practical purpose, are commercially viable, and are designed with sustainability in mind." Runners-up this year include a mini scuba system that allows swimmers to breathe underwater for short periods without complex tanks and tubes and a set of biodegradable beads that dissolve in water, releasing microorganisms that combat harmful algal bloom. 
The team was initially not told they had won the award, so they were shocked when Dyson representatives came to their office bearing a congratulatory video message from inventor James Dyson himself. 
"The entire room just kind of erupted," Almeida recalls. "We were just so so excited. The looks on our faces were just hilarious." 
The team hopes their invention will spur more people to create new electronics. At approximately $1,500 per unit, the Voltera V-One is cheaper than sending an idea overseas for production repeatedly. A startup that has been stymied by the cost and time involved in circuit board creation could now innovate in the privacy of their own office.
When the team started their project, many experts told them it was impossible, Almeida says. Other had tried similar things before and had failed. 
But the naysayers were wrong. 
"Now we've started shipping units," Almeida says, proudly. "Yesterday, the first few ones went out the door."