This Smart Battery Sends a Message to Your Phone When Your Smoke Detector Sounds
It also alerts you weeks in advance of dying—sparing you from that annoying chirp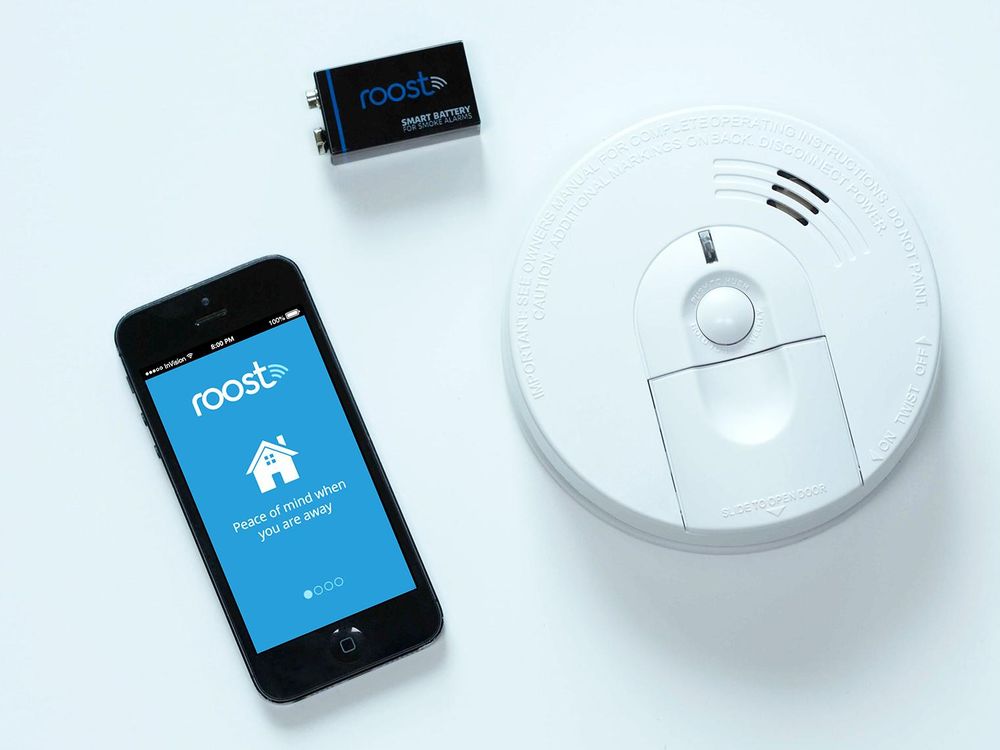 Whether it's stumbling around in the middle of the night trying to figure out where the chirping is coming from, or fanning at the air to deaden the cacophony caused by turning up the toaster just a bit too high, fighting with the smoke detector is a part of the modern human condition. But it may not be for much longer.
To replace the dumb 9-volt found in millions of existing smoke detectors, a startup called Roost is developing a WiFi-enabled battery that listens for an alarm and sends a message to your phone when your smoke detector blares—whether you're on the other side of your home or the other side of the world.
Obviously inspired by the success of Nest Labs, which was snatched up by Google, and the Nest thermostat and Nest Protect smoke detector, both available in Apple stores, Roost is looking to similarly modernize the devices we use to warn us of smoke, fire and carbon monoxide. Where the Nest Protect requires installing a new device that currently costs $100, Roost should work with millions of existing devices. There's no need to install anything new, other than the battery (so long as you have in-home WiFi), and pricing is set at $40 for one, or as low as $30 each if you buy four together.
While the price of the Roost battery is less than you'd pay for a new smoke detector, it would still get expensive in the long run if you had to replace the whole battery every time it died. But, fortunately, that's not the case.

Rachael Henry, Roost's marketing specialist, says that the finished battery will consist of two parts. When juice is getting low, it will send a message to your phone, letting you know a replacement will be needed in the next few weeks—sparing you from that annoying chirp that typically signals a dead battery.
"When the battery dies, you can separate the smart part, which has the WiFi chip and the audio sensor," says Henry. "You order a new battery pack, and we will send it to you for $10, and you connect the two back together and put it back in your smoke detector, and you're set for another five years."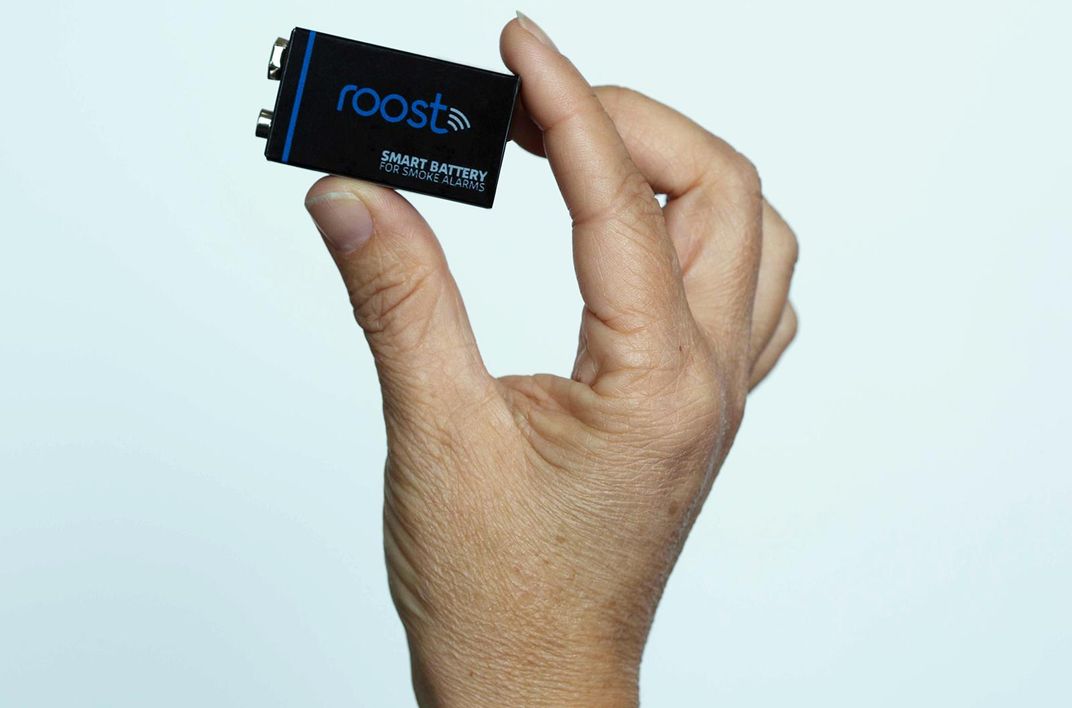 The long battery life is due to two factors: Roost will be packed with two modern high-capacity lithium ion cells, and the WiFi chip spends the vast majority of its time asleep. The embedded audio sensor will kick the WiFi on to send a notification to your phone if the smoke alarm goes off. In that case, the app with give you an option to either call the fire department or dial the number of a pre-determined neighbor, if you aren't at home, to check if it's a serious situation.

Pairing the Roost battery with your WiFi should also be fairly simple. Henry says once you've installed the app, you just place the battery on your phone's screen and the two devices communicate via audio chirps, using the same sensor that listens for the smoke alarm, and automatically negotiate the WiFi connection process.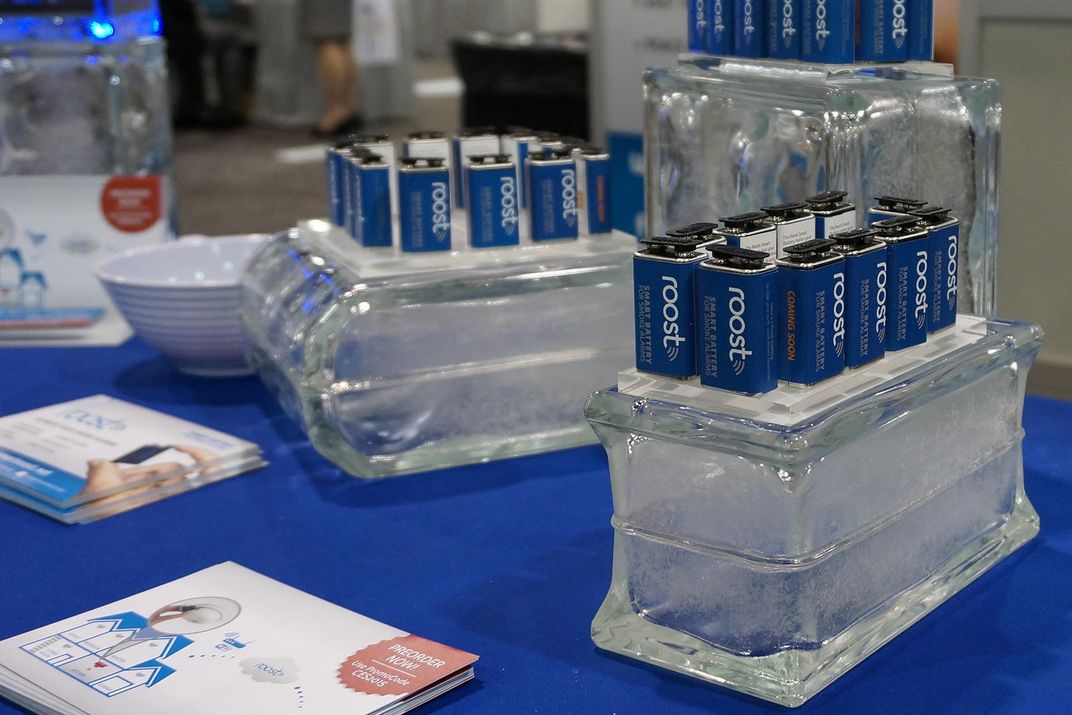 A snooze button on the app will let you silence the alarm temporarily, as long as you're at home when it happens. So the next time your cooking gets out of control and the smoke alarm on the ceiling starts blaring, imagine being able to just reach for your phone, instead of having to grab a towel to try and waft the smoke away while your dog barks, your baby screams and you turn down the burner.
If the Roost battery can prevent that kind of chaos from happening, fewer people would be likely to yank the battery out entirely and then forget to reinstall it after dinner, leaving them unprotected from a potential fire. It could save lives, modernize another ubiquitous but essential piece of technology or just eliminate a few moments of insanity from the average person's life, which would still be quite an accomplishment for a tiny 9-volt battery.
While the company is focusing on smoke detectors at the moment, inexpensive web-connected batteries could potentially make other household devices smarter and more convenient, as well. Roost isn't ready to announce any other devices yet, but they do expect to ship a second product in 2015. Their primary focus is making WiFi-embedded batteries that are priced under $50 and are simple to set up and install.
Roost didn't have any functioning smart batteries to show at their booth at Eureka Park, a startup area at this year's Consumer Electronics Show. But they say they're in the middle of the manufacturing process and will be shipping their first smart batteries to their Kickstarter backers in May. The company concluded a successful funding campaign in mid-December, raising nearly double their original goal of $50,000. Roost is taking preorders now on its website, and shipments for new orders are expected to start in June.