This App Recommends Volunteer Opportunities Based on the News You Read
Ideal Impact connects people that show an interest in a particular cause with organizations that could use their help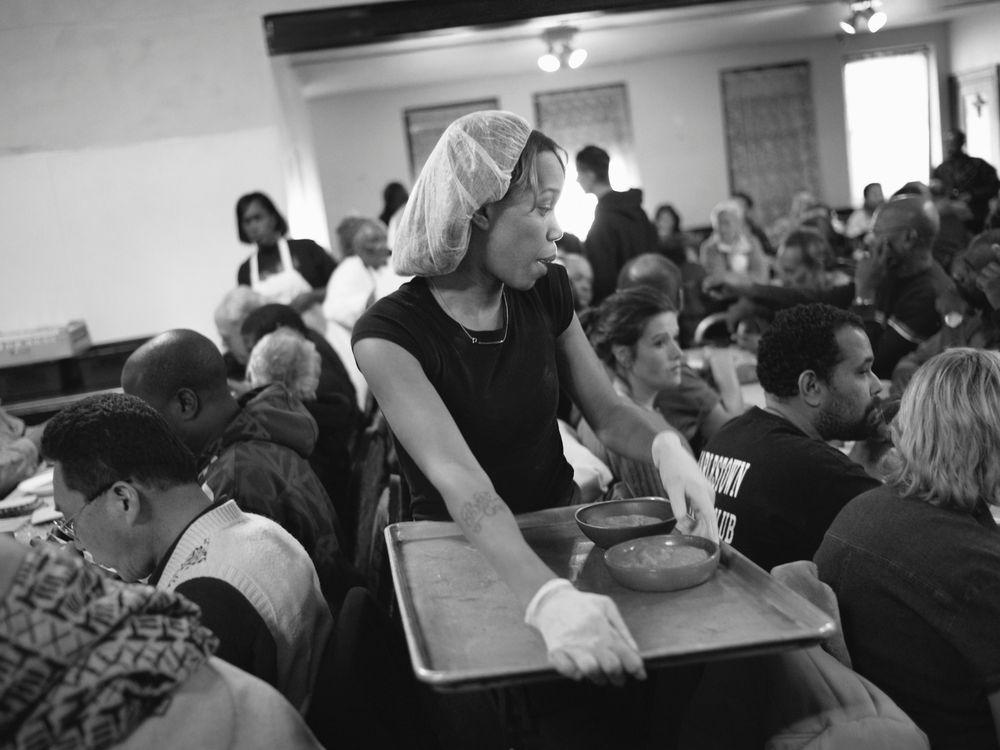 Olivier Kamanda remembers when investigative reporter Andrea Elliott's "Invisible Child" appeared in the New York Times. The five-part series on Dasani, a 12-year-old homeless girl in Brooklyn, and her family made the rounds on social media, in December 2013, and prompted an outpouring of support for homeless children and families.
The former speechwriter and senior advisor to Secretary of State Hillary Clinton was working at a law firm in Washington, D.C. and volunteering at Miriam's Kitchen, which provides meals and social services to the homeless just one mile west of the White House. The organization was about to launch its "The Way Home Campaign," to lobby the DC Council for more permanent supportive housing.
"I realized that if everyone who was moved by the New York Times piece knew about the Way Home Campaign, we'd be able to direct some of that energy towards tackling chronic homelessness in our city," says Kamanda.
In a crowdfunding campaign earlier this year, Kamanda raised nearly $20,000 to build a mobile app called Ideal Impact. The app is powered by an algorithm that determines the key social issues discussed in any news story you might read and suggests organizations that support those causes. So, when you read a powerful story, and think, "How can I help?" Ideal Impact answers, with opportunities to volunteer, work and donate money.
How did you come up with this concept?
The inspiration for Ideal Impact came while I was volunteering for the advocacy team at Miriam's Kitchen, a homeless services organization in Washington DC. They were about to launch The Way Home Campaign to end chronic homelessness in DC that would lobby the DC Council to put more resources behind permanent supportive housing. So in order to be successful, we would need to demonstrate to the Council that DC residents cared about ending chronic homelessness.
That same week, the New York Times published a heart-wrenching story about a homeless 12-year old girl and her family. Within hours it made the rounds on social media, prompting an outpouring of support for homeless children and families.
Let's start with the problem. What problem are you trying to fix?
When people read the news, there is a human urge to do something with that information. Stories that touch on social issues, like homelessness, climate change or supporting veterans, prompt us to want to get involved, but we don't often know how.
Meanwhile, the 1.6 million non-profits that are addressing these social issues are constantly looking for volunteers, donors and community supporters to survive. Nearly 73 percent of charitable giving comes from individual donors. And on average, it takes non-profits 23 hours to recruit each volunteer.
But without a pipeline to connect people who want to help with these organizations that need support, we lose out on 90 million people who would otherwise volunteer, donate or advocate for these issues. Their potential support in terms of community service and donations amounts to nearly $207 billion in lost economic activity.
So, what exactly is Ideal Impact?
Ideal Impact is a civic-tech company that solves this problem by connecting people who care with places to volunteer, donate, advocate and apply for jobs based on the news stories they read. Our mobile, web and digital media tools make real-time recommendations to support the issues you are reading about. Our mission is to unite people inspired by service, civic engagement and advocacy with leadership opportunities to address our social challenges.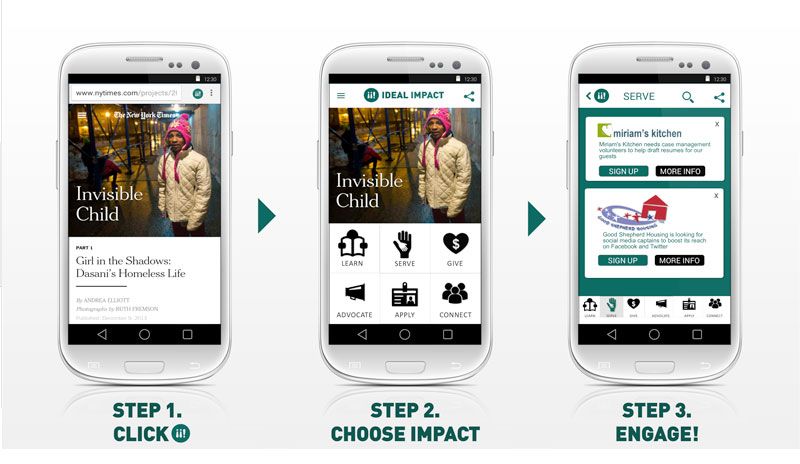 How will the app work exactly? Can you describe the user experience?
With the Ideal Impact app installed, either on mobile or on desktop as a browser plugin, you can read your news from whichever news site or source you want. But if you come across a story that moves you, all you have to do is click the Ideal Impact button that will appear in the main menu of the app or browser you're using. This will load the Ideal Impact app, which will present you with opportunities to work with and support non-profits and social enterprises that have been vetted by third-parties like Charity Navigator and GuideStar and reviewed by members of your community. So in less than three clicks, we've taken you from moment of inspiration to a meaningful opportunity.
As you see it, what is the potential impact the app could have on volunteerism and financial giving?
We are re-imagining civic engagement. Our app bridges the gap between people who are inspired to make a difference and organizations that need support. As a result, we help lower the cost to non-profits of finding supporters and make it easier for people to contribute their time, talent and energy to their community.
But more importantly, we think the app has the potential to show the true value of service and social impact work. Ideal Impact speaks to hallmarks of the human experience: the need to be part of a community, the desire for purpose-driven work and the satisfaction of using your skills to help others. These experiences define who we are and what matters to us. We hope to expand the universe of people who see community service, not as an afterthought, but as a true reflection of our personal values.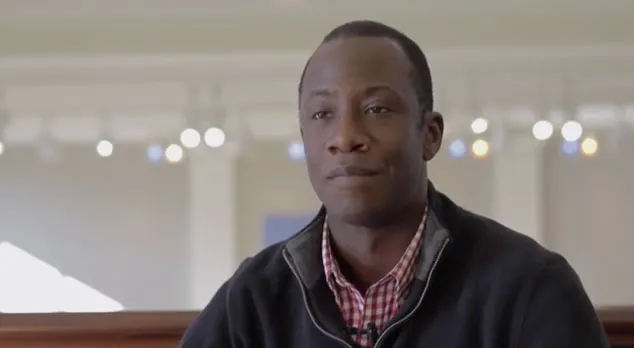 How would you describe your success to date?
We're incredibly grateful for the support we've received since we launched our crowdfunding campaign. Our email list has grown to over a 1,300 people who are inspired by our vision and want to use the app once it's built. We've been approached by media companies who want to incorporate our product directly into their websites. And we've interviewed over 80 non-profit executive directors in D.C. who want their organizations to be featured on our platform.
How do you plan to scale your company? What's next?
We're working on launching our pilot in Washington, D.C., which will feature a test group of organizations that come highly recommended from our supporters. We'll use the data we gather from the pilot to refine our algorithm, build additional features and then open our platform up to more non-profit organizations and social enterprises.
After that, we will expand our offerings to media companies that want to turn their news into actionable content. We can provide them with an embeddable Ideal Impact badge that integrates our matching-algorithm directly into their websites. We think this will help more news organizations and media companies measure the emotional impact of their articles while building stronger relationships with their readers.
Eventually, we want to work with employers interested in promoting a culture of purpose and social impact. Research has shown that employees who participate in workplace volunteer activities are more likely to enjoy their jobs and be productive than those who rarely or never volunteer. So we've created a platform that allows both employers and employees to find meaningful ways to contribute to social good.
If you could toss out one question to the masses, in hopes of crowdsourcing an answer that would be helpful in building Ideal Impact, what would that question be? And why?
What non-profit and issue-oriented organizations would you recommend that we feature on our platform? We want to promote the organizations that are doing great work now, but could be doing even better with more support.