The Totally Original Sound of St. Vincent
The singer-composer brings new sophistication to pop composition, conjuring ethereal dreamscapes from her suburban roots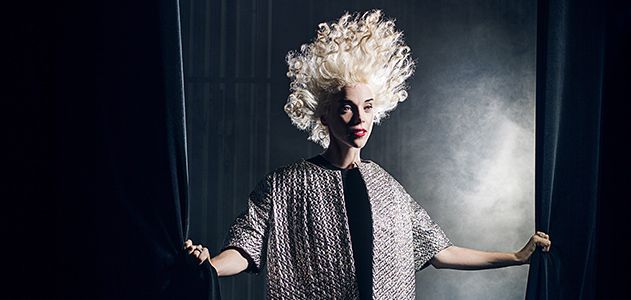 To understand Annie Clark's inventiveness as a composer, it helps to listen more closely to the first single off her latest solo album, Strange Mercy. Released under her nom de musique, St. Vincent, "Surgeon" opens with wordless vowels harmonizing on a lullaby melody over a sustaining synthesizer chord, seducing the listener into the mood of an indolent young woman on vacation. "I spent the summer on my back," she coos.
As the song reaches its chorus, however, the anodyne mood sours, as if the young dreamer is realizing that this is no way to spend one's youth. The chords change from major to minor; the synth shifts from soothing to jittery, and the singer declares, "Best, finest surgeon; come cut me open." The song again lapses into the seductive ear-candy verses wrapped around the drowsy narrator, but each time the chorus returns the agitation is more insistent, prodding at the sleeping beauty with buzzing synths, yelping falsetto and finally a guitar solo so sharp that it might be a surgeon's knife. It's as if the listener too has been sedated and sliced open.
Of course, moving abruptly from soothing to abrasive, from sweet to rude, is a rock 'n' roll staple. But what makes Clark so fascinating is the quality of the ingredients she supplies for these contrasts. When she wants to entice the listener into dreamland, she relies not on production tricks but on chords that are as pleasurable as they are narcotic. When she wants to snap the listener awake again, she doesn't need a quick twist of the volume knob because the disturbing quality of the off-kilter harmony and rhythm are rousing enough. In bringing sophisticated composition to the indie-rock movement, Clark has created a new kind of music, one that seduces with craft and bites with surprise.
"Putting those smooth and harsh elements together seems very natural to me," Clark told me over her kale salad at a South American restaurant in Dallas. She is a longtime brunette, but on this August day curly blond hair was spiraling out from under her gray-tweed baseball cap. "It makes perfect sense to me, because I can feel that contrast personally. Serene calmness and bristling aggression coexist in me, so it makes sense to put them in my music; I'm trying to marry those two."
Clark keeps an apartment in downtown Manhattan (where she met David Byrne, her collaborator on the 2012 LP Love This Giant). But she was born in Tulsa and spent most of her childhood in the Dallas area, near the barbecue-and-riding-mower milieu satirized in the Fox TV cartoon show "King of the Hill." She was staying at her mother's house in Richardson, a close-in Dallas suburb, while she recorded her fourth solo album.
The twin poles of bohemia and suburbia shaped her upbringing and fuel her music, but unlike so many young artists she readily acknowledges the latter half of the equation. She still enjoys staying at her mother's and visiting her two sisters nearby. The quieter, prettier parts of her music wouldn't be so beguiling if she didn't have a genuine affection for quietude and beauty as suburban ideals, and the meticulous craftsmanship of her music-making wouldn't have evolved without a mainstream work ethic.
"I approach my work as I would a day job," she told me. "If you're a writer, you have to write. If you're a musician, you have to make music. I wrote a lot of this new record in a shed behind my friend's house in South Austin. I would go out there every morning like I was going to work. I wanted to go someplace to write that wasn't New York. It was February and I wanted to be somewhere warm. When I wrote Strange Mercy [released in 2011], I did something similar in Seattle."
She worked alone in a friend's recording studio. She remembers spending hours playing the chords to the verse melody for "Surgeon," which she had written at age 15. But she couldn't figure out what to do with the music until she read a Vanity Fair story about Marilyn Monroe's journal. "I read this line, 'Best, finest surgeon, come cut me open,'" she recalls. (It refers to Lee Strasberg, Monroe's acting mentor.) "The syntax was strange, but everyone has felt like that at times, like they wished someone could come cut the pain out of them. I went back to the studio and wrote the chorus. Then I found some music that fit it. To support that image of lying in bed, unable to get up, the mail piling up...the music had to sound gauzy and out of focus, as if it were coming from a bleary, pill-addled brain. Sometimes just the way the words sound will bring out the music."
Even with her work ethic, however, Clark is pulled toward bohemian experimentation. A song like "Cheerleader," her best-known number, may have pop-craftsman elements not unlike the Carole King songs Clark sang as a middle schooler, but it also boasts the kind of half-strangled vocals and percussive guitar she heard on her favorite Talking Heads and Gang of Four records. If she grew up in the suburbs, where did this bohemian influence come from? Her social-worker mom and her tax-preparer dad weren't big music fans, but they bought her her first guitar at age 12 and drove her to guitar lessons. Like many suburbanites born in the early '80s (she was born in 1982), she listened to indie-rock iconoclasts such as Radiohead, Sleater-Kinney and PJ Harvey. But unlike many 15-year-old girls who idly dream of a music career, Clark had a professional musician close at hand—her mother's brother Tuck Andress, who, with his wife, Patti Cathcart, formed the jazz duo Tuck & Patti.
"When I was 15, my uncle and aunt had a pagan coming-of-age ceremony for me at their house in California," Clark recalls. "They turned down all the lights and played John Coltrane's A Love Supreme for me. It felt like a ceremonial anointing." For a while she wanted to be a jazz musician, "but I soon realized I like repeating melodies too much." Tuck and Patti offered their niece another valuable opportunity by inviting her on tour as an assistant road manager, and Clark's parents bought their 15-year-old daughter a plane ticket to San Francisco. The experience dispelled any romantic notions about the life of a professional musician.
After graduating from Lake Highlands High School in 2001, Clark went off to the Berklee College of Music in Boston, where one of her classmates was Esperanza Spalding (last year's American Ingenuity Award winner in the performing arts). The emphasis there was on developing your chops to the point where you got hired as a sideman and worked your way up to bandleader. But Clark wanted to write her own songs and lead her own band, so she dropped out.
She returned to Dallas and, ironically, got hired as a sideman, first in Tim DeLaughter's rock 'n' roll big band Polyphonic Spree, and later with the whimsical folk-rocker Sufjan Stevens. While Clark was touring with those two acts, she was working on the songs that in 2007 would become her first solo album, Marry Me. To create a distinction between her private and public self, she released the project as St. Vincent, after the hospital in New York City where the poet Dylan Thomas died in 1953.
Marry Me was followed by Actor in 2009 and Strange Mercy in 2011. The second album attracted gushing media attention, and the third landed inside the top 20 on the Billboard album chart. Clark introduced Strange Mercy with a rare concert in the Temple of Dendur room at New York's Metropolitan Museum of Art.
Stranger still were the reports she was getting that David Byrne was showing up at her Manhattan shows. "When I first heard and saw Annie," Byrne recalls, "I could see that she could write a memorable and beautiful melody—something a lot of younger artists shy away from, intentionally or not. So I sensed she'd accepted that part of music—a part that is welcoming and inviting to us as audience members. But then she tempers that with fierce guitar playing and often dark and perverse lyrics delivered in an affectless tone. It's really quite disturbing, but in a good way. I could sense that beyond the above Annie was pushing at her limitations and trying new things—adding new textures, instruments and ideas to her writing."
The two songwriters finally met in 2009 and a few days later rendezvoused at SoHo's Housing Works Bookstore, where Björk and Dirty Projectors were doing a one-off collaboration. The organizers asked Byrne if he would like to do something similar with Clark. Yes, he would, but what shape would it take?
"We decided to limit the arrangements to a brass band," Byrne told me. "Once we got cemented into that, every time we started on a song, it was like, 'What's the trombone going to play here? What's the tuba going to play?' It helped us focus on what questions to try to answer....Another decision we made was we were going to make pop songs. So we knew we'd need 11 or 12 songs for an album. And we knew if we'd gone three or four minutes, we should say, 'Shouldn't this be over?'"
These decisions led to Love This Giant. Every song is set inside a brass-band arrangement, and although there are hints of jazz, salsa, R&B and New Orleans parade music, the album doesn't fall into any of those categories but emerges as a kind of chamber-rock for brass. This was liberating for both partners: Clark could prove that her songwriting was strong enough to thrive outside of guitar-based rock, and Byrne could get away from his reputation for arch, cerebral irony and explore beautiful pop songs again.
"That's the only way you grow," Clark says. When "you're pushed out of your comfort zone, when you have to try something you haven't done before, you're forced to take inventory of [your] strengths and weaknesses and see if you can update them....One of the great thrills of my life was to stand on stage with David playing [Talking Heads'] 'This Must Be the Place.' If I could have told my 17-year-old self that that would happen, she would have worried a whole lot less."